Amy Robach, T.J. Holmes Photographed Wearing Matching Outfits Amid ABC Exit Reports
KEY POINTS
Amy Robach and T.J. Holmes went out for a morning jog in Los Angeles
The rumored couple opted to go in opposite directions for their workout
The "GMA3" co-hosts wore matching outfits amid their rumored affair
Amy Robach and T.J. Holmes appeared united amid reports that they exited ABC, having been spotted sporting matching outfits while out and about in Los Angeles this week.
On Friday, the two went out for a morning jog in the City of Angels. They were spotted exiting the same house for the exercise. But instead of doing the workout together, Robach and Holmes headed in opposite directions, as seen in photographs exclusively released by Page Six.
One snap showed the 45-year-old former CNN host looking downcast while making his way down the sidewalk. He wore a black fitted hoodie, black compression pants, black and gray camo shorts and a pair of red Nike trainers.
Another image leaked by the outlet showed Robach, 49, sporting black and gray speckled leggings that matched Holmes' shorts. She also wore a fitted black tank top, lime green Nike sneakers and aviator shades for her sunny outing.
The rumored couple had ear pods plugged into their ears during their morning workout. Robach was seen carrying her phone in one hand during her jog.
Their sighting came after The New York Times broke the news that both "GMA3" co-anchors are set to leave the show and the network after their alleged affair made headlines late last year.
Holmes and Robach became a staple of the talk show due to their on-air charisma. The two were also foreseen to take over the network's flagship show, "Good Morning America," if not for the controversy, according to the outlet.
On the same day, unnamed sources with direct knowledge of the negotiations between the pair and the network seemingly confirmed the departure news to TMZ, saying that Holmes and Robach have officially signed their exit deals. The exact amount involved in the agreement was not disclosed.
An earlier report from the tabloid said the mediation session between the network and the hosts turned "extremely contentious" because ABC allegedly tried to justify the ousting with various accusations against Robach and Holmes' behavior in the workplace.
One of the accusations targeted Robach, claiming she came to work drunk a year ago. One insider told TMZ the accusation was "insane" because Robach was simply tired after going to the College Football National Championship the night before.
International Business Times could not independently verify the claims in the reports.
A spokesperson for ABC News also did not respond to The New York Times' request for comment on the issue.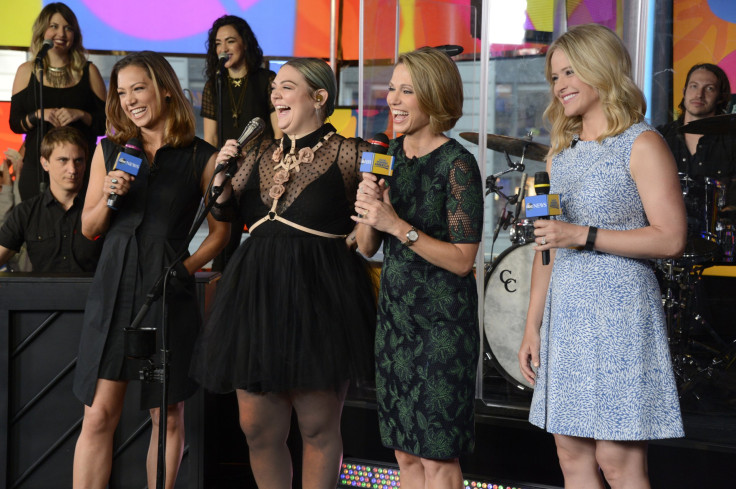 © Copyright IBTimes 2023. All rights reserved.