Amy Winehouse's 8 Most Devastating Lyrics To Celebrate The 'Rehab' Singer's Birthday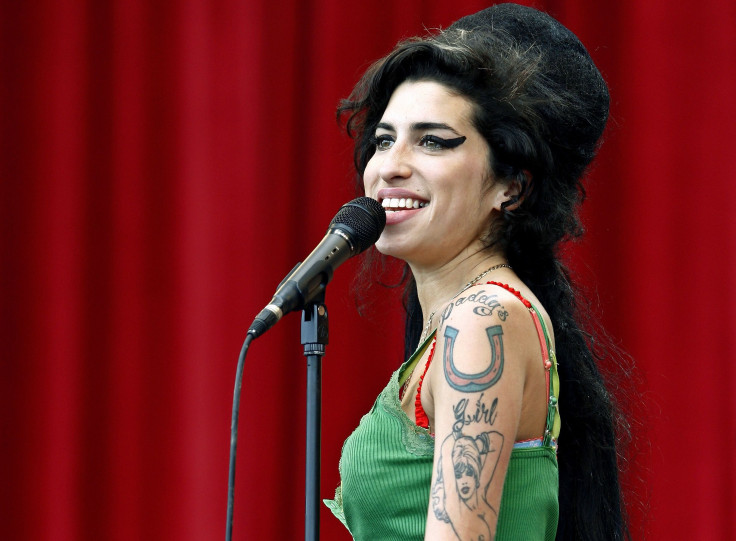 Wednesday would have been Grammy-winning singer Amy Winehouse's 33rd birthday.
Winehouse, who had a very public struggle with drugs and alcohol addiction, died July 23, 2011, at the age of 27, robbing the world of what promised to be a legendary music career. However, the jazz singer-turned-soul diva left behind plenty of work for fans to pour over.
In the years since her death, the tabloid drama that dominated Winehouse's final years has given way to a more introspective look at her short, but memorable career. Winehouse's sophomore album, 2008's "Back to Black," placed high on many news outlets' albums of the decade lists in 2010. The recent documentary, "Amy," which won an Oscar earlier this year, also helped peel away the rumors about her past and reveal the pain behind her most famous lyrics.
Here are Winehouse's eight most devastating lyrics:
"Rehab"
They tried to make me go to rehab.

I said, 'No, no, no.'

Yes, I've been black, but when I come back

You'll know, know, know.

I ain't got the time

And if my Daddy thinks I'm fine.

He's tried to make me go to rehab.

I won't go, go, go.
"Rehab," the most famous of all of Amy Winehouse's songs, was never meant to be the party anthem it became. "Amy," the documentary, revealed the song to be a very literal account of her alcohol abuse. A few years before the peak of her stardom, some of Winehouse's friends attempted to check her into a rehab facility, but record executives urged her not to miss upcoming scheduled tour dates. Ultimately, Winehouse decided to skip rehab thanks in large part to encouragement from her father, giving the "Daddy thinks I'm fine" line of the song a more sobering meaning.
"Back To Black"
​He left no time to regret.

Kept his d--- wet

With his same old safe bet.

Me and my head high

And my tears dry

Get on without my guy.
Amy's troubled, on-again-off-again relationship with her boyfriend and eventual husband, Blake Fielder-Civil, shows up in many of her songs. "Back to Black" reveals just how hard the couple's low points were on Winehouse. These opening lines to the song are Winehouse at her most biting.
"You Know I'm No Good"
Upstairs in bed with my ex-boy,

He's in the place, but I can't get joy.

Thinking of you in the final throes.

This is when my buzzer goes.
Like "Rehab," "You Know I'm No Good" is another example of Winehouse's ability to hide stories of depression and grief behind sultry and sexy R&B hooks. The chorus can almost sound seductive and flirtatious on first listen, but on closer examination — such as the above verse — reveals the song to be anything but as Winehouse's mind drifts during a bout of revenge sex.
"Tears Dry On Their Own"
All I can ever be to you

Is the darkness that we knew

And this regret I've got accustomed to.

Once it was so right,

When we were at our high,

Waiting for you in the hotel at night.
Winehouse and Fielder-Civil broke up and got back together countless times over their multi-year romance. However, the relationship was fraught with fights and it was Fielder-Civil who initially introduced Winehouse to heroin. The couple brought out some of each other's worst habits, yet they still struggled to separate, a conundrum captured perfectly in this verse, which anyone who has longed for a relationship's better days can likely relate to well.
"He Can Only Hold Her"
He can only hold her for so long.

The lights are on but no one's home.

She's so vacant. Her soul is taken.

He thinks "What's she running from?
A prevailing theme in Winehouse's music is her own moral corruption. Here Winehouse heartbreakingly recounts her inability to be comfortable in a healthy relationship as she struggles with her dark past. Again, the pain is disguised by an upbeat, dance-friendly melody.
"Love Is A Losing Game"
Over futile odds

And laughed at by the gods

And now the final frame.

Love is a losing game.
Here Winehouse returns to her theme of doomed love, this time in a broader, poetic sense. The song asserts that relationships are doomed to fail — not the best Valentine's Day song.
"What Is It About Men"
Understand once he was a family man.

So surely I would never, ever go through it first hand,

Emulate all the sh-- my mother hated.

I can't help but demonstrate my Freudian fate.
Winehouse's father, Mitch Winehouse, moved out when she was young to be with another woman after a years-long affair. Her parents' split had a major impact on her and in this song she reflects on how the dysfunction she witnessed in her parents' relationship rears its head in her own romantic relationships.
"Cherry"
Her name is Cherry.

We've just met,

But already she knows me better than you.

She understands me

After eighteen years

And you still don't see me like you ought to do
It is unclear which person in Winehouse's life she is referring to, who has known her for "eighteen years" but still does not know her. Could it be her mother, her father, a boyfriend? Regardless, the anthem to not being understood — only "Cherry," her guitar, gets her — is one of Winehouse's most heartbreaking early tracks.
© Copyright IBTimes 2023. All rights reserved.
FOLLOW MORE IBT NEWS ON THE BELOW CHANNELS