Andy Rooney, '60 Minutes' Commentator and Journalist, Dies at 92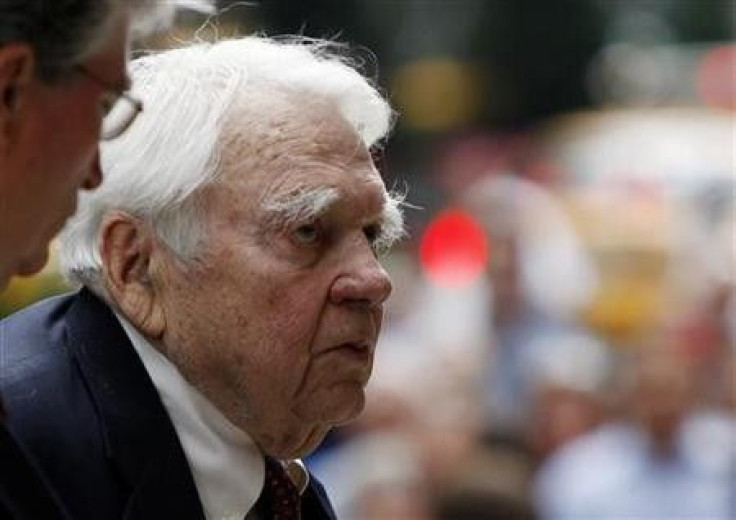 American television writer and 60 Minutes commentator Andy Rooney, 92, died on Friday in a New York hospital, after being hospitalized for a few weeks following some complications from minor surgery, CBS reported.
Rooney, who spent more than 60 years of his career with CBS News began as a military correspondent who covered World War II in 1942. He joined CBS in 1949 as a writer for Arthur Godfrey's Talent Scouts. He was also one of the first American journalists to write about Nazi concentration camps.
Best known for his humorous and satirical comments on trivial issues and social and political debates, Rooney is credited with writing some of the most notable and best-loved programs on CBS. In addition to his remarkable commentary and essays, Rooney was also a newspaper columnist and author. However, he was usually happy enough to be called a writer.
Some of his more noteworthy television essays include Arthur Godfrey Time, The Garry Moore Show, The Strange Case of the English Language (1968), Of Black America and his script for Black History: Lost, Stolen, or Strayed, which won him his first Emmy Award.
The author of 16 books, he is also credited with inventing a unique genre of contentious television essays and commentaries that caught worldwide attention. His first television show, 60 Minutes, was launched in 1978 and marked him as a popular cultural icon.
His wry wit, his unique ability to capture the essence of any issues and his larger-than-life personality made him an icon. We treasure the legacy he left, said CBS President and Chief Executive Officer, Les Moonves, Words cannot adequately express Andy's contribution to journalism and the impact he made upon everyone at CBS.
Rooney's essays and witty commentaries did not always find favor with most readers. He wrote, uncompromisingly, on the unspoken truths of life and that reality often led to negative publicity and criticism. The issues he raised were both peculiar and inquisitive... he asked thousands of questions, most of them beginning with Did you ever...? In fact, he once questioned labels on packages, products that didn't seem to work and why people didn't talk in elevators.
It's a sad day at '60 Minutes' and for everybody here at CBS News, said Jeff Fager, Chairman of CBS News and Executive Producer of Rooney's show, It's hard to imagine not having Andy around. He loved his life and he lived it on his own terms. We will miss him very much.
Rooney is survived by four children from his wife Marguerite, who passed away two years ago.
© Copyright IBTimes 2023. All rights reserved.
FOLLOW MORE IBT NEWS ON THE BELOW CHANNELS