Angelina Jolie and Brad Pitt Engaged: The Couple's Long-Time Jeweler Confirms He Designed A Ring With Brad Pitt [PHOTO]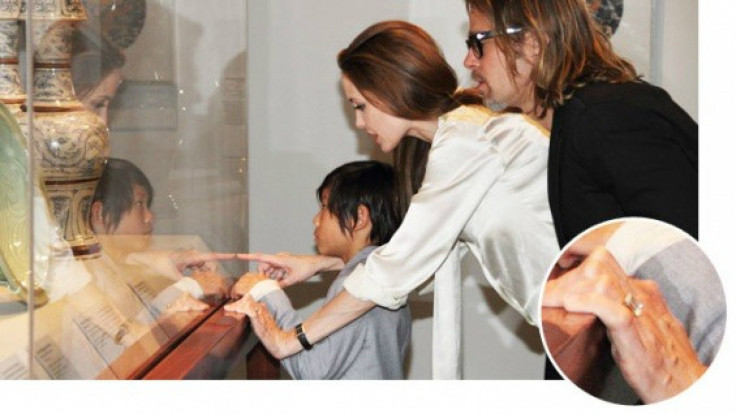 Angelina Jolie and Brad Pitt are engaged, according to their jeweler.
I can confirm that, yes, Robert Procop did indeed design an engagement ring for Angelina Jolie, designed in collaboration with Brad Pitt, a spokesperson for Robert Procop confirmed.
Robert Procop was once the CEO of Asprey & Garrard, the British jewelry company to the English royal family and his The Style of Jolie jewelry collection was designed with Jolie, and she's worn a number of his pieces on the red carpet this year.
Jolie wore the ring two nights ago at a private viewing of the Los Angeles County Museum of Art's Chinese Galleries, which she attended with Pitt and son Pax.
Procop used a diamond of the finest quality which was then transformed using Pitt's unique designs, cut with distinctive faceting to a shape and size that perfectly suits Angelina's long, slender fingers, the rep explained. Throughout, Brad Pitt remained heavily involved, overseeing every aspect of the creative design process from the perfect cut of the diamond centerpiece - an elongated tablet shape - to the finishing touches such as the mounting of a galaxy of smaller stones which are graduated in size and faceted to match, adding a crowning lustre to the ring.
The process was said to take about a year to make the ring to Pitt's liking and he waited till the perfect moment to unveil this special jewel to Angelina Jolie, Procop's rep continued.
Jolie and Pitt have battled engagement rumors for years, but none have ever been confirmed. Initially Pitt and Jolie said they would not marry until everyone could, but earlier this year said it was something they would possibly soon consider because it was important to their children. Jolie and Pitt have been together since 2005 and have six children together.
Jolie nor Pitt have confirmed the engagement.
© Copyright IBTimes 2023. All rights reserved.