Angelina Jolie-Brad Pitt Divorce Rumors: Actor Is 'Caught' With Jennifer Aniston, Report Says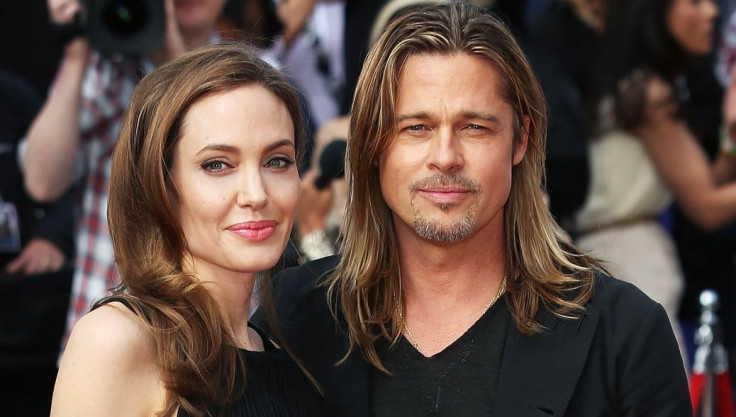 It's been more than 10 years since "Fury" actor Brad Pitt and "Friends" alum Jennifer Aniston officially divorced, but the old flames remained friends, In Touch Weekly wrote in their new cover story Wednesday. Even though their relationship is platonic, Angelina Jolie is furious her husband met with Aniston.
The cover of the magazine reads: "Brad caught with Jen;" "Angelina Explodes: What she saw;" "How Brad and Jen Reconnected," and "Two marriages in shambles."
While the cover makes it seem like Pitt cheated on Jolie with Aniston, the two reportedly simply reconnected as friends. They didn't even meet in person. Jolie overheard them talking on the phone.
Still, it's Jolie's old feud with Aniston that made her furious over the relinking. She considers the "Friends" alum her "ultimate rival," an insider told In Touch Weekly. The reunion caused drama between Pitt and Jolie, who trade "icy glares and stony silences."
Their marriage wasn't the strongest to begin with, but this could be the precursor for divorce. "Their fragile marriage has blown up, and it's all over Jen," the source said. "That phone call was a betrayal as far as Angelina's concerned."
Now, Jolie reportedly doesn't trust her husband. "She accused Brad of sneaking behind her back with Jen and yelled that he'd ruined all their new plans for the future," the source said. "They've run into another land mine, and it all has to do with Brad reconnecting with Jen again."
Aniston and Pitt reconnected after her mother, Nancy, died in May. He "told Angelina that it had been two months since Jen's mom, Nancy, died and he wanted to see how she was doing," the source said.
While the National Enquirer reported a similar story last week, Gossip Cop, the website that regularly debunks celebrity rumors, said the story was nonsense. "This latest claim is just more lies from the repeatedly disproven tabloid," the publication wrote Wednesday.
Follow me on Twitter @mariamzzarella
© Copyright IBTimes 2023. All rights reserved.