Angelina Jolie Pictured With Shiloh And Kids At Disneyland For Birthday After Brad Pitt Divorce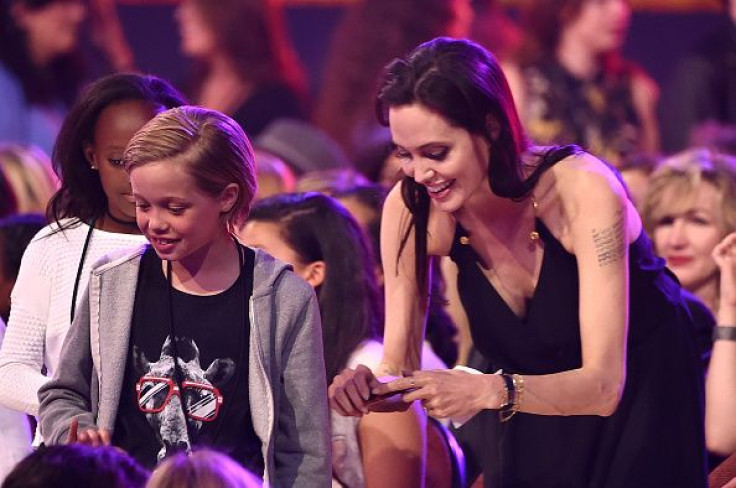 "Maleficent" star Angelina Jolie isn't letting her divorce from Brad Pitt hold her back. The Oscar winner was pictured with her children at Disneyland in California to kick off Memorial Day Weekend.
The family went to the "happiest place on earth" Friday to celebrate Shiloh's 11th birthday, Radar Online reported. Pax and Maddox were seemingly missing from the outing, but sister Zahara, and twins Knox and Vivienne helped her celebrate.
READ: Brad Pitt Says After Angelina Jolie Divorce He Is 'Not Suicidal,' Focusing On Kids
Also in attendance were some of Shiloh's friends from Cambodia. Shiloh met them when she toured the country with her mother while Jolie filmed the Netflix movie, "First They Killed My Father." The film premieres this fall.
"All [Shiloh] wanted for her birthday was to see her friends from Cambodia," a source told People Magazine Friday. "She wants to show them America."
While promoting "First They Killed My Father" in February, Jolie talked about how her children bonded with the kids in Cambodia. "[My] children have close ties to the children here, many of them are their best friends," she said at the Cambodian premiere of the film.
Shiloh, who was 10 at the time, learned how to speak some of the Cambodian language, Khmer. She told the crowd at the premiere, "My name is Shiloh and I love Cambodia."
Back at Disneyland, a photo showed the group smiling with their hands up on a ride together. Jolie rode the teacups with some of the kids.
Jolie dressed casually for the event. She wore her signature aviators, but opted to leave her bra at home. She wore a loose-fitting grey T-shirt, black jeans and leather boots.
Social media went into a frenzy Friday, as guests at the park posted amateur paparazzi shots to Snapchat, Twitter and other social media platforms.
Even though Jolie, 41, and Pitt, 53, divorced in September, comedian Chelsea Handler still holds ill feelings toward the "Salt" actress. Handler is famously best friends with Jennifer Aniston, Pitt's first wife. It was widely rumored Pitt cheated on Aniston with Jolie when they worked on the film "Mr. & Mrs. Smith" in 2005. Soon after the movie, Pitt divorced Aniston and started to date Jolie.
When Handler was asked how she would respond to being stuck in an elevator with Jolie, she essentially said she would ignore her on Thursday's edition of Bravo's "Watch What Happens Live with Andy Cohen."
READ: After Brad Pitt's Divorce, Watch What Chelsea Handler Would Do If She Saw Angelina Jolie [VIDEO]
"I would just look up," Handler, 42, said. "Exactly what people do in elevators. You know when you fake look at the number because you don't want to make eye contact. That would be exactly the elevator ride. And then I'd go, 'Heyyy' as I walked out. 'Hey you.'"
Handler insulted Jolie in September when the couple announced their break up. "There are reports that part of the problem was Brad was allegedly drinking and smoking too much weed," Handler said at the time. "I wonder why he needed to self-medicate. Maybe because he could have been spending the last 12 years at Lake Como hanging out with George Clooney and Matt Damon, instead of being stuck in a house with 85 kids speaking 15 different languages? Oh yeah, because he married a f--king lunatic. That's why."
Follow me on Twitter @mariamzzarella
© Copyright IBTimes 2023. All rights reserved.