Angelina Jolie Reportedly Wants To Be The Next Princess Diana, Biographer Claims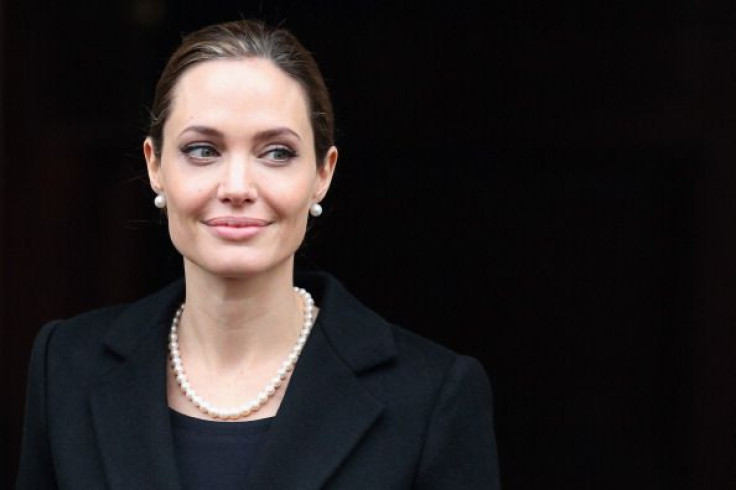 There's a lot of gossip when it comes to the split of Angelina Jolie and Brad Pitt, but the latest bit of scuttlebutt is arguably the most outrageous yet: The "Girl, Interrupted" star wants to rescind her American citizenship, move to London and emulate the career of the late Princess Diana. This is all according to biographer Ian Halperin, who is writing an in-depth book about the dissolution of Brangelina's relationship.
Halperin, whose planned book is titled, "Brangelina, The Untold Story," wrote the claims Sunday in an essay for the Daily Mail based on information he says an unidentified source told him. "[Jolie] is prepared to give up her American citizenship to become a member of the House of Lords, which she thinks she can use as a platform to push her project forward," the insider told Halperin. "She has talked about it for years. Don't underestimate her — she is utterly charming and absolutely persuasive with people who are in positions of power."
Jolie, 41, thinks her humanitarian work will liken her to Mother Theresa or Princess Diana, according to Halperin's essay. "She has studied Diana's life in minute detail and thinks she can carry on her work," the source told Halperin. "Angelina has become convinced that she can become something like a cross between Princess Diana and Mother Teresa."
The actress reportedly wants to attain European royalty status, according to the essay. "Her goal now is definitely to hook up with a high-profile politician or a Royal. She thinks she fits Prince Andrew's profile and I believe he is on her radar," Halperin wrote. "She has always got what she wants and always moves onwards and upwards, just as she did from [former husbands] Johnny Lee Miller to Billy Bob Thornton to Brad Pitt. Now she thinks she's outgrown even him. I think she wants to emulate Grace Kelly by moving seamlessly from Hollywood to European royalty."
Jolie last week filed for divorce from Pitt after 10 years together. She requested a judge give her estranged husband visitation rights with their six children. Pitt reportedly wants to fight for joint custody.
The "Brangeina" biography isn't the first time Halperin has written about Hollywood celebrities. His repertoire of work includes chronicling the Kardashian family, Whitney Houston, Michael Jackson, Celine Dion and Kurt Cobain.
Follow me on Twitter @mariamzzarella
© Copyright IBTimes 2023. All rights reserved.