Angelina Jolie's Engagement Ring Revealed During Sarajevo Film Festival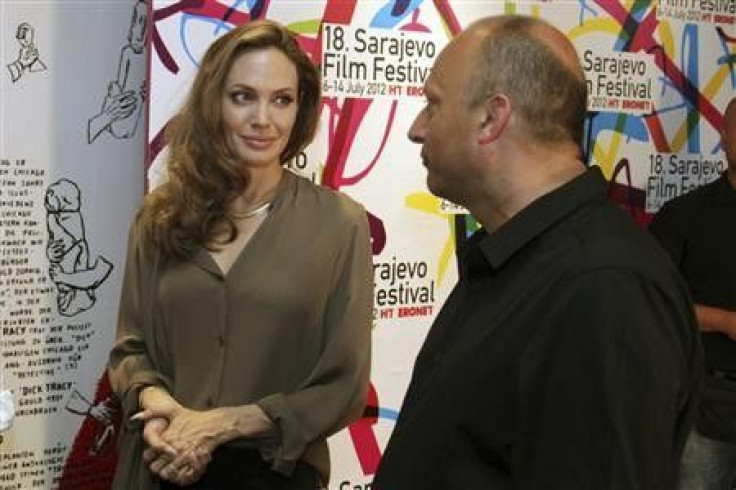 The 2012 Cannes Film Festival was supposed to mark the first red carpet appearance of Brad Pitt and Angelina Jolie as an engaged couple. Fans of the pair were disappointed when Pitt arrived solo at the prestigious film event and Jolie was nowhere in sight.
Since then, the actress had not been photographed while wearing her engagement ring -- until now, that is! Us Weekly has obtained photos of the Oscar winner's rock, and we must say we're impressed.
The star attended the Sarajevo Film Festival in Bosnia on Saturday, when she showed off the enormous piece of jewelry. Jolie was honored for her directorial debut, In the Land of Blood and Honey, and was made an honorary citizen of the Bosnian capital.
This means so much to me. My heart is in this city, said Jolie.
Brangelina officially became at item in 2005 after co-starring as husband and wife in Mr. and Mrs. Smith. The globetrotting pair have six children together, three of whom which were adopted from different countries. Speculation as to when they would tie the knot was rampant. Dismissing the rumors, Pitt spoke of his marital hesitation in a 2006 interview with Esquire.
Angie and I will consider tying the knot when everyone else in the country who wants to be married is legally able, Pitt told the mag.
Yet it became abundantly clear this April that the two changed their shared perspective on matrimony. Pitt's manager, Cynthia Pett-Dante, confirmed the couple's engagement, as did Pitt's jeweler, Robert Procop.
Yes, it's confirmed, Pett-Dante told USA Today in a statement. It is a promise for the future, and their kids are very happy. There's no date set at this time. And, yes, she confirmed that Pitt designed the ring.
Procop had previously revealed the custom-made ring was in fact designed by Pitt himself.
Brad was always heavily involved, overseeing every aspect of the creative design evolution, said Procop. The side diamonds are specially cut to encircle her finger. Each diamond is of the highest gem quality.
This will be Jolie's third marriage. She was married to Jonny Lee Miller from 1996 to 1999 and to Billy Bob Thornton from 2000 to 2003. Pitt was married to Jennifer Aniston from 2000 to 2005.
© Copyright IBTimes 2023. All rights reserved.