Angelina Jolie's Stunning Marie Claire Cover [PHOTO]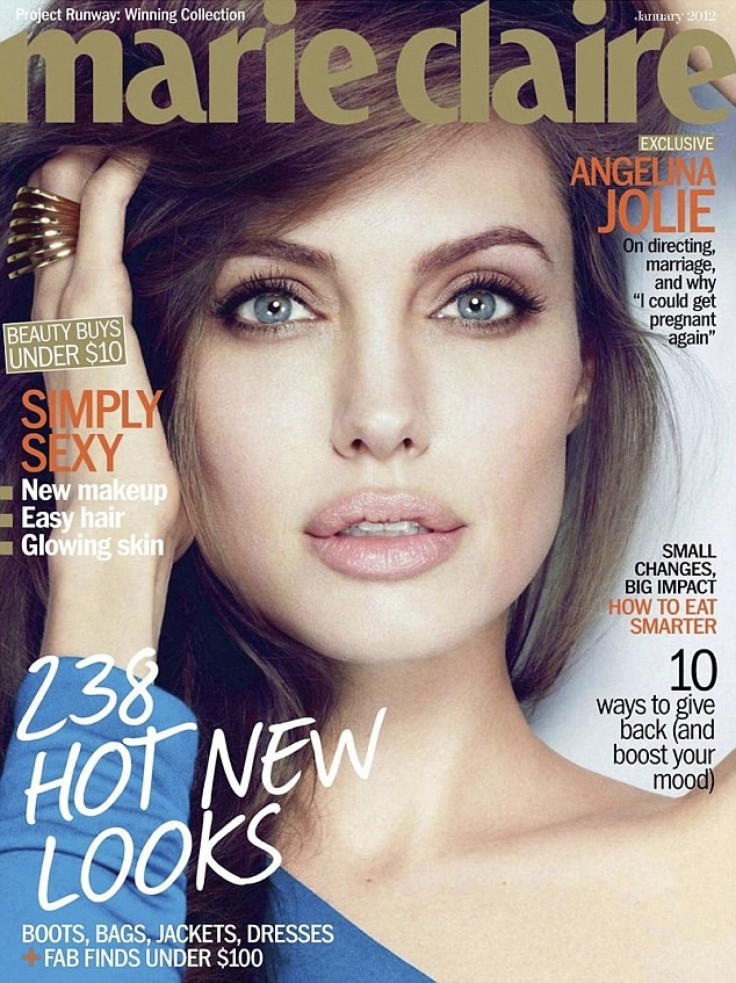 Angelina Jolie looks absolutely radiant on the January cover of Marie Claire magazine, wearing a periwinkle top and bold gold jewelry.
In the issue, Jolie opens up about her family, her new movie In the Land of Blood and Honey and her lack of female friends.
It was nice for me to play with other girls; I don't really have girlfriends in movies, if you've noticed, she said.
Well, I have a few girlfriends, I just... I stay at home a lot. I'm just not very social. I don't do a lot with them, and I'm very homebound.
However, she does have a close friend in Gwen Stefani. They have been friends since 1998.
Somehow Gwen and I keep ending up pregnant at the exact same time, Jolie has joked.
All of the kids are very close in age. They've attended each other's birthday parties and gotten together several times at each other's homes, a source TOLD YahooNews.
Of course, she has partner Brad Pitt. I'll talk to my family, said the actress. I talk to Brad ... But I don't know, I don't have a lot of friends I talk to. He is really the only person I talk to.
I have a wonderful partner in Brad and we take turns working always.
She said they have no plans at the moment for extending their ever-growing brood right now, but who knows what may happen. The couple currently has six children together, three biological and three adopted.
Brad has expanded my life in ways I never imagined. We built a family. He is not just the love of my life, he is my family. I hold that very deal, said the brunette beauty.
I suppose what I've learned from Brad is to be able to have the kind of family whose happiness and well-being comes before your own.
I'm very, very grateful to have such a loving family, and I wouldn't have that without him.
Jolie delved into some touching, personal details about her children. Vivienne is a girlie girl. She is so elegant and delicate. Vivi will pick flowers from the garden and put them in her hair, said Jolie.
She likes to get her nails done and collects stuffed animals, she added. It's very funny for me to have to buy all things pink and watch princess movies!
She called Knox a little dude who loves dinosaurs and swords.
Jolie also discussed her directorial debut, In the Land of Blood and Honey.
I think it's still hard to understand what happened and how it could happen 40 minutes away from Italy in the '90s at the time 'Schindler's List' came out, said Jolie about the film, which revolves around a prisoner of war who is raped by her captor and then falls in love with him.
'It began as a private exercise, an excuse to get out some of my frustrations with the international community and justice issues, she said.
Some of the very darkest sections of the film were conceived in Shiloh's art class; I was in the back waiting for the kids to finish, she added.
In the Land of Blood and Honey will be released in theaters Dec 23. The new issue of Marie Claire will be on newsstands Dec. 13.
© Copyright IBTimes 2023. All rights reserved.