'Animal Kingdom' Season 2 Spoilers: Episode 6 Synopsis Released; Watch 'Cry Havoc' Promo
The Cody boys were able to make off with a large amount of cash following the megachurch heist but just as they think that they have finally found success without Smurf, little things will begin to break them down and threaten to tear them apart on the TNT series.
"As Javi (Alex Meraz) ratchets up the pressure on Smurf (Ellen Barkin), she enlists J (Finn Cole) to help her," the synopsis for "Animal Kingdom" Season 2, episode 6 teases.
READ: Will the megachurch heist go smoothly on "Animal Kingdom"?
In the "Cry Havoc" promo, Smurf and J can be seen driving as the teen holds onto a handgun. Upon realizing someone is following them, he asks his grandmother what are they going to do.
"Whatever we have to do," she says.
In the previous episode, Javi had two men kidnap Smurf so he could talk to her face to face. During their conversation, Javi accused Smurf of killing his father during a job in which she told him that his father ran away with the money and abandoned him.
Javi then threatened the Cody matriarch and demanded that she give him $300,000 or else. Although it is unclear what Smurf plans to do, she typically always has a trick up her sleeve.
"You did a very bad thing and now you're on the run from me," Smurf can be seen saying to someone in the "Animal Kingdom" Season 2, episode 6 promo. Although it seems like Smurf is issuing a threat, could her harsh words backfire?
In the "Cry Havoc" preview, a man can be seen breaking things in Smurf's kitchen and he and another man can later be seen grabbing J, however, the teen attempts to fight them off and even manages to punches one in the face.
Just when it looks like he may escape the ambush, the promo for the TNT series cuts to the men holding J under water as he struggles to hold his breath. What could Smurf have done to cause this type of attack? Will she be able to save her grandson before it's too late?
"Baz (Scott Speedman) is confronted by a secret Catherine (Daniella Alonso) kept from him," the synopsis says. Although there isn't much to go on from the promo, it is known that Catherine was good friends with a police officer and considered taking him up on his offer to help get her and Lena (Aamya Deva Keroles) away from the Cody family.
Will Baz finally find out about Catherine's secret friend? In Season 1, Smurf knew about Catherine's friendship with the cop and also discovered that she stole money in order for her and Lena to leave. Will Baz learn that Catherine planned to leave him all along or will clues about her murder finally arise?
"Pope (Shawn Hatosy) and Baz clash in the wake of the megachurch job," the synopsis states. In the promo, Baz can be seen putting his hands behind his head as if he may be in the presence of police.
"You don't think the cops are going to connect the dots?" Baz's voice can be heard over images of Pope looking worried as four armed officers look in his direction.
Although Baz and Pope seemed to be on the same page during the heist, things have clearly changed since then. Could Pope be feeling guilty about lying to Amy (Jennifer Landon)?
READ: Deran finally opens his bar, but will Smurf approve?
In the previous episode, Pope could overhear Amy on the phone seemingly devastated after finding out the church was robbed. Could Pope's loyalty change?
"Animal Kingdom" Season 2, episode 6, will air Tuesday at 9 p.m. EDT on TNT.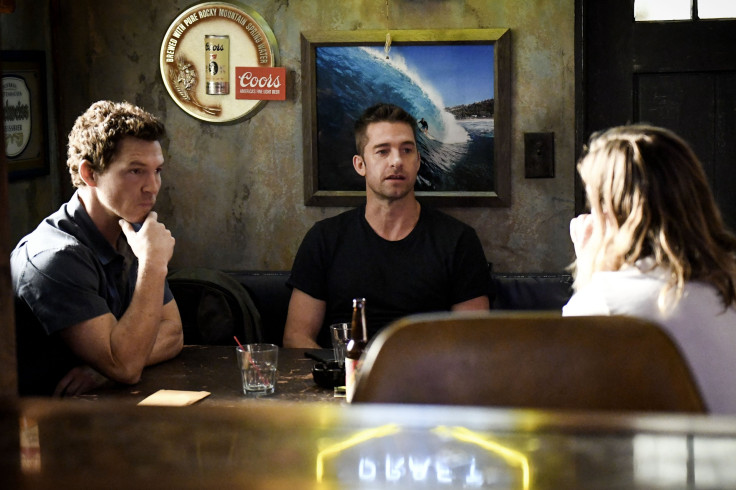 © Copyright IBTimes 2023. All rights reserved.