International Business Times offers links to items to help our readers find interesting products. When you buy through links on our site, we may earn an affiliate commission. Here are our
T&C
. For licensing please
click here
.
Who Is The Anker PowerConf S500 Portable Conference Speaker For?
The Anker PowerConf S500 portable conference speaker is ideal for someone who travels regularly, or wants to take work with them on the road
The PowerConf S500 has outstanding audio quality on both ends of a call
The S500 can be used wirelessly via Bluetooth or when plugged in with a USB cable, making it compatible with just about anything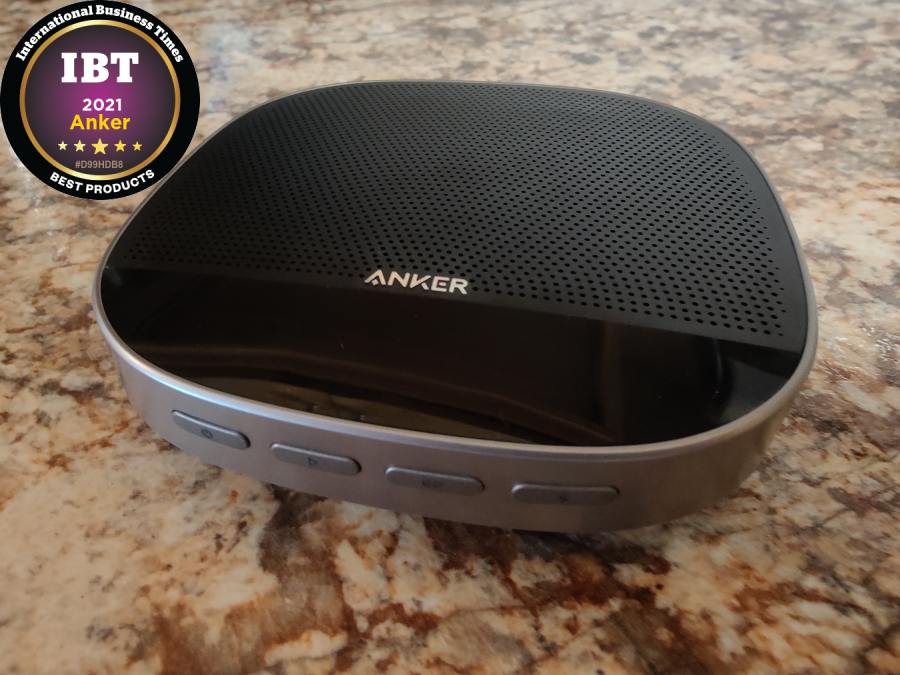 Working from home or while on the go is becoming increasingly popular, and the trend looks like it isn't coming to an end any time soon. That means people will want to recreate that office environment wherever they are. The Anker PowerConf S500 portable conference speaker makes that goal an easy one, as it perfectly replicates the in-office conference speaker experience, but takes away the wires and makes calls simple.
Works Just Like A Bluetooth Speaker
Gone are the days of having to punch in a series of numbers into a conference speaker in the hopes that it will connect to the right call. Gone are the days of having to connect a landline to a speaker just to make a call. The Anker PowerConf S500 has streamlined all of the pain points of using a conference speaker, and has made the experience identical to using any other Bluetooth audio speaker.
To get the S500 paired, all a user has to do is press the Bluetooth button on the front of the speaker to enter the device into pairing mode. From there, the user only needs to pair the S500 to another device like a cell phone or computer like they would with any earbuds, headphones, or other speakers. Once paired, the S500 is ready for anything.
The S500 speaker can be used in all kinds of ways. This includes standard phone calls, Zoom calls, or just about any other video conferencing software. If it can be broadcast via Bluetooth, the S500 is ready to help out. Of course, if a computer doesn't have Bluetooth built in, the S500 can be plugged in via a USB cable. There is also an included adapter, which we'll talk about more a little later.
Once on a call, the S500's touch panel lights up. This touch panel offers four buttons: one to lower the volume, one to raise the volume, one to mute the speaker and one to hang up. These are all clearly laid out and easy to press without accidentally pressing one that wasn't intended.
The S500 is so much like a traditional Bluetooth speaker that it can even serve as an audio playback device. Once a call has ended, it's entirely possible to fire up a Spotify playlist or bring up YouTube to listen to music.
There is an additional feature with the S500 that I didn't get to personally test out. With the press of one of the front buttons on the speaker, it is possible to link multiple S500 speakers together. Seeing as how I only have one speaker to review, I can't test this mode out myself. However, those who want multiple people in a call without all crowding around one speaker will probably find a nice use for this mode.
The only real negative I can think of in terms of using the S500 is its firmware updates. The S500 can update its firmware when connected to the Anker Work app, but it is incredibly slow. To make things worse, the timer that should give an estimate for how much longer the update should last doesn't work. It's possible to jump to other apps while the firmware is updating, but users still need to regularly check back in with the Anker Work app from time to time to make sure the update hasn't paused itself.
Fantastic Product Design
From an aesthetic perspective, the Anker PowerConf S500 portable speaker is a total win. The speaker is highly functional, but is presented as something familiar that is easy to use. The buttons are easy to find and the labels are clear and obvious.
The shape of the S500 is perfect for being small, while still somewhat substantial. It's easy to pick up and move the speaker to wherever a user wants, making it ideal to throw into a bag whenever needed. It's even great for office use, as, at least in my experience, meetings can sometimes be bounced from room to room when needed. The S500 makes it easy to bring the conversation along to wherever works best.
There are so many nice little touches with the Anker S500 as well. Perhaps the nicest is the included Bluetooth adapter for computers that don't have a Bluetooth connection built in. The adapter has a little groove on the bottom of the speaker that it can fit in, and is held in tightly with some magnets. It's the perfect balance between being easily accessible without getting in the way. The PowerConf speaker also comes with a nice carrying case, making it a breeze to keep the S500 safe during travel.
The S500 also has a decent battery life, with a full charge running for about 16 hours of active use. Considering that the S500 isn't too heavy, that's some pretty impressive power consumption.
Audio Powerhouse
We've mentioned that the Anker PowerConf S500 is easy to set up and use, and has a great look and feel to it, but how does it actually sound? Thankfully, I can say that the S500 has really blown me away here, as my calls were crystal clear.
Moment to moment conversation with the PowerConf S500 is outstanding. When using the S500 for a standard phone call, the person I talked to sounded incredibly natural, even better than if I were using the actual phone for the call. The person I talked to also said I sounded perfectly clear on her end as well.
I tried to push the S500 to its limits in terms of signal range. I brought the speaker with me into a different room from my phone, and at worst the conversation was a little choppy. I doubt many people will stray too far away from the devices the S500 is connected to, but it is possible. I also tested how well I could be heard when I had some distance between myself and the speaker, and it really picked up on my voice quite well. I was in a completely different room from the speaker and didn't even have to talk that much louder to still be heard. The person I talked to said I did sound like I was further away, but I was still clear and easy to hear.
As great as the audio quality is, I do still have a few minor issues with the S500. The most annoying thing is that the person I was talking to said she could hear feedback of herself every now and then when she talked. This feedback wasn't constant, and I could never hear it through the S500 on my end, but it would come in and out for no reason I could determine. She did report that the feedback sounded very clear to her, so at least there's that.
Additionally, while the background noise cancellation worked really well on the other person's end, it didn't work so well on my end. The person I was talking to put her phone right next to a running sink and a television, and I couldn't hear those sounds at all through the PowerConf S500 during our conversation. However, she reported being able to hear just about everything going on around me, including keyboard tapping, a running sink and even the quiet sounds of me flipping through a booklet. While I didn't personally test it, I imagine multiple people all working around one S500 could become very noisy for the person or people on the other end of a call.
When not being used for calls, the S500 can serve as a standard Bluetooth speaker if so desired. While it may be a little goofy to blast Taylor Swift out of a device designed for work calls, the S500 speaker plays back music quite well. There's a nice audio balance with the S500, with a surprisingly deep bass response considering the device was intended for human voices.
Final Thoughts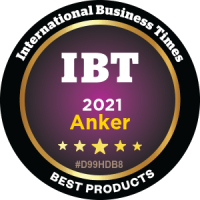 The Anker PowerConf S500 portable conference speaker is the best device I have used for making both phone and video calls. The audio quality is astounding and those I talked to also said I sounded great. The S500 is also very easy to take anywhere thanks to its small size and convenient carrying pouch.
The S500 is a little on the expensive side, retailing for around $220. However, if someone is regularly on voice calls and doesn't want to keep putting on a headset, the S500 is the easiest way to have high-quality audio calls. For someone working from home or who travels regularly, the S500 really brings the office experience to wherever it is wanted.