Ann Coulter Claims Delta Incident Was Politically Motivated, Posts Texts With Attendant On Twitter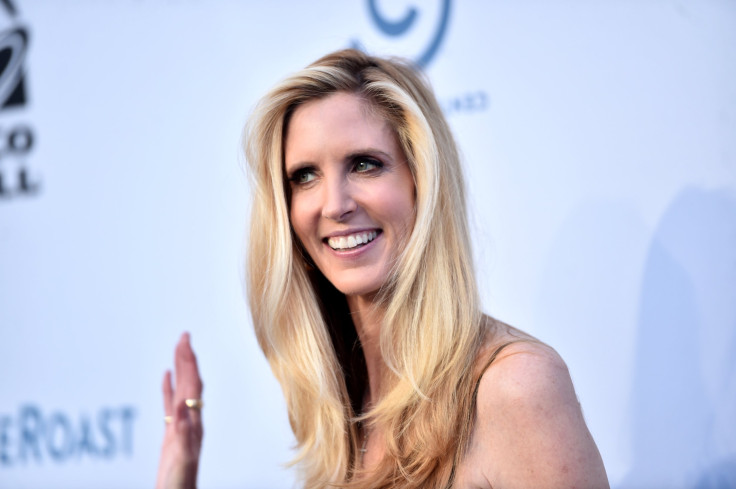 Ann Coulter shared a text exchange from an unidentified flight attendant to Twitter Tuesday, ostensibly revealing that the conservative figure was targeted by Delta Air Lines. Coulter went on to warn fellow Republicans to avoid the airline altogether.
"BEWARE OF @DELTA REPUBLICANS. Texts from a flight attendant: It was political. @Delta still won't give a reason," she wrote in a tweet.
The claim follows a series of tweets in which Coulter spoke in opposition of Delta following Saturday's incident, during which she was allegedly forced to give up her preferred seat on a flight. Delta reportedly removed the conservative author from her seat on Delta flight 2852 from New York's LaGuardia Airport to West Palm Beach for an unknown reason.
Read: Ann Coulter Continues To Tweet Against Delta Airlines: Twitter Asks Her To 'Get Over It'
In the text exchange, the flight attendant claimed that "someone noticed her [Coulter], and just wanted to be a jerk and make her flight miserable."
The flight attendant, who asserted that they belonged to a secret Facebook group of airline employees, claimed members were "hating on Ann." However, group members reportedly "acknowledged it was a Delta employee who targeted Ann on purpose."
Coulter's tweet received backlash from Twitter users, including Chad Stowell, Growth Officer at DoSomething.org.
"A) This is a fake screenshot. B) If it is real so what?" he responded. "You said the free market should decide, no protections, remember?"
Delta Air Lines has not commented on Coulter's text message reveal. They issued an apology on their website Sunday, claiming they were "sorry that [Coulter] did not receive the seat she reserved and paid for." However, they also went on to castigate Coulter's treatment of its employees as well as other airline customers, specifically the woman who was given Coulter's seat.
"More importantly, we are disappointed that the customer has chosen to publicly attack our employees and other customers by posting derogatory and slanderous comments and photos in social media," they added. "Her actions are unnecessary and unacceptable. Each of our employees is charged with treating each other as well as our customers with dignity and respect. And we hold each other accountable when that does not happen."
Coulter, who criticized Delta through a series of tweets moments after receiving the boot from the flight Saturday, continued to troll the airline in a Twitter rampage leading up to Tuesday's text message reveal.
Read: Delta Reacts To Ann Coulter's Criticism, Twitter Supports Airline
The war against Delta began when Coulter was asked to give up her pre-booked seat Saturday, which reportedly accommodated extra leg room for an additional $30. The political analyst tweeted her frustration over her replacement, writing that "if it was so important for the dachshund-legged woman to take my seat, she should have BOOKED THE SEAT IN ADVANCE. Like I did."
Coulter also took a picture of the woman who took her seat, adding, "@Delta didn't give my extra room seat to an air marshall or tall person."
Several Twitter users took issue with Coulter's comments, with some users making reference to her "white privilege." One user wrote: "If you say 'White privilege' into a mirror 3 times Ann Coulter appears behind you and tells you to move because she needs the leg room.'"
Documentarian Jeremy Newberger referenced Coulter's refund, claiming that "Delta should have charged Ann Coulter $30 more to check her white privilege."
"Captain America: Civil War" star Chris Evans also tweeted at Coulter Monday. "I totally get it," he wrote. "It costs me 75k to brush my teeth. I must pre-select a brush, investigate types of paste, and periodically spit bulls—."
Coulter's frustration is understandable, but the Delta Air Lines website reiterates that there are circumstances where there's an "occasional need to change another individual's pre-assigned seat, with bulkhead seats being particularly subject to reassignment." Changes can be arranged to accommodate individuals with disabilities, for example.
Follow me on Twitter @dory_jackson
© Copyright IBTimes 2023. All rights reserved.