Anna Duggar's Family Reportedly Wants Cheating Husband Josh Duggar 'To Just Disappear' Following Ashley Madison Hack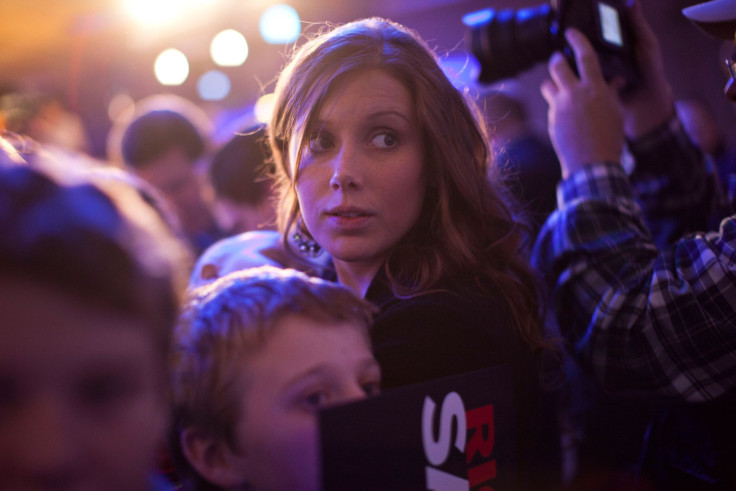 Anna Duggar's brother, Daniel Keller, isn't the only one who wants her to get far, far away from husband Josh Duggar following the Ashley Madison hack. Keller spoke out on Facebook last month, revealing that he had offered Anna a place for her and her four children to stay. New reports suggest the rest of her family -- with the exception of their parents, Mike and Suzette Keller --- shares Keller's distaste for Josh Duggar, 27.
According to People magazine, members of Anna's family are furious Josh would cheat on her. Sources tell the publication they remain hopeful that Anna will leave her husband of six years. They went on to say that they believe it is in the best interest of her children, Mackynzie, 5, Michael, 4, Marcus, 2, and Meredith, 1 month, to "get away from him." The family reportedly has little faith that Josh Duggar's Christian-based rehabilitation at Reformer's Unanimous in Rockford, Illinois, will be enough to cure him of his pornography addiction or mend his broken marriage.
"They would really just like him to just disappear," the source said.
This news comes just one day after it was reported that Josh Duggar had gone missing from the rehab facility he is supposed to be enrolled in. According to Radar Online, on Aug. 30, Duggar was absent from Sunday church services, which are a mandatory scheduled event at the center. A source also reported that the former "19 Kids and Counting" star skipped a Bible study meeting at North Love Baptist Church, which is closely linked to the center. The Duggar family has not confirmed whether Josh Duggar is actually enrolled at Reformer's Unanimous or commented on claims that he is currently missing.
Josh's mother, Michelle Duggar, revealed that her eldest son had entered treatment in a blog post on the family's website on Aug. 25. She did not name the facility the self-proclaimed pornography addict decided to attend, but told fans it was part of "a long journey toward wholeness and recovery."
© Copyright IBTimes 2023. All rights reserved.