Another Alcohol Ban For US Soldiers In Japan After Fatal Okinawa Crash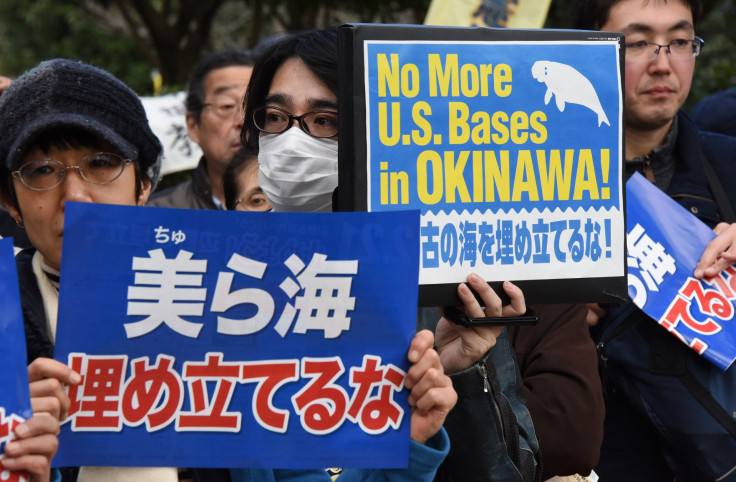 U.S. Forces, Japan (USFJ), announced a new set of restrictions on service members in the country Sunday, following an incident on the island of Okinawa during which a local man was killed "when his vehicle was struck by a truck being driven by a U.S. service member."
In a statement released in both English and Japanese, USFJ said "alcohol may have been a factor" behind the Sunday morning incident, and that all service members on Okinawa were confined to either their base or their residence. Consumption of alcohol is completely banned for service members in Okinawa, whether in public places or within their houses. Purchase and consumption of alcohol is also banned for the United States service members on mainland Japan as well.
In addition to the restrictions, mandatory training classes will be held across Japan for all U.S. military members and government civilians. These classes would be compulsory to attend and will focus on "responsible alcohol use, risk management and acceptable behavior," the statement said.
Japan has a large deployment of U.S. troops ever since World War II and an overwhelming majority of them are stationed on Okinawa, which has about half a dozen U.S. military bases and over half the 47,000 military personnel in the country.
"The vast majority of Soldiers, Sailors, Airmen, Marines and civilians in Japan serve honorably and make great contributions to the defense of Japan. When our service members fail to live up to the high standards we set for them, it damages the bonds between bases and local communities and makes it harder for us to accomplish our mission. We are committed to being good neighbors with our host communities and we are thankful for the support we receive from them every day," USFJ said Sunday.
With so many service members stationed on Okinawa, the U.S. military has been on the wrong end of a lot of bad news from the island in southern Japan. The islanders have long protested against the presence of the U.S. military bases and personnel, and demanded they be relocated elsewhere, somewhere off the island.
In the summer of 2016, two criminal incidents — involving sexual assault and murder — linked to U.S. service members in Okinawa led to large-scale protests by the locals and USFJ imposed a 30-day night curfew. Since all celebrations and concerts at the bases in Okinawa were banned under the curfew, troops there missed out on July 4 fireworks display as well.
© Copyright IBTimes 2023. All rights reserved.