Anthony Bourdain's Girlfriend: Who Is Asia Argento?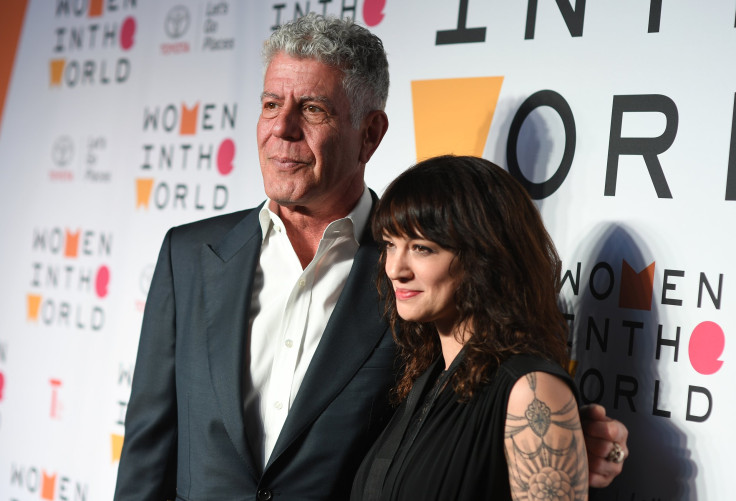 Update, 12:24 p.m. June 8, 2018: This article has been updated to reflect Asia Argento's statement on Anthony Bourdain's death.
Anthony Bourdain, the world-renowned chef and "Parts Unknown" host, has died. The 61-year-old reportedly committed suicide.
According to reports, Bourdain was found dead in a hotel room in Strasbourg, France, where he was currently shooting for his series, "Parts Unknown," on CNN. He was reportedly found unresponsive by close friend Eric Ripert, a French chef.
CNN confirmed Bourdain's death in a statement on Friday morning.
"It is with extraordinary sadness we can confirm the death of our friend and colleague, Anthony Bourdain," the network said. "His love of great adventure, new friends, fine food and drink and the remarkable stories of the world made him a unique storyteller. His talents never ceased to amaze us and we will miss him very much. Our thoughts and prayers are with his daughter and family at this incredibly difficult time."
Bourdain is survived by a daughter, Ariane Bourdain, with his ex-wife Ottavia Busia, to whom he was married from 2007-2016. The former couple's marriage was considered unconventional from the beginning, as his divorce from first wife, Nancy Putkowski, whom he was married to from 1985, happened within the same two week period as his marriage to Busia. The pair also became parents to their daughter within that time.
Most recently, Bourdain was linked to Italian actress Asia Argento, 42.
Bourdain opened up to People Magazine in September 2017 about his relationship with the actress, admitting that their hectic work schedules which kept them both on the road actually worked for them, because she understood why he was always traveling.
"We both work a lot," he said at the time. "And we're both away from home a lot so we're both circus freaks in the same circus—or different circuses I guess."
"[Asia] has spent a lifetime in film since she was 9 years old. She comes from generations of filmmakers on both sides of the family. She's a really accomplished director and writer along with being a longtime actress and a real sponge for culture, music, literature. So she's enormously helpful and inspiring," he added.
Bourdain showed tremendous support to his girlfriend in October 2017 when she came forward as one of the women accusing now disgraced Hollywood mogul Harvey Weinstein of rape. Argento was one of several women who came forward in a New Yorker magazine article, claiming Weinstein had had sexually assaulted her in 1997 and forcibly performed oral sex on her.
"I am proud and honored to know you," he tweeted to his girlfriend at the time. "You just did the hardest thing in the world."
Bourdain again showed his support to Argento on May 25, after Weinstein surrendered to authorities in New York.
"When you went on record, @AsiaArgento you were sure this day would never come, that you would be crushed, that you were alone. And yet you did it anyway. #perpwalk," he wrote.
Following news of Bourdain's death, Argento took to social media to share a statement about how devastation.
"Anthony gave all of himself in everything that he did. His brilliant, fearless spirit touched and inspired so many, and his generosity knew no bounds. He was my love, my rock, my protector. I am beyond devastated. My thoughts are with his family. I would ask that you respect their privacy and mine," she wrote.
© Copyright IBTimes 2023. All rights reserved.