Anthony Kiedis Girlfriend: 51-Year-Old Rocker Dating 20-Year-Old Aussie Model, Helena Vestergaard [PHOTOS]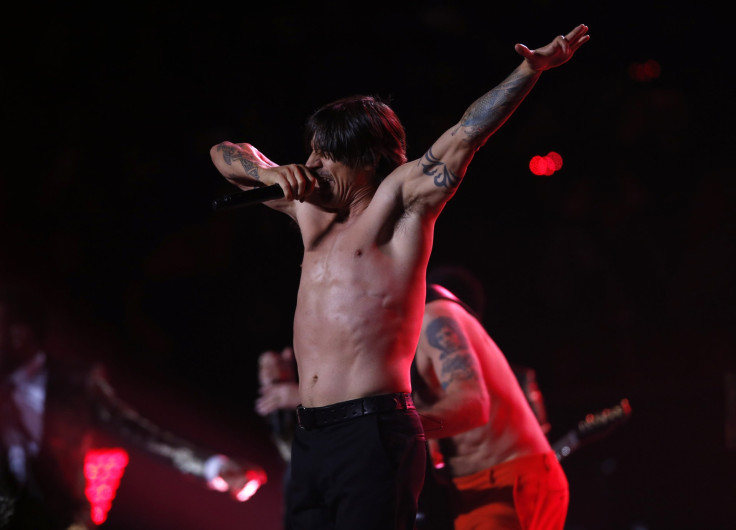 The Internet was abuzz last night about Anthony Kiedis, who gave a rockin' performance alongside Bruno Mars Sunday night in the Super Bowl halftime show. There was even more talk about how the 51-year-old Red Hot Chili Peppers front man, who was shirtless for the number, looked so youthful, as seen in the BuzzFeed photo essay "You'll Never Guess Hold Old Anthony Kiedis Is."
Maybe that's how he can be dating someone much younger -- 30 years younger.
Elle magazine posted a photo gallery Sunday night detailing the "epic dating history" of Kiedis, who has paired with the likes of Madonna and Demi Moore, and is currently with 20-year-old Australia model Helena Vestergaard.
The two met in 2012, have been dating ever since, and even now live together in Los Angeles. While some may find the age gap to be questionable, Vestergaard doesn't mind, because she's in love.
"I'm not an ageist. You can't help who you fall in love with," she told Confidential. "We're both happy and that's good."
So who exactly is Vestergaard, whom we've seen in the media frolicking with Kiedis?
The 5-foot-8-inch Melbourne native is a model signed with modeling agency Chadwick and has been featured in Teen Vogue, among many others. In the August 2013 edition of the magazine, she confessed that she got her modeling break thanks to the Red Hot Chili Peppers.
"I got my big break when [photographer] David Mushegain was in Melbourne—my hometown—touring with the Red Hot Chili Peppers," she told Teen Vogue. "He was looking for girls to photograph, and my friend suggested me. David asked if I wanted to do a shoot for Vogue Japan, and it all started from there!"
According to News.com.au, she's also an Australian MotoGP ambassador and once hoped to become an actress someday. She's even been filmed topless in an editorial video for Monster Children.
"When I was younger, I wanted to live the dream," she said. "I wanted to be a movie star, but since I've matured, and been to L.A., I've realized the whole environment, and how it is over there, and it's not as attractive as I thought. There are so many actors over there, you can't imagine how anybody breaks into it. But I guess they do."
Kiedis has a 6-year-old son, Everly, with his ex-girlfriend, Heather Christie, with whom he is photographed regularly.
FOLLOW MORE IBT NEWS ON THE BELOW CHANNELS