Anthony Weiner Memes And Gifs About Emails After James Comey Hearing Go Viral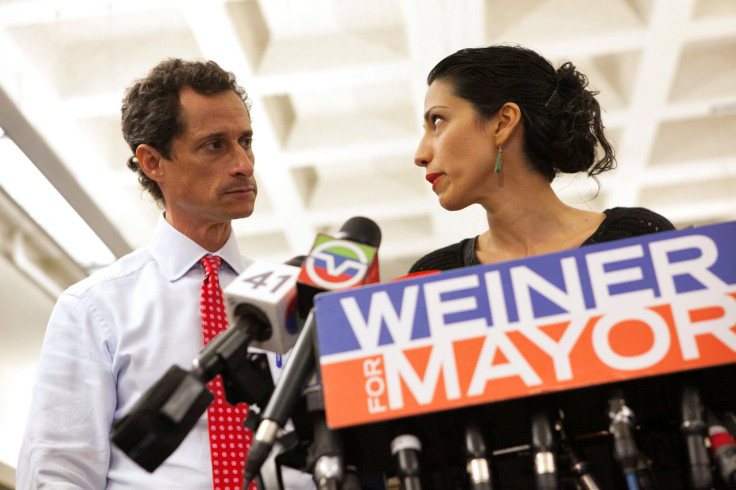 The internet erupted over the continuing saga of Anthony Weiner Wednesday after FBI Director James Comey said Huma Abedin, top aide to Hillary Clinton and Weiner's wife, had forwarded classified emails to her estranged husband.
Clinton's emails were one of the main hot topics of the 2016 presidential campaign after reports emerged that she had used a private email server during her time as Secretary of State. Clinton said she never sent classified emails from her private server while intelligence officials looked into the matter, but later apologized for not using two email addresses. In July 2016, Comey said that while Clinton's actions were "extremely careless," he would not recommend charges against her.
That might have been the end of it, until Comey announced October 28 that the FBI would be re-examining Clinton's private emails after related information was found while officials were investigating Weiner's communication.
Read: Everything To Know About Anthony Weiner's Sexting Scandals
Comey returned to Capitol Hill to testify in front of the Senate Judiciary Committee Wednesday, where he dropped the bombshell about the always-contentious Anthony Weiner. Social media users everywhere promptly lost it.
The contentious topic made its way back into the news Tuesday when Clinton, the Democratic presidential candidate, pointed the finger at Comey, saying she would have been president had it not been for his actions during the election.
"If the election had been on October 27, I would be your president," Clinton told CNN's Christiane Amanpour, moderator at the Women for Women International event in New York. "I was on the way to winning until the combination of Jim Comey's letter on October 28 and Russian WikILeaks raised doubts in the minds of people who were inclined to vote for me but got scared off — and the evidence for the intervening event is, I think, compelling [and] and persuasive."
Weiner, married to top Clinton aide Abedin, first made headlines in 2011 when he posted a salacious selfie on Twitter. The former U.S. representative repeatedly denied that he posted the selfie before finally admitting it at a press conference later and resigning from his position in Congress. Two relatively uneventful years passed before Weiner announced he would run for mayor of New York City in 2013. Shortly after, TMZ exposed screenshots of Weiner sexting various women under the alias "Carlos Danger" after he resigned from Congress. He went on to lose the election.
The New York Post revealed during the Clinton campaign that Weiner had sexted with yet another woman, going so far as to send a selfie with his 4-year-old son in the background. An investigation into Weiner's contact with a 15-year-old girl was launched and Abedin announced she would be separating from her husband.
© Copyright IBTimes 2022. All rights reserved.
FOLLOW MORE IBT NEWS ON THE BELOW CHANNELS