AOC Hits Musk's Turkey Censorship, Expresses Concern Over Twitter's Role In 2024 Election
KEY POINTS
AOC accused Musk of "putting his finger on the scale" in Turkey's presidential election
Twitter blocked access to some election content in Turkey earlier this month
AOC and Musk have had public spats since the latter acquired Twitter
Rep. Alexandria Ocasio-Cortez, D-N.Y., seems to have revived her beef with Twitter owner Elon Musk as she took to BlueSky to express concern over the tech mogul's potential role in the 2024 election, considering the censorship of some Turkish election content on the social media platform earlier this month.
"I am concerned about next year's election given Musk putting his finger on the scale in Turkey, etc. There is a line where the harm of unchecked disinfo exceeds the benefits of direct, authentic communication," Ocasio-Cortez, also known as AOC, wrote on the potential Twitter rival app Tuesday.
AOC also said she was "wondering" when the appropriate time was to "leave the other place." Insider noted that the New York congressperson may be referring to leaving Twitter like what other influential people have done since the sweeping Musk takeover.
Earlier this month, Twitter's Global Government Affairs posted that it had "taken action to restrict access to some content in Turkey today" as a response "to legal process."
While Twitter did not specify which accounts were censored, Turkish news site Turkish Minute reported that some of the censored accounts were those of investigative journalist Cevheri Güven and businessman Muhammed Yakut.
Yakut had claimed that Turkish President Recep Tayyip Erdogan staged a failed coup in 2016, while Güven is known for reporting on corruption in the government, as per the Turkish Minute.
Dr. Tugrulcan Elmas, a postdoctoral researcher focused on social media manipulation at Indiana University Bloomington, told Insider that he believed Twitter made the censorship move "because the government demanded it."
Musk has since defended the move, saying Twitter would have been blocked "in its entirety" in Turkey if the platform didn't censor some content.
Erdogan and Musk have had connections since at least 2017, according to Vanity Fair.
In 2017, the two met to discuss possible collaboration between some of the tech billionaire's companies and Turkish firms. The two also shared a handshake during the World Cup finals in December 2022.
Ocasio-Cortez isn't the first to raise concerns about the possible role Twitter will play in the U.S. elections.
In March, the AP News reported that someone created thousands of fake automated Twitter accounts to criticize Donald Trump's foes and praise the former president.
Among the people the bot accounts attacked were Florida Gov. Ron DeSantis and former South Carolina Gov. Nikki Haley — both of whom have recently announced their bids for the 2024 presidential race.
Researchers at social threat intelligence company Cyabra told AP News that "mainstream Republican sentiment for 2024 is being manipulated by the prevalence of bots online."
Meanwhile, AOC has also called out Twitter for a "fake account on here impersonating me and going viral." She said the parody account was "releasing false policy statements and gaining speed."
The Democratic representative further accused the "Twitter CEO" of engaging the account in question and "boosting" its visibility.
As of Tuesday, the parody account has garnered more than 216,000 followers.
AOC and Musk previously had a public spat after the former questioned the SpaceX founder's Twitter verification fee of $8 per month.
The two exchanged tweets that included the mention of AOC's team workers, whom she said were not subject to racism in the workplace.
"Your feedback is appreciated, now pay $8," Musk ended the trade of words.
AOC said her notifications and mentions stopped working temporarily hours after her spat with the Twitter owner. "I was informed via text that I seem to have gotten under a certain billionaire's skin," she said at the time.
In April last year, Ocasio-Cortez tweeted about a "billionaire with an ego problem," to which the Tesla CEO responded, "Stop hitting on me, I'm really shy."
"I was talking about [Mark] Zuckerberg but ok," AOC said to end the exchange in a since-deleted tweet.
AOC has also criticized Musk for the sudden suspension of accounts of journalists on Twitter in mid-December last year. She said the tech leader should "lay off the proto-fascism," to which Musk replied, "You first lol."
Meanwhile, Musk appears to be opening Twitter's doors for 2024 candidates who want to bank on the platform's social media prowess.
Albeit on a glitch-laden stage, DeSantis made his 2024 bid official in an audio-only talk with Musk on Twitter Spaces last week.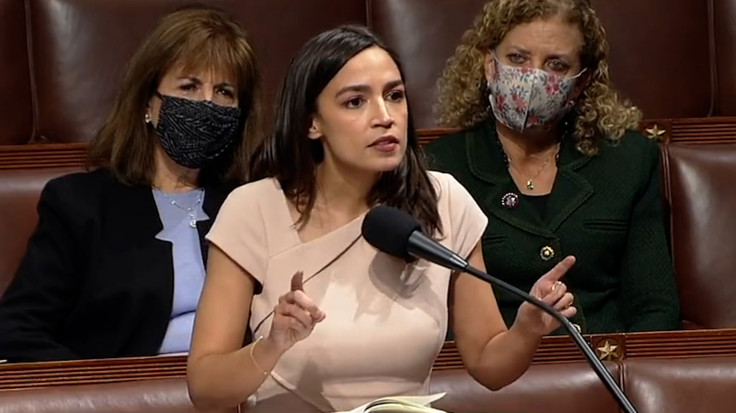 © Copyright IBTimes 2023. All rights reserved.