Apple Granted 36 New Patents: Here's What You Need To Know
The U.S. Patent and Trademark Office on Tuesday officially granted 36 patents to Apple Inc. (NASDAQ:AAPL) that may indicate what's in store at the tech giant. Many of them are patents on older technology, such as two patents on the design of the original iPad, and others are pretty complex and technical. Some, however, give some interesting hints at Apple's future plans for Macs, iPhones and iPads. Here's what you need to know about the 36 patents.
1. Method Of Authentication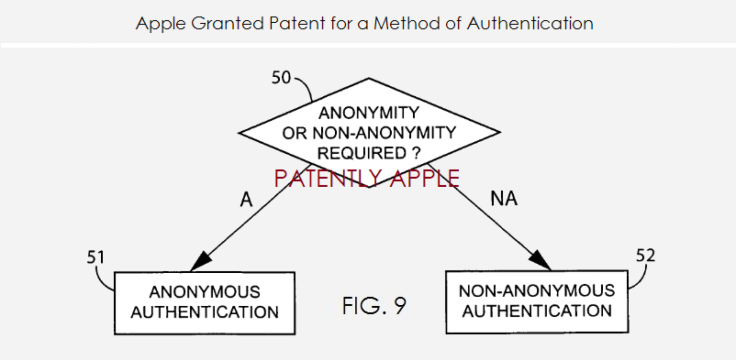 Apple was granted a patent for a new mode of authentication that could be used to provide more functionality to the fingerprint sensor on the new iPhone 5S. The mode allows for a first party containing secret information to communicate with a second party. The idea is to authenticate the first party with the second party while still protecting the secret information the first party contains.
Imagine a section of the A7 chip in the iPhone 5S being dedicated to storing fingerprint information. If an outside party -- like a website or app -- wants to authenticate the identity of the user, this system allows it to communicate with the fingerprint information. The first party can then reply yes or no, verifying the identity without giving up the secret information stored.
This system could allow for the fingerprint sensor to replace passwords and even be used to authenticate payment.
2. Swipe Gestures On Touchscreen Keyboard
Android users have long been able to enter passwords or type on the keyboards by making swipe gestures instead of individual taps on the keyboard. While Apple might be not be adopting a similar method, a new patent does point toward including swipe gestures to perform certain keyboard functions.
The patent shows how swipes can be assigned functions such as inserting a space, backspacing, shifting for capital letters, inserting a line break, and more. The patent applies to all devices with a touchscreen interface, including iPhones and iPads.
3. Signature Capture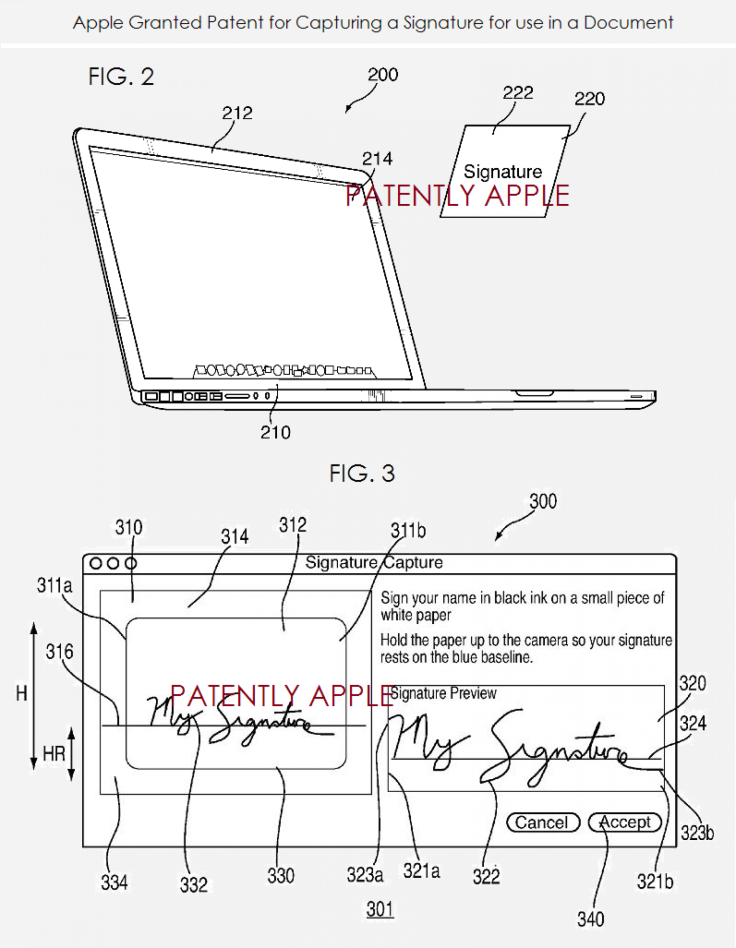 As more of our world goes digital, some things are still easier with a pen and paper. A new patent granted to Apple hopes to finally make it easy and convenient for people to sign documents digitally.
A sensor captures an image of a user's signature on a piece of paper and creates a digital representation. This can then be used on a computer or mobile device to add a signature to a digital document.There are some pretty obvious security issues here that Apple will have to work out before introducing this in the next line of Macs, iPhones or iPads.
Other patents included several for multitouch functionality on touchpad screens, a retail transaction card, and a strange-looking new home button for the iPhone. Patently Apple has a list of the rest that Apple was granted.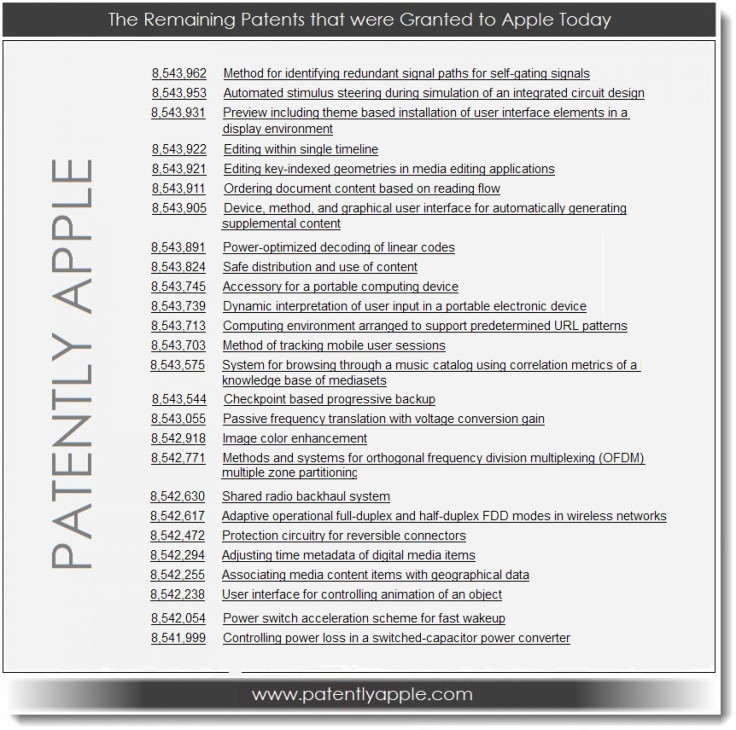 © Copyright IBTimes 2023. All rights reserved.