Apple iOS 6 Release At WWDC 2012? Banners For New OS Emerge In San Francisco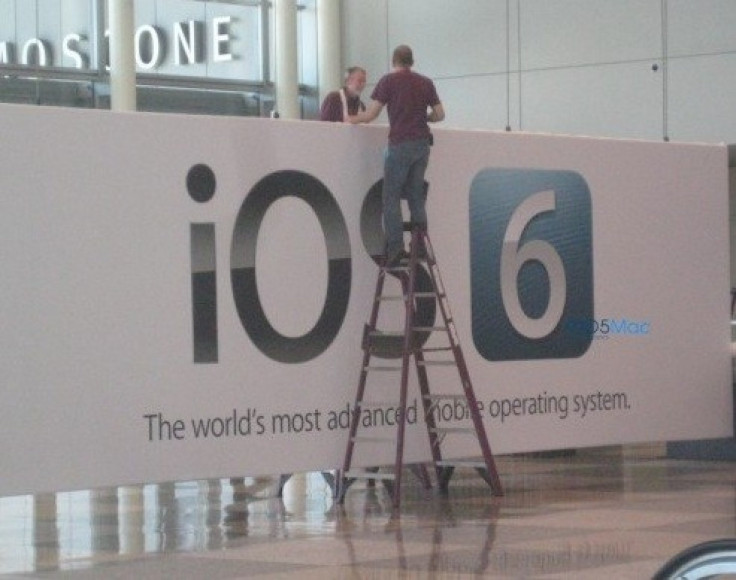 Apple is expected to unveil a ton of new products next week at the 2012 Worldwide Developers Conference (WWDC) in San Francisco, including new laptops, new desktops, new accessories, and new software features being added to the Mac OS X platform. It was rumored that Apple would also announce a new version of its mobile operating system, but the rumor seems to have become a fact. On Friday afternoon, Gadget Lab tweeted a picture from Wired's Roberto Baldwin of a banner put up in Moscone West, one of the WWDC event locations, which showcased iOS 6: The world's most advanced mobile operating system.
Even though iOS 6 will likely be unveiled about eight months after iOS 5 was released in October, bets are iOS 6 won't be ready for the public until the end of the summer. Maybe it'll be released in time for a new iPhone?
iOS 5 introduced several key features to Apple's mobile platform, including an organized Notification Center, deep intregration with Twitter, a free messaging service called iMessage, and the cloud platform for storing and streaming documents and media files to any iOS device called iCloud. In all, Apple managed to package a whopping 200-plus features into iOS 5. While we don't know what's exactly in store in iOS 6, a handful of reports and rumors suggest Apple is packing in plenty of new toys in its next mobile operating system.
Apple iOS 6: Expected Features
Apple-Made Maps Application: The first iPhone launched in 2007 with a maps application from Google, which helped users find local businesses, find their own location, and get directions. Five years later, after several bitter patent infringement lawsuits with Google, Apple is looking to move on and introduce a new in-house maps application, which will be made from the technologies of three acquired mapping companies, including Placebace, Poly9, and C3 Technologies, which were purchased in 2009, 2010 and 2011, respectively.
The new application promises extremely detailed 3D maps, 2D maps and street views, and more information about traffic and location data. The data is collected by a plane which covers 100-square-kilometer areas at a time, taking photos of the area and sending them to a fully-automated graphics generator, which creates 3D models of the land, terrain, and objects in the photos. The process is automatic, and it creates a veritable third dimension for users to explore their maps.
Rumors of the app's unveiling at WWDC are likely spot-on: After all, why else would Google have felt compelled to hold its own event on June 6 -- just five days before WWDC -- just to introduce its Next Dimension of Google Maps?
Deep Facebook Integration: In iOS 5, Apple elected to optimize nearly in-house app for Twitter, which allowed users to tweet photos, pages from Safari, movies from YouTube or even their location out to their Twitter followers. The integration was easy: Users would sign into their Twitter accounts once in order to tweet any kind of content their iPhone. In iOS 6, Apple will reportedly apply many of these deep integration tactics with Facebook, the world's largest social network with more than 900 million users.
Apple CEO Tim Cook hinted at Facebook integration last week whenhe appeared at AllThingsD's D10 Conference in Rancho Palos Verdes, Calif.
Facebook is a great company and I have great appreciation for them, Cook said. Our relationship is very solid... For us, we want to provide customers simple and elegant ways to do the things they want to do. Facebook has hundreds of millions of customers. So, anyone that has an iPhone or iPad, we want them to have the best experience with Facebook on those platforms. So stay tuned.
Facebook recently went public on May 18, but the company's shares have dipped in value from $38 to about $25. Zuckerberg's stock could jump if Apple makes this significant investment in Facebook, letting users sign in once to post and share comments, images, events, and more with their friends.
Mobile Store Redesigns: Apple uses three main platforms to sell its content: The App Store for mobile applications, the iTunes Store for movies, music, TV shows, podcasts and radio, and the iBookstore for books. These stores have revolutionized how users purchase and consume their multimedia content, but Apple hasn't redesigned these stores in about three years, and sources say an overhaul is imminent.
Apple has yet to debut the technology and tools it acquired in February from Chomp, the app search and discovery platform purchased by Apple in February for a reported $50 million. Chomp, which was available for iPhone, iPad and Android devices, offered plenty of great ways to discover great apps, featuring pages for new apps, trending apps, apps on sale, and free apps of the day. Chomp also provided pages for the apps considered All-Time Greats, as well as those apps trending heavily on Twitter. Chomp would also suggest popular app searches for categories users may not know about, such as voice recording apps, or guitar apps, or system utilities apps.
Mark Gurman, who originally reported the story for 9 to 5 Mac, explains the new store designs rumored for iOS 6:
The new design is said to be even simpler and more user-friendly than the current design, Gurman said. Apple is working on ways to enhance the speed and efficiency of finding new content, such as songs, videos, and applications. The cornerstone element of Apple's new iTunes Store is interactivity. As Apple vaguely explained to a number of music labels and entertainment partners, Apple is looking to make the iTunes Store a much more engaging experience.
Gurman believes the App Store, iTunes Store and iBookstore will attempt to mirror the experiences on the Mac, as iOS 6 and Mac OS 10.8 Mountain Lion have been in production simultaneously. Even though Gurman believes iOS 6 will be released in the fall -- just in time for a newiPhone -- the new system will likely be unveiled at WWDC.
Features From OS X Mountain Lion: In an effort to better merge iOS with the Mac operating system, Apple is reportedly adding many features from OS 10.8 Mountain Lion to iOS 6. Citing trusted sources, 9 to 5 Mac believes Apple will add Mail VIPs, a Do Not Disturb feature for the Notification Center, and a new feature called iCloud Tabs, which lets users view their tabs opened in Safari across all iOS and Mac devices. Users simply click a designated iCloud Tabs button and all the tabs opened on each device are shown in a synchronized list, letting them see what's open across all their Apple devices.
Siri on iPad: Apple endowed the New iPad with its Voice Dictation technology, but Siri, Apple's virtual personal assistant, was noticeably absent. That is apparently about to change: According to 9 to 5 Mac, Siri will be available on the iPad as an included feature in iOS 6.
Siri, which is currently exclusive to the iPhone 4S, helps users place calls, create and send texts and e-mails, schedule meetings and reminders, play music, surf the Web, and answer complicated and context-sensitive questions. Some figured the iPad would never receive Siri because people typically hold their iPads farther away from their mouths than their iPhones, which would make it difficult to hear and interpret one's voice commands. This worry, however, has since been dismissed.
9 to 5 Mac's Mark Gurman describes what Siri looks like on an iPad:
Unlike on the iPhone 4S, Siri for iPad is not a full screen experience, Gurman said. This makes sense given the device's larger, 9.7-inch display. Siri on the iPad is activated by a quick hold of the home button, just like on the iPhone 4S. The interface slides up from below the display with a clever animation. Siri is built into the iPad as a small window on top of whatever interface the user is currently interacting with. This Siri window with rounded corners sits at the bottom center of the display, as you can see in our mockup above. The Siri iPad interface takes very little space over the iPad interface currently in use, and is designed with the same linen texture as on the iPhone 4S. Siri for iPad also works from the lock screen.
Siri on the iPad makes sense: Given that Siri is designed to boost one's production by helping the user become better organized, this technology, when paired with the iPad, has incredible potential. In schools, the iPad could read aloud a selection from a new iBooks textbook, or remind a student to study for an upcoming test. Beyond the classroom, Siri for iPad can be a boon for professional settings, too. Imagine sitting in an office with an iPad instead of a traditional PC. The iPad already helps users write and share documents, track of financial data and create ready-to-go slide presentations, but Siri can also remind employees of meetings, help them perform research, or even set timers if they're working on a deadline. Because of the tablet's flexibility, the iPad can be perfect for all business settings, from small start-ups to large enterprises and beyond.
Yet, there's still so much more Siri could do. Tim Cook recently said Apple is doubling down on its Siri efforts, so hopefully, we'll soon see Siri plug into more APIs from useful services like OpenTable, MovieTickets.com, and Stubhub -- which the original app could do, interestingly enough. If Siri could ever partner with Wikipedia, or if it could integrate with WebMD's symptom checker, users would be more inclined and less embarrassed to ask her questions. But even better, if Siri could remember our preferences -- which is not unheard of in the technology realm -- Siri could fulfill one's shopping needs, news needs, music needs, and even more. The potential of an iPad with Siri is virtually endless.
What Else Will Be Unveiled At WWDC 2012?
On Wednesday, AppleInsider posted a list of 27 new part numbers that are reportdly on their way to resellers in Australia, which will reportedly be unveiled at WWDC on June 11. Of the 27 total parts, 13 of the numbers correlate to standalone kits or accessories, which leaves 14 products that can only be new Mac computers.
Based on Apple's past records of internal inventory, analysts have taken their stabs at each of the product listings are. Here's what experts believe Apple will unveil on Monday:
New Airport Express: Part number MC414, described as K31 Best in the inventory, appears to have a price tag of about $119, which experts believe is the price for a new AirPort Express Wi-Fi device. There's also a slight possibility this could be a new Time Capsule base station, which would likely include a capacity upgrade, but most believe this product is an AirPort Express.Estimated price: $119.
New MacBook Pro Laptops: The inventory lists two D2 machines, better and best, which are priced above $2000 and $3000, respectively. Based on these price point hints, the two items are likely two MacBook Pro models, one with a 15-inch screen, and likely one with a 17-inch screen (currently, Apple sells those devices at $1,799 and $2,499 respectively). The new MacBook Pros have reportedly been heavily redesigned, featuring second-generation Thunderbolt controllers, USB 3.0, quad-core Ivy Bridge chips from Intel, and possibly even a Retina-style ultra-high resolution display of 2800 x 1800 pixels. Estimated price: $2,499 for 15-inch model, and $3,199 for 17-inch model.
New iMacs: Two pairs of model numbers (J30 and J31) correlate with four Apple products that cost anywhere from $1,000 to $2,000: These are likely new iMac desktop computers. Apple hasn't updated its iMac line in a few years now, and the price points certainly fit: Apple sells iMacs between $1,199 and $1,999. Esimated price: 21-inch models at $1,349 and $1,689; 27-inch models at $1,999 and $2,499.
New MacBook Air Laptops: Apple lists two pairs of models (J11 and J13), which could be linked to four new MacBook Air models. Pricing for the lowest-end model of these items begins at $1,000, which correlates with Apple's existing price for the MacBook Air. Estimated price: $1,099, $1,249, $1,349, $1,689 for various models.
New Mac Pro Computers: The very end of the list, right after the list of 12 accessory parts, includes three models that are almost certainly new Mac Pros. Two model numbers are labeled as better and best, which are likely two standard Mac Pros, and a third ultimate version, which is likely a configuration with an Apple OS X Server. The last Mac Pro was updated almost two years ago. Estimated price: $2,999 and $4,599 for standard models; $3,599 for OS X Server model.
If all of these computers and accessories weren't enough, Apple is also expected to delve into greater detail about Mac OS 10.8 Mountain Lion, the new operating system for Mac that takes several cues and features from the popular iOS platform for iPhones and iPads. At WWDC, Apple will discuss how to create better Mac apps, and explain some of the new features of Mountain Lion, including deeper iCloud integration, deep integration with social networks like Twitter (and possibly Facebook), and Gatekeeper, the new security feature for Mac that assigns developers unique IDs and digital signatures for safety's sake.
© Copyright IBTimes 2023. All rights reserved.
FOLLOW MORE IBT NEWS ON THE BELOW CHANNELS