Apple iPhone 5 On T-Mobile Vs. AT&T, Verizon Wireless And Sprint: How Much Money Can You Save?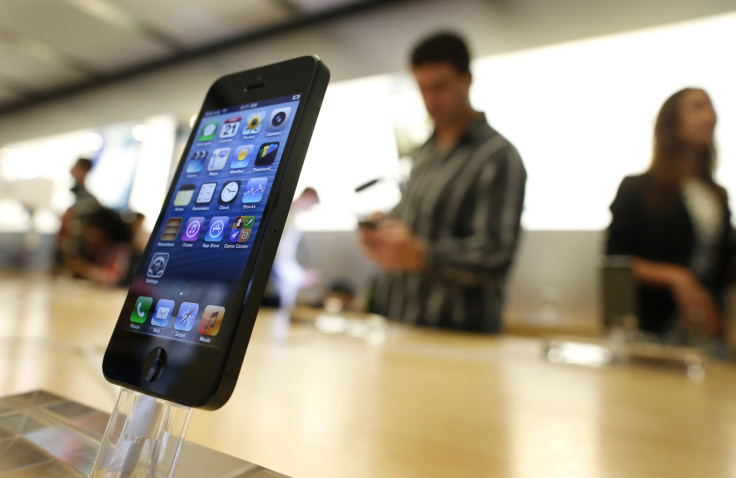 T-Mobile announced at its "Uncarrier" event in New York City on Tuesday that the network will finally support Apple's iPhone, and the iPhone 5 will release via the carrier starting April 12.
The T-Mobile iPhone 5, according to the company's new "Simple Choice Plan," will cost just $99 up front, plus $50 per month for unlimited talk, text and Web with 500 MB of 4G data. T-Mobile boasts that compared to a 24-month plan from AT&T, consumers will pay $1,000 less for their iPhone 5 by choosing T-Mobile.
Contrary to T-Mobile's math, Zagg's Mike Beauchamp did some independent number-crunching of his own and found that while the T-Mobile iPhone 5 is a major money-saver for individuals, it's not necessarily a cheap option for phone plans involving two or more people.
If a consumer buys a 16 GB iPhone 5 and owns it for two years, the individual will pay $2,839.99 regardless if he or she purchases the iPhone 5 on AT&T, Verizon Wireless or Sprint. For T-Mobile, however, owning a 16 GB iPhone 5 costs only $2,259.99 – a total savings of $580.
Unfortunately, that huge savings ends at the individual plans. As The Verge points out, a plan with two people costs customers $3,999.98 over two years on either AT&T or Verizon Wireless, but a very steep $5,439.50 for choosing Sprint, which offers unlimited data but no hotspot. T-Mobile, on the other hand, would charge $4,039.99 over those two years, and that plan includes unlimited data and 500 MB of hotspot. In other words, T-Mobile may have the best unlimited plan for parties of two people, but they can save $40 by sticking with AT&T or Verizon Wireless.
For a plan with a family of four, AT&T and Verizon customers would pay exactly $6,139.96 over two years, while Sprint customers pay a whopping $10,639 over that same span. T-Mobile customers who buy the iPhone 5 can expect to pay $6,639.96 over two years for a family of four -- $500 more than comparable plans from AT&T or Verizon Wireless, which don't include unlimited data.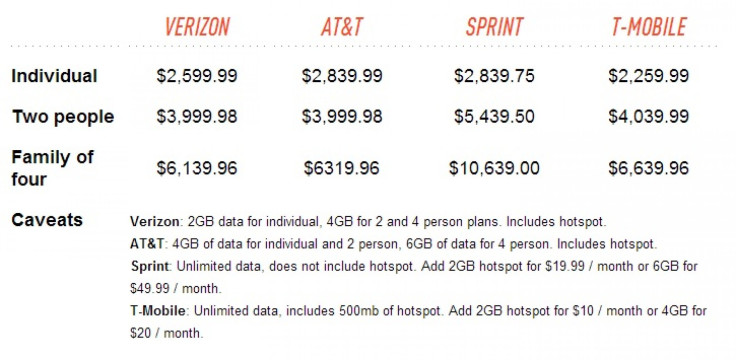 In other words, T-Mobile is easily the best option for individual customers looking to buy the iPhone 5, but for plans involving two or more, T-Mobile is slightly more expensive than AT&T and Verizon Wireless. And they are all vastly cheaper than Sprint's unlimited data plans.
"This is an important day for people who love their iPhone but can't stand the pain other carriers put them through to own one," John Legere, president and CEO of T-Mobile USA, told the crowd at Tuesday's media event. "We feel their pain. I've felt the pain. So we're rewriting the rules of wireless to provide a radically simple, affordable iPhone 5 experience — on an extremely powerful network."
Starting April 12, T-Mobile will be the first and only carrier to sell the iPhone 5 with no annual contract plus unlimited talk, text and Web. Furthermore, T-Mobile customers who purchase the iPhone 5 also receive a number of "premium benefits," including 500 MB of 4G data for hotspot tethering, the ability to talk and surf the Web at the same time without limits, and HD Voice for "significantly reduced background noise" and crystal clear phone calls.
"These bold moves serve notice that T-Mobile is canceling its membership in the out-of-touch wireless club," Legere said. "This is an industry filled with ridiculously confusing contracts, limits on how much data you can use or when you can upgrade, and monthly bills that make little sense. As America's Un-carrier, we are changing all of that and bringing common sense to wireless."
© Copyright IBTimes 2023. All rights reserved.