Apple iPhone 6S Event 2015: Faster iPhone, Smarter Apple TV, Bigger iPad, New iOS, New Bands For Apple Watch, And ... A $99 Apple Pencil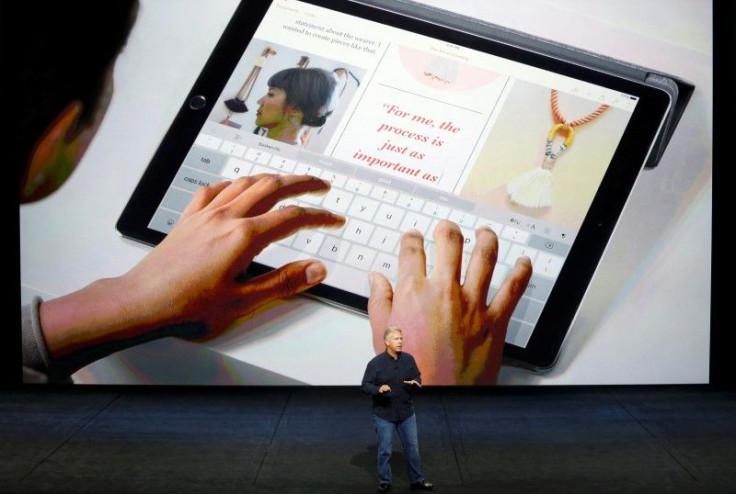 Apple refreshed its line of iOS devices Wednesday, getting ready for the 2015 holiday shopping season by announcing the new iPhone 6s, the iPad Pro, a new Apple TV and several new accessories, including a new $99 Apple Pencil that can be used as a stylus with the iPad Pro. The company's "Hey Siri" event in San Francisco was a show of upgrades: evolution, not revolution.
Apple did not, for example, disrupt the TV business with an offering that competes with cable. Rather, the Apple TV, iPhone and Apple Watch got incrementally better (or at least better watch bands.) The iPad literally got bigger, more useful for enterprise users, and a keyboard in a bid to replace some laptops. Apple's personnel onstage also reflected its ongoing struggle to diversify its executive ranks. Here's everything you need to know:
iPhone 6s, 6s Plus Coming Sept. 25, Pre-sale Starts Sept. 12
Closing the show were the new iPhone 6s and 6s Plus models that feature an improved camera, better performance and will also be available in a new Rose Gold color option. Both devices will also feature Apple's new 3D Touch feature, which essentially the equivalent of a right-click option for touchscreen devices. Pre-sales for the two gadgets start Saturday. They will go on sale in stores on Sept. 25. The 6s will be available starting at $199 with a two-year contract, followed by the 6s Plus, which starts at $299. Conversely, last year's 6 and 6 Plus models will fall to $99 and $199, respectively.
Apple TV Gears Up For Gaming
For the first time in many years, Apple unveiled a refreshed design for its Apple TV streaming device. The new Apple TV will feature a slightly taller shape, come with a redesigned, touch-sensitive remote, be capable of downloading apps from third-party developers and will feature Siri, letting users control the device with their voices. The new Bluetooth Apple TV remote also features an accelerometer and a gyroscope, making capable of being used to control video games on the Apple TV. With the device, Apple is taking another major step into the gaming market. The device will start at $149 for the 32 GB version and be available at $199 for the 64 GB model.
What Apple did not do is disrupt the TV ecosystem by unveiling its long-rumored cable bundle, a live TV subscription service it has been struggling to roll out for the past several years. "The television experience has been virtually standing still while innovation in the mobile space has been exploding led by iPhone and iPad," said CEO Tim Cook. "Our vision for TV is simple and perhaps a lttle provocative: we believe the future of television is apps."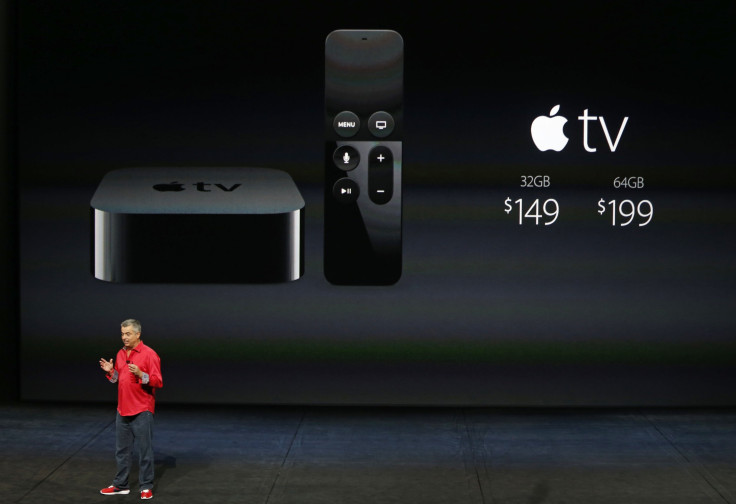 iPad Pro, Accessories Coming November
The biggest star of the show, literally, was the iPad Pro. The 12.9-inch tablet, Apple's largest iOS device to date, is a gizmo that is built for productivity and is more powerful than any of its predecessors. With the iPad Pro, Apple is hoping to dig into laptop sales and reach more enterprise customers.
The device will be compatible with a new $169 smart keyboard cover that gives users something physical to type on. Additionally, the iPad Pro will work with the Apple Pencil, a $99 stylus that can detect the force and angle users put on it to draw precise lines. The iPad Pro start at $799 with 32 gigabytes of storage. All of these products go on sale in November.
Additionally, Apple also announced a new, more powerful iPad mini 4 that is available now starting at $399.
New Apple Watch Bands
Apple started Wednesday event by focusing on the company's newest product: the Apple Watch. The Cupertino, California, tech firm announced several new bands for the Apple Watch, including a Product (RED) option, that will begin shipping immediately. The company also announced a partnership with Hermes, the French luxury brand, that will give consumers new handstiched, leather band options for the wearable devices. The Hermes bands will be available in October.
iOS 9, WatchOS 2 and El Capitan
Though Apple's event focused predominantly on hardware, the crew from Cupertino did make time for minor software announcements. Apple said its iOS 9 software, which is compatible with most iOS devices, will roll out to users on Sept. 16. Likewise, the WatchOS 2 operating system will roll out on Sept. 16. This software will let developers create more complex apps for the Apple Watch, meaning users will be able to do more with the device. And finally, the El Capitan Mac operating system will ship to users on Sept. 30.
Apple also used the event to announce reduced pricing for its iCloud service. Now, users will be able to pay as little as $0.99 per month for 50GB of storage. Apple will also offer 200 GB for $2.99 and 1 TB for $9.99. Previously, iCloud pricing started at $0.99 for 20 GB of space.
© Copyright IBTimes 2023. All rights reserved.