Apple Unveils iPhone 6S: 12 MP Camera, 3D Touch, 70% Faster Chip, 4K Video And 'Live Photo'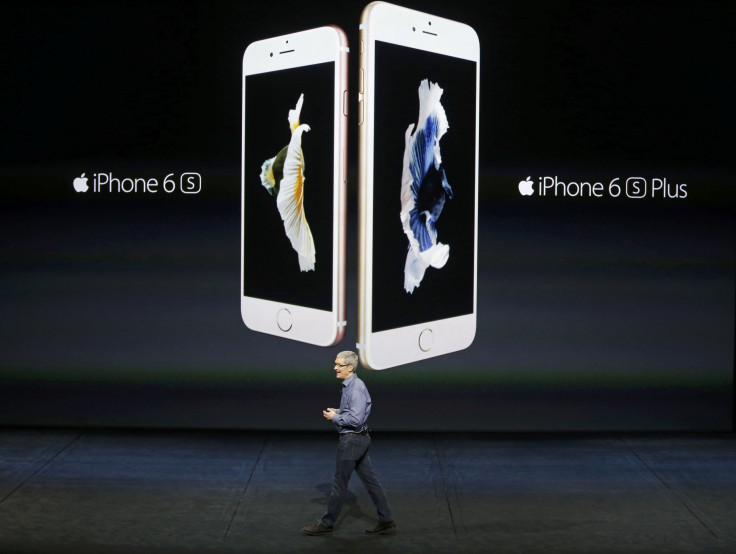 Apple CEO Tim Cook took the stage Wednesday to convince consumers to open up their wallets yet again for two new smartphones -- the iPhone 6S and the 6S Plus. "While they look familiar, we have changed everything in the new iPhones," said Cook.
At the core of the iPhone 6S and 6S Plus is a new pressure sensitive technology called 3D Touch, which allows touch screen to detect different levels of force, enabling new controls and touch gestures, such as shortcuts and the ability to peek into messages and emails. Apple unveiled a similar technology called Force Touch with the Apple Watch, which went on sale in April. Also packed in the iPhone 6S is a new "Taptic Engine," a force feedback motor that can make more nuanced vibrations and sensations similar to a tap.
For greater performance, Apple packed the iPhone 6S with a new A9 chip, which it claims is 70 percent faster than the A8 processor in the iPhone 6 and 90 percent faster in graphics performance.
Both phones also include an optical upgrade in the form of a 12-megapixel iSight camera, up from the 8-megapixel camera in the iPhone 6. So now iPhone fans will have the ability to shoot larger photos or if they're so inclined, video in 4K -- four times as many pixels as 1080p. The FaceTime camera is now 5-megapixels and for brighter selfies, it will automatically brighten up the screen to use as a flash.
The iPhone 6S can also take a new kind of picture, which it calls Live Photo -- a still photo that briefly turns into video by just pressing on it while it's displayed on screen.
While there were a number of changes that came to the iPhone 6S and 6S Plus, some things have remained the same. The iPhone 6S display still comes in at 4.7-inch measure diagonally and the 6S comes in with a 5.5-inch 1080p display.
Each model comes with three storage options -- 16GB, 64GB and 128GB. And prices clock in at $199, $299, and $399 with a two-year contract. Tack on an extra $100 on each tier if you opt for the iPhone 6S Plus.
Apple discontinued the 5C in favor of the iPhone 5S and the iPhone 6 and 6 Plus now start at $99 an $199 respectively.
But if you're the type of person that wants to upgrade on a yearly basis, Apple also launched its own upgrade program, where customers can upgrade on a yearly basis starting at $32 a month. The plan includes any carrier, an unlocked iPhone and an AppleCare Plus protection plan.
For those that are looking to sport a different color, Apple has added Rose Gold to its current lineup for Space Gray, Gold and Silver. That puts the iPhone 6S in line with the colors available on the Apple Watch.
Apple begins taking pre-orders on Saturday, followed by in-store sales on Sept. 25.
© Copyright IBTimes 2023. All rights reserved.