Apple Watch Sales During Q4 2016 Generated $2.6 Billion In Revenues With Estimated 6 Million Units Shipped
Apple hasn't been giving out numbers for the Apple Watch during its quarterly earning reports. Fortunately, a research firm has published a report earlier today detailing estimates on how well the tech giant's wearable is doing on the global market.
Apple Watch sales are estimated to around 6 million units sold with $2.6 billion in revenue for the fourth quarter (Q4) of 2016, according to Canalys. The research firm also estimates that the Apple Watch sales for Q4 2016 represents around 12 percent year-over-year growth from Q4 2015.
"It was the Apple Watch's best quarter despite being significantly handicapped by supply constraints, even though Apple simultaneously expanded its supply chain," Canalys said in its post. "The Apple Watch generated more than US$2.6 billion in revenue for Apple in Q4 2016, making up nearly 80% of total smartwatch revenue."
Canalys also pointed out that the Apple Watch Series 1's entry-level price and better fitness features of the Series 2 drove the demand for the wearable during 2016. For the whole year of 2016, the Apple Watch was able to take 49 percent of the overall smartwatch market with 11.9 million units sold, as pointed out by AppleInsider.
As for other smartwatch/fitness tracker manufacturers, Fitbit claims to have 17 percent of the market, while Samsung has 15 percent. Meanwhile, other brands have a collective share of 19 percent.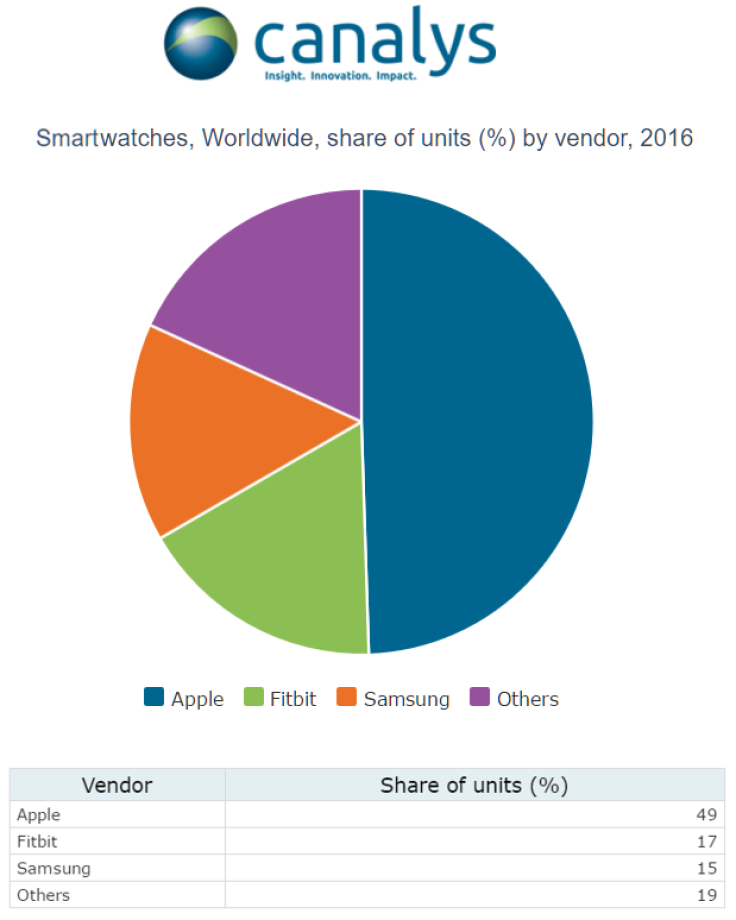 Canalys also singled out Xiaomi as having a record quarter for its basic fitness tracker, the Mi Band. The research firm estimated that Xiaomi was able to ship 5.5 million units of the Mi Band citing India, Poland and Russia as key markets.
As for the coming quarters, Canalys believes that the Apple Watch's lead in the market will be heavily challenged. Samsung will further push the Gear S3 Classic and Frontier shipments, while Android Wear is expected to make a significant comeback with the release of Android Wear 2.0 alongside the two new smartwatches from LG this month.
© Copyright IBTimes 2023. All rights reserved.