Are The Academy Awards Rigged? Corruption Rumors, Bribes, The Illuminati And Other Oscars Conspiracies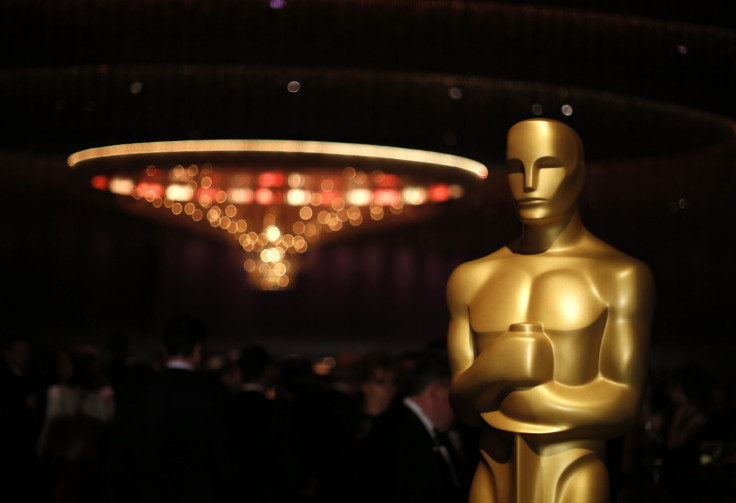 During a recent interview with So Film magazine, Oscar nominee Julie Delpy made some startling allegations about the Academy of Motion Picture Arts and Sciences. The 44-year-old French-American actress, featured in "Before Midnight" with Ethan Hawke, claimed that the Academy is full of corrupt Hollywood syndicates whose Oscar votes can be bought for the right price. She said Academy members "always choose the same people," and that unbridled nepotism taints the awards circuit.
"It's 90 percent white men over 70 who need money because they haven't done anything in a long time," she fired off. "You just need to give them two or three presents and they're in your pocket."
Delpy surely had some of her facts straight -- according to a 2012 report by the Los Angeles Times, the Academy's 5,765 voting members are, indeed, predominantly white, mostly male and typically remain anonymous (the Academy does not publically disclose its full membership, although the press usually keeps a tally of which Hollywood player has been invited to join.) Still, critical questions remain: Are the Academy Awards rigged? Can Academy members be bought for votes? Is there evidence to give credence to Delpy's assertion?
On the eve of the 86th Academy Awards, airing tonight, rumors and conspiracy theories about the year's biggest entertainment awards show are making their rounds on the Internet, albeit mostly in the form of blog and social-media posts.
"News flash, the Oscars are rigged. I guess this is where I confess my love for the WWE," one Twitter user quipped.
However secondary the channel might be, the Oscars rumor mill is certainly moving into high gear.
It's true that winning an Oscar can propel an actor into international stardom, add millions to a movie's box office and increase a studio's cachet. Furthermore, movie companies collect a large chunk of change from post-theater distribution.
For example, Miramax Films co-founder Harvey Weinstein, after receiving an Oscar nomination for "Inglorious Bastards" in 2010, said, "We'll sell another million or two million DVD units."
This just goes to show that awards nominations play an increasingly important role in driving sales and putting money in the pockets of studio executives and actors alike.
"Absolutely, the consumer is going to have their interest increased," Rob Friedman, Summit's chief executive and co-chairman, told Associated Press in 2010 regarding the nomination of Kathryn Bigelow's film "The Hurt Locker." "All in all, it'll be excellent for the movie. And more people will see it, which we're always happy about."
With so much at stake, skeptics argue that the chance that money – most likely in the form of dinners, trips and expensive gifts like iPhones – is being funneled into the Academy in exchange for names on a ballot is irrefutable, at least on some level.
Take, for instance, the 1993 scandal over the film, "Scent of a Woman," which starred Al Pacino. A report in the New York Times suggested that the movie's success at the Golden Globes was owed to Universal buying Golden Globes votes. The investigation held that Universal treated a slew of foreign and American critics to an all-expenses-paid excursion to New York in December – right before the Association members casted their Golden Globes votes. The report alleged that Universal was attempting to create hype over the film prior to the Oscars in March.
"The commotion surrounding the film dramatizes the high stakes of Oscar campaigning, where pressures both suble and overt are used to sway members of the Academy of Motion Picture Arts and Sciences," Associated Press reported in 1993.
Then there was last year's Academy Awards controversy over whether a letter written by Connecticut congressman Joe Courtney to Steven Spielberg, addressing an historical inaccuracy in Spielberg's Oscar-winning film "Lincoln," was prompted by actor and director Ben Affleck. Courtney credited his slim 2006 midterm elections victory to Affleck's campaigning, and many wondered if Courtney's letter to Spielberg was meant to derail "Lincoln" from the Best Picture running and was Affleck's way of cashing in on an owed favor (The main Oscar rival to "Lincoln" was Affleck's "Argo.")
Courtney denied the letter's ties to Affleck, although its delivery did coincide nicely with the start of Oscar voting season.
Still, there are those who take umbrage with the idea that the Oscars are rigged. Academy members themselves have spoken out to defend the awards show as a "clean contest."
"No one has ever tried to buy my vote in any way (small disappointment here)," Roger L. Simon, a screenwriter and a faculty member of the American Film Institute and Sundance Institute, wrote in 2005. "But more to the point, I have never witnessed or even heard about such a thing. Sure there's self-interest, as in any selection process. People vote for themselves (I did) or for their friends (maybe), but that's about the extent of it."
Then there are rumors of the awards' ties to the Illuminati occult, a secret society that purportedly influences politics and public life. During last year's Oscars, Illuminati conspiracy theorists pointed out several supposed Freemason, Satanic and New World Order references over the course of the awards show. One particularly obvious allusion – depending on who you ask, of course – came in the form of a comment made by Best Actor award-winner Daniel Day-Lewis during his acceptance speech.
"I'd like to thank Kathy Kennedy, our producer, and through you Kathy, and through you a mighty team of co-conspirators, at the apex of that human pyramid, there are three men to whom I owe this and a great deal more: Tony Kushner, our beloved skipper Steven Spielberg, and the mysteriously beautiful mind, body and spirit of Abraham Lincoln," he said.
Illuminati conspiracy believers were quick to point out the mention of a triangle in Lewis's speech, the symbol of which is believed to be used by members of the group to communicate with one another.
In the end, we may never truly know whether the Academy Awards are rigged or if the Oscar statuette goes to the highest bidder. What are your thoughts on the topic of whether or not the Oscars are fixed? Share with us in the comments below, and take our poll.
FOR FREE to continue reading
✔️ Unlock the full content of International Business Times UK for free
offer available for a limited time only
✔️ Easily manage your Newsletters subscriptions and save your favourite articles
✔️ No payment method required
Already have an account? Log in
© Copyright IBTimes 2023. All rights reserved.