Are Scientologists Tracking Katie Holmes and Suri Cruise?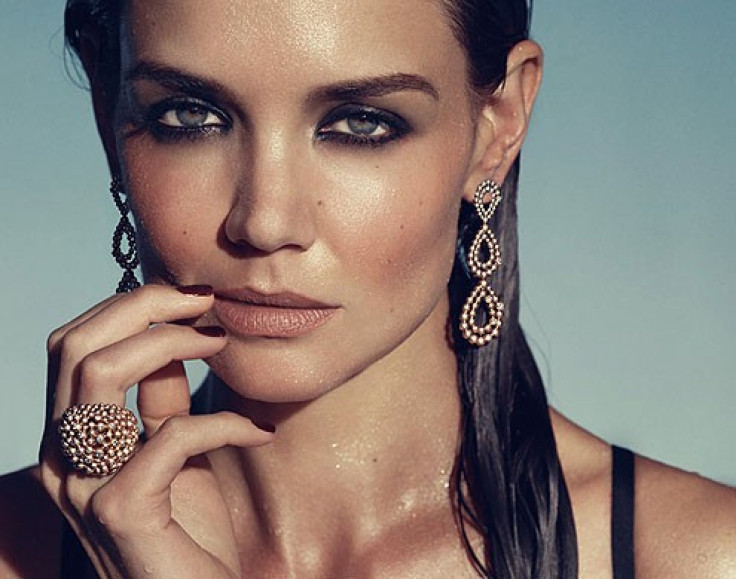 Katie Holmes, who filed for divorce from Tom Cruise last week, and their daughter Suri are being watched by a creepy crew believed to be from the Church of Scientology, the New York Daily News reports.
After the 33-year-old actress filed the papers on Friday, five men have stationed themselves outside of the Dawson's Creek actress' home in Chelsea.
The Daily News said the casually dressed, middle-aged men were camping out in a white Cadillac Escalade with Tennessee license plates. They kept the car on with the AC running and refused to identify themselves or even crack the window open when a reporter from the Daily News tried to speak them.
Though they did not cite any sources, TMZ said on Sunday that the men in the Escalade were sent by the Church of Scientology to keep an eye of Katie and Suri; Scientology officials deny the report.
There is no truth whatsoever to the TMZ.com report (or any other report) that the Church of Scientology has sent anyone to follow or surveil Katie Holmes, Gary Soter, a lawyer for the Church of Scientology International, told the Daily News.
It's been rumored that Holmes blindsided the Top Gun actor with divorce papers because she feared the effect his religion would have on their daughter.
Scientology, which calls itself a religion, was invented by science-fiction writer L. Ron Hubbard in 1955. Practitioners are encouraged to find spiritual fulfillment through study and training -- in expensive courses offered by the church.
In the divorce papers, Holmes claimed that her marriage was irretrievably broken for six months before she officially filed, celebrity blogger Perez Hilton reported. She added that she has had residency in New York for at least two years, which is key since she has a better chance of getting sole custody of her daughter Suri in New York than in California.
However, she has been living in New York permanently only for the past few months and may have not established legal residency, Hilton wrote.
An onlooker told Us Weekly that when spotting Holmes and her daughter in a Manhattan Whole Foods she said, You know you are an amazing little girl, right? I love you more than anything.
The actress was photographed on Tuesday sans her wedding ring -- talk about making a statement. She seems to be handling the divorce well and did a great job on Monday during the taping of Project Runway: All Stars, People reported.
Her divorce isn't the only split Holmes is going through, the actress is also going back to her old PR company, PWR Public Relations.
Actress Katie Holmes has left her publicist at Slate PR and has signed with BWR Public Relations, it was revealed in a statement to Mirror Online. Following the announcement of her divorce from Tom Cruise, she is now represented by Leslie Sloane in the New York office and Nanci Ryder in Los Angeles. Katie is set to star alongside Chace Crawford in the upcoming film 'Responsible Adults,' which starts filming later this year.
It seems Holmes is taking control of every aspect of her life, post-Cruise. A source explained to Us Magazine that she felt she was in the Mia Farrow movie Rosemary's Baby, a film about a woman who has a child with ties to a Satanic cult.
Every move she made and everything she did was controlled. ... This is about protecting her daughter. She wants to be in charge of how Suri is being raised and didn't want her to have an exclusively Scientology education, the insider says.
Friends of Holmes say her demeanor has changed now that she has chosen to leave Cruise, making their relationship, nicknamed TomKat a thing of the past.
She's been miserable for a long time, but the last couple of weeks, she's been happy - like she's been set free, an insider told Us Weekly.
© Copyright IBTimes 2023. All rights reserved.
FOLLOW MORE IBT NEWS ON THE BELOW CHANNELS