Are US Trains Safe? Derailments Declining, But Rail Travel Still Twice As Deadly As Europe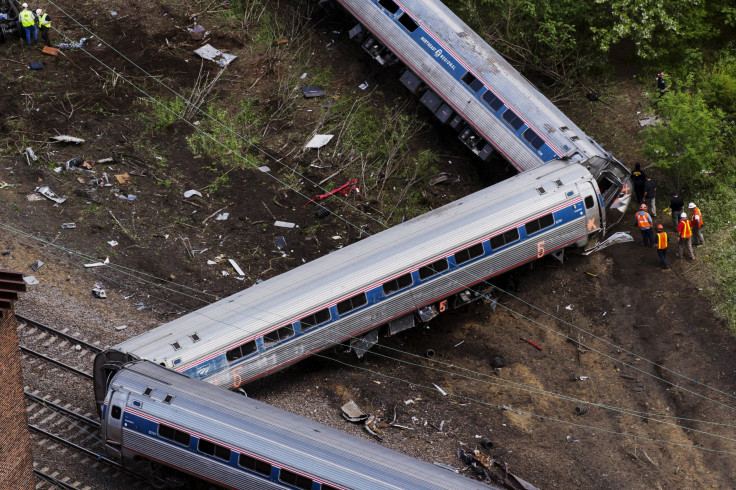 While train accidents and derailments have been on the decline in the U.S. over the last four years, riding a train in America is still twice as risky as taking the rail in the European Union, according to U.S. and E.U. statistics. While there have been less than a dozen rail deaths in the U.S. during that span, the eight people killed in Tuesday's derailment of an Amtrak train in Philadelphia was four times more than the two that died in all train accidents last year.
Despite the recent attention paid to rail accidents following Tuesday night's derailment in Philadelphia that left at least eight people dead, train derailments and accidents have been on the decline over the last four years, according to statistics by the Federal Railroad Administration. There have been fewer derailments each year from 2011 to 2014, representing a 15.5 percent decline. Accidents have also dropped by double digits.
A spokesman for the FRA said the decreased accidents and derailments was due to stronger regulations by the FRA, increased enforcement by the agency and increased adherence to regulations by state and local transportation departments.
While fatalities in train accidents rose from six in 2011 to nine in 2012 and 11 in 2013, only two people were killed in such incidents in 2014. Tuesday's derailment in Philadelphia had at least four times as many deaths as the 1,755 train accidents that were reported last year, according to the statistics.
Still, the fatality risk of dying in a train accident is nearly double in the U.S. than it is in the European Union. Over the last five years, there have been .32 people killed per million kilometers of train track in the EU, compared to .63 deaths per million kilometers of track in the U.S., according to a 2014 report by the European Railway Agency. The U.S. numbers were on par with Canada (.6 people killed per million kilometers of track) but behind South Korea (.45 people per million kilometers.) Australia fared the best out of the E.U. and five other countries included in the study, at .16 people killed per million kilometers of track.
Problems with signals were the only cause of train accidents in the U.S. to rise from 2011 to 2014, according to the FRA data. Signal causes of accidents jumped nearly 40 percent during that span, from 33 accidents attributed to signal problems in 2011, to 46 in 2014. Track causes had the biggest decline at 26 percent, from 692 in 2011 to 511 in 2014. That was followed by human factors, which had a 9 percent decrease, from 746 accidents in 2011 to 678 in 2014. Equipment causes experienced a 5 percent drop, from 237 accidents in 2011 to 225 in 2014.
© Copyright IBTimes 2023. All rights reserved.