'Are You The One?' Season 4 Spoilers: Potential Matches Revealed; Premiere Twist Sends Couple To Truth Booth [RECAP]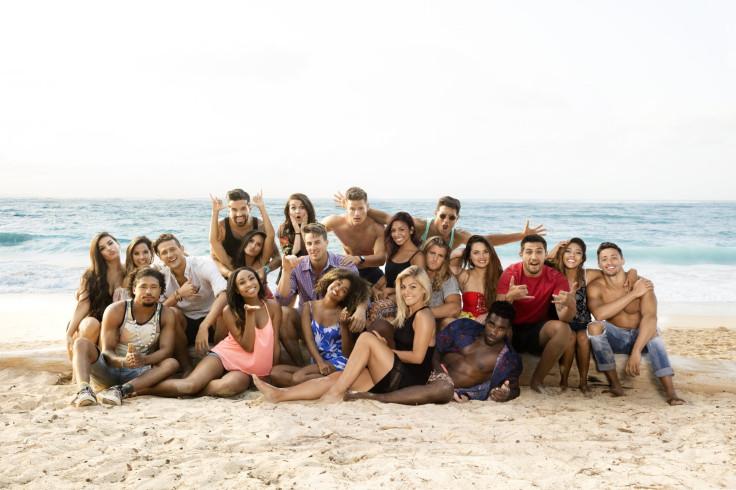 Do you believe in love at first sight? That was the question the Season 4 cast of "Are You the One?" had to answer during the premiere Monday night. Three couples among a fresh batch of 10 single men and 10 single women went on dates in episode 1 of the new season of the MTV series with the hope of winning an extra $250,000 in the event their housemates could pick a perfect match out of the pairs. Find out if the cast won the extra money or whether they suffered a dreaded blackout.
The Reveal
The show opens with the cast arriving at their mansion in Maui, Hawaii. Host Ryan Devlin immediately reveals the new "love at first sight" twist and sweetened $1 million jackpot. He announces that as long as the cast can find their perfect matches — and avoid a blackout, also known as the failure to find at least one match, during each matchup ceremony — its members will share the grand prize and each walk away with their one, true loves.
Kaylen is the first cast member to raise her hand about believing in the idea of love at first sight and sets her sights on the "baby with the tattoos," Stephen. Tyler acknowledges he also is a believer and says he finds Alyssa attractive. Tori is the last one to be called out by Ryan, and she singles out Prosper.
"This time around, we're going to do things a little bit differently," Ryan tells the newly minted couples. He then shares that one of the three couples will be the first to go into the truth booth, which reveals the true matches.
Welcome Home
Prosper and Tori immediately hit it off. He admits there are other beautiful girls in the house, but says there's a strong chance Tori could be his match.
Meanwhile, Stephen, who calls himself the most intelligent man in the house, decides to get to know everybody but his date partner. He says if he knows all of the girls, it will be easier for him to judge whether Kaylen is his perfect match while on their outing.
Camille later calls out Kaylen for not socializing with Stephen, saying that not talking to him will mess up their chances of securing the extra money. Camille also goes after Tyler and reminds him he might be going into the truth booth with Alyssa.
Kaylen and Giovanni hit it off during the first night. They realize they're both Scorpios, and Kaylen says he reminds her of a younger version of herself. Tyler also hits it off with somebody who is not his date partner: Nicole. After Nicole reveals she's having feelings for him, the two share the first kiss of the season. Tyler says whoever is her perfect match is a lucky guy.
Asaf vs. the World
Julia finds herself at the center of controversy when she insults Asaf. After telling her cast members she would "shoot herself" in the event she found herself in the honeymoon suite with him, the Israel native responds by calling her a "fat a--." Julia tells her castmates she almost slapped him in the face because of his comments. When he comes back to talk to her, she refuses to communicate. Asaf say it's a joke and blames his language barrier for the mishap. "It's not even about your a--, honestly!" he says.
Love Triangle
John finds himself dateless, but that doesn't stop him from forming bonds with two women. He connects with Julia, who is from his home state of Louisiana. And he later relates to Emma over their shared desire not to live cookie-cutter lives. John makes it clear to Emma he has feelings for Julia when he calls her wife material due to her love of doing dishes.
"I'm stuck between a rock and a really hot guy," Emma complains.
John says he's confused because he knows Emma has feelings for him but doesn't know how Julia is feeling. The next day, Emma overhears John talking about his feelings for Julia. Emma approaches him, and he accidentally calls her "Julia." Emma says he makes her feel dumb and that she believes Julia will ultimately hurt him.
The Dates
Prosper says he's excited to go on his whale-watching date with Tori. On the beach, they bond over their love for music and sing a song together. Prosper says he likes Tori's confidence, and Tori tells the camera that if Prosper isn't her match, she can't imagine who is.
Back at the house, the remaining cast members must decide who to send into the truth booth. Mikala says Tori and Prosper are the "same person" and a likely match. And it appears a majority of the house agrees as the duo is sent into the truth booth.
But that isn't the only thing revealed during the vote. Francesca announces that Tyler, fresh off his date with Alyssa and kiss with Nicole, asked her to go into the "boom boom room" the previous night. Tyler cops to his actions but says he merely wanted to go to go to bed with Francesca. Nicole says she won't lose any sleep over his betrayal.
Truth Booth
Prosper and Tori share a kiss before going into the truth booth, and both are visibly nervous about the moment of truth looming over them. And despite the house's confidence in their love, the booth reveals they're not a perfect match, resulting in the cast losing the additional $250,000.
Back at the house, Tori is shocked her intuition was off. "That was definitely lust at first sight," she reasons. "Maybe that's my problem to begin with." Prosper says he's disappointed, and they now have to go their separate ways.
Matchup Ceremony
The first matchup ceremony is the female's choice. Ryan warns the cast they're at risk of blacking out. If at any matchup ceremony they fail to get a new perfect match, the prize will automatically drop $250,000. Four blackouts would result in the loss of their entire winnings.
First up for the ladies is Kaylen, and she chooses Giovanni. Victoria, labeled as the Kim Kardashian look-alike of the house, follows by picking Cam. Emma creates some drama with her pick. After pondering whether she deserves better, she chooses to sit with John, who makes it clear he wanted to be paired with Julia. When Emma attempts to explain that he and Julia could not be a perfect match, Julia calls her actions "pathetic." When it comes time for Julia to choose, she picks Morgan, who immediately gives her his jacket and asks whether she's cold. John gets upset by his actions.
Ultimately, the Season 4 cast gets three beams of light, three perfect matches, and find themselves one step closer to winning the $1 million and finding love.
Here's Who Chose Who in episode 1
Kaylen-Giovanni
Victoria-Cam
Francesca-Asaf
Emma-John
Camille-Prosper
Alyssa-Sam
Mikala-Cameron
Julia-Morgan
Nicole-Stephen
Tori-Tyler
Who do you think is a perfect match? Share your predictions in the comments section below and don't forget to tune in to "Are You the One?" Season 4 on MTV Mondays at 10 p.m. EDT.
FOR FREE to continue reading
✔️ Unlock the full content of International Business Times UK for free
offer available for a limited time only
✔️ Easily manage your Newsletters subscriptions and save your favourite articles
✔️ No payment method required
Already have an account? Log in
© Copyright IBTimes 2023. All rights reserved.