Ariana Grande, Elizabeth Gillies Bond Over Pink Champagne, Tennis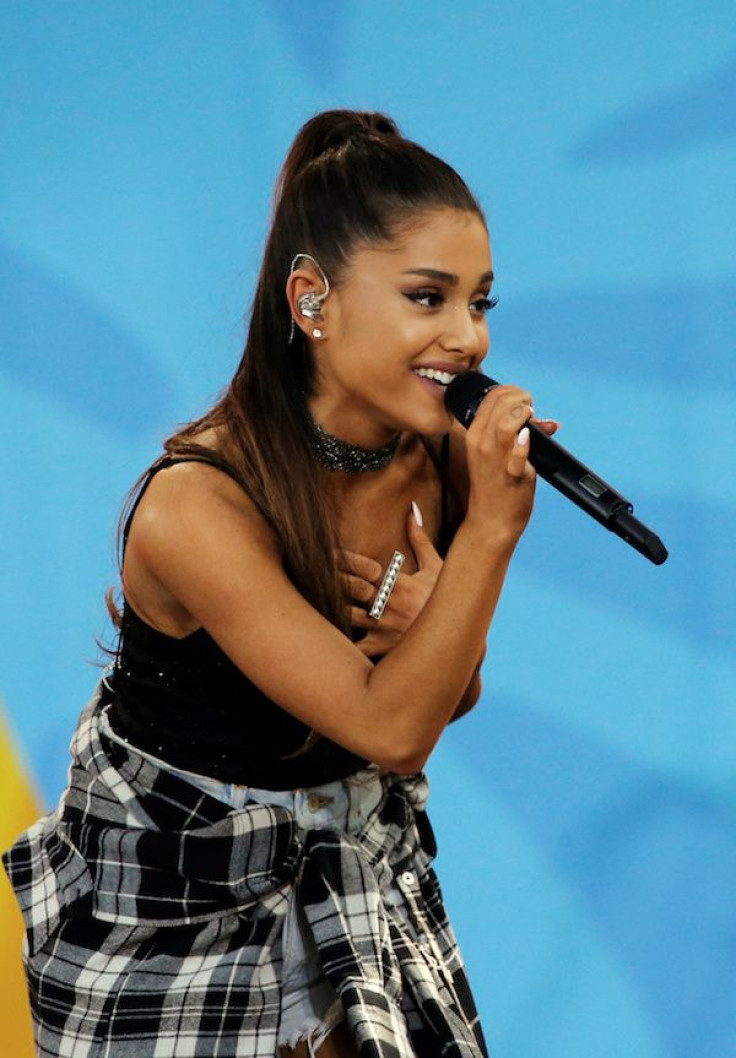 Ariana Grande had a blast with BFF Elizabeth Gillies while she's on a break from her Dangerous Woman tour. The "Side to Side" singer did not only get to laugh with her girl friend, but she also spent all night with her "Victorious" co-star drinking and watching TV.
On Saturday, Grande took to Instagram to share a funny clip of Gillies struggling to open the sliding door to a balcony. At the start of the video, Gillies says "the door is locked" before commencing her antics to try opening the door with all her strength. The struggle appears to be real, and Grande laughed at her friend's useless endeavor.
Grande did not reveal a lot about what happened that night, but Gillies did. The "Sex&Drugs&Rock&Roll" star posted a pic of herself on her Instagram account and divulged in the caption that she and Grande drank pink champagne and watched tennis until around four in the morning. Gillies even flaunts a glass of pink champagne in the snap, in which she can be seen sitting on the floor and gesturing for a toast.
Fans left positive comments on the actress-singers' posts, especially after seeing that they still find time to bond. "I love seeing you both having fun," one fan wrote. "I really love the friendship between you two," another commented. "This is the cute [sic] thing ever. We've [sic] you guys hang out it makes me so happy. I love you both," a fan stated.
READ: Ariana Grande calls Nicki Minaj her "sister"
Meanwhile, Grande still has several dates on her world tour left, and she's promised that she'll be announcing more stops soon. Early this month, she revealed that her team added Rio de Janeiro and Sao Paulo to her June and July stops. Now, her updated website shows she's also coming to Santiago, Chile; Mexico City and Monterey in Mexico; Tokyo, Japan; Auckland, New Zealand; and Melbourne, Darling Harbour and Brisbane in Australia. Her last stop is Singapore on Sept. 16.
Since disclosing the new tour dates and locations, many have anticipated for the ticket lines to open. Surprisingly, many Australian fans were disappointed after learning that the tickets for Grande's ICCY Sydney Theatre shows sold out in just 10 seconds. Tickets went on sale last week, with prices ranging from $101 for general admission to $814 for the VIP that included a chance to meet the singer backstage. However, since the theater accommodates 9,000 people only, many were not able to purchase tickets, according to Daily Mail.
Many fans have voiced their disappointment on Twitter upon hearing the news. Others even urged Grande's camp to add another date. There were also reports of people taking advantage of the demand, so they put their tickets up for grabs online for more than five times than the original price. There were also people who took to social media to resell the tickets to die-hard fans who were very eager and desperate to see Grande perform live.
Despite the ruckus, Ticketek has maintained that there are no plans of adding another date or moving Grande's two-day show to a much bigger venue, as reported by Pedestrian.
© Copyright IBTimes 2023. All rights reserved.