'The Arrangement' Spoilers: Megan Pens Farewell Letter To Kyle In Episode 9 Trailer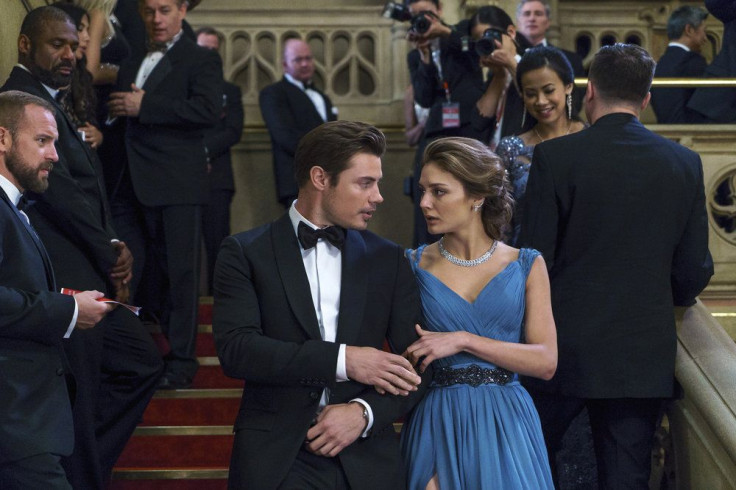 What did Megan (Christine Evangelista) do?
In the trailer for Season 1, episode 9 of "The Arrangement," Megan writes what appears to be a parting letter to Kyle (Josh Henderson) after seemingly doing something he didn't approve of. "Dear Kyle, I'm running out of time," Megan can be heard saying as she writes her message to her boyfriend. "It's time for me to face the consequences for what I did. You can still distance yourself from me. I only hope you can believe the truth. I love you and I'm so so sorry."
READ: Lexa Doig dishes on her "The Arrangement" co-star Michael Vartan
It's unclear what Megan exactly did, but at some point in the promo clip, a mystery character throws a sack over her head. Megan is also seen running from someone as she cries for help. Could this be the stalker who broke into Kyle's house in Season 1, episode 7?
Also in next week's episode, according to the synopsis for the hour, Megan and Kyle deal with the studio's troubling publicity campaign for "The Kill Plan" — Kyle's movie, in which Megan was replaced by Amelia Briggs (Anabelle Acosta).
Meanwhile, Terence (Michael Vartan) remains focused on his new project for the Institute for the Higher Mind (IHM) called The First Life Initiative. As he revealed to Shaun (Carra Patterson) in Season 1, episode 8, The First Life Initiative is a child development program whose mission is to create a path to adulthood weaving education with IHM philosophies on awareness.
In Season 1, episode 8 of "The Arrangement: Postnup," Vartan said that The First Life Initiative is not a ploy for money. "It's a serious attempt to try to go back to Terence's roots and his original reason for creating the Institute," Vartan explained. "I mean, he always has a few irons in the fire. Of course it's not all benevolent, but I think overall, it's a good deed."
Also in the penultimate episode of the season, DeAnn (Lexa Doig) moves ahead with producing "Technicolor Highway."
"The Arrangement" Season 1, episode 9, titled "Sins," airs on Sunday, April 30 at 10 p.m. EDT on E!
© Copyright IBTimes 2023. All rights reserved.