'Arrow' Ending: Will Oliver Die? Season Finale Teases 'Crisis On Infinite Earths'
"Arrow" Season 7 ended with a massive clue about next year's crossover. It also seemed to hint that Oliver's ending won't be as simple as fans may have thought.
Since "Arrow" announced that Season 8 would be the last and that it would end around the time of the "Crisis on Infinite Earths" crossover, fans have speculated that Oliver (Stephen Amell) will die. The Season 7 finale seemed to confirm that — until it hinted that Oliver is alive.
At the end of Monday's "Arrow" Season 7 finale, the Monitor (LaMonica Garrett) said it was time for the Green Arrow to follow through on his deal from when he saved The Flash (Grant Gustin) and Supergirl (Melissa Benoist) earlier this season. He said he'd do whatever is necessary to save the multiverse.
The Monitor says Oliver will be helping him "as we seek to prevent the inevitable." He also mentions that he has seen Oliver die during the crisis, but he says they can save the rest of the universe.
That seems to confirm the big theory that the Green Arrow dies during "Crisis on Infinite Earths." However, the final moment of the finale hints that Oliver's "death" might not be so straight-forward.
In the future storyline, Felicity (Emily Bett Rickards) says goodbye to Mia (Katherine McNamara) and William (Ben Lewis). She and the other older characters are taking the fall for them, so they have to go into hiding. Felicity, however, says this is really goodbye (mostly because Rickards is leaving "Arrow"). She sees that the kids can take care of themselves and the city, so she is not just going underground. She is leaving for good. They say their final goodbyes at Oliver's grave (where his year of death is listed as 2019).
Then, Felicity meets with the Monitor. He warns her that this is a one-way trip. "I have waited a very long time to see him. I'm ready," she says. They walk into a portal together, and the episode ends.
Who is she going to see? Well, it certainly seems like Oliver would be the obvious option, right? Perhaps the Monitor didn't mean death literally. Rather he meant that it was the end of his life on this particular Earth. Who else would Felicity go see?
With so many fans convinced that "Arrow" will end with Oliver's death, this might be a red herring or it could be proving that the end of "Arrow" isn't as straight-forward as fans thought. They'll have to wait until next fall to find out.
"Arrow" will return to the CW for a 10-episode eighth season in the fall.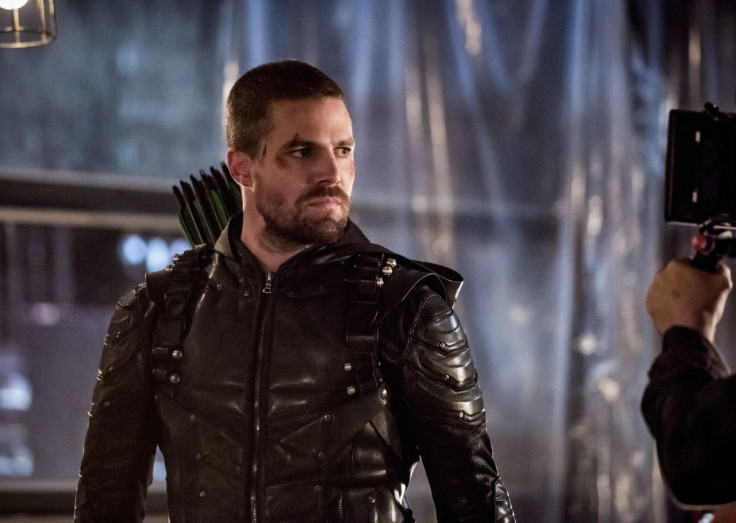 © Copyright IBTimes 2023. All rights reserved.