'Arrow' Season 4 Spoilers: Diggle To Get A Costume Upgrade Following His Crossover On 'The Flash' Season 2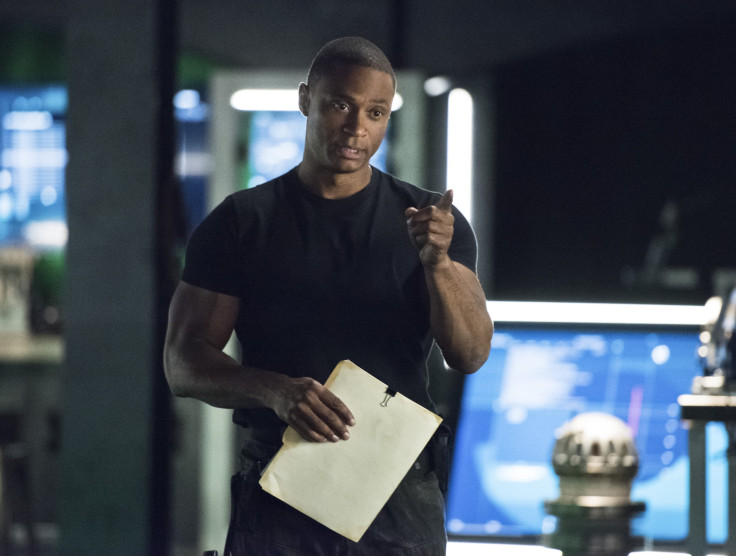 As the stakes continue to get higher during Season 4 of the CW's "Arrow," the costumed group of vigilantes will need all the help they can get to take down their foe. Now, it seems that one member of Team Arrow will be getting an armor upgrade courtesy of the team on "The Flash."
It was revealed that "The Flash" Season 2 would feature another crossover with "Arrow." Episode 15 will see John Diggle (David Ramsey) and Lyla Michaels (Audrey Marie Anderson) make their way to Central City to help The Flash (Grant Gustin) and his team take on one of its strangest super villains to date. As previously reported, Diggle will help the Central City gang battle King Shark (David Hayter) on behalf of the newly reorganized A.R.G.U.S. While combating a half-human and half-shark seems like a reward in itself, Diggle won't be leaving his Central City vacation without a souvenir, courtesy of Team Flash.
Speaking to IGN, Ramsey teased a much needed update to Diggle's superhero costume coming after his stint fighting crime alongside the meta-human speedster. After adopting a mask at the beginning of Season 4, Diggle will already be getting a helmet upgrade.
"I can say this," he told the outlet. "Central City will be working on an upgrade to Diggle's helmet. That is yet to come, and we will be seeing some of that come out of Central City. As the first iteration came out of Central City, we will see an upgrade also come out."
This wouldn't be the first time that Team Flash, namely Cisco Ramon (Carlos Valdes), has been responsible for outfitting Team Arrow with some cool superhero technology. Previously, they brought Oliver (Stephen Amell) his face mask and the sonic weapon that makes up the Black Canary (Katie Cassidy) cry.
Diggle spent the first three seasons of "Arrow" operating in the field without a mask. However, when he had his daughter, he learned the importance of hiding his identity from super villains. That's when the hero, code named Spartan, adopted the new look. However, as CinemaBlend notes, fans were quick to point out the fact that it looks both oddly similar to Magneto's helmet in the "X-Men" movies and very, very ridiculous. However, despite the bad look of his costume, executive producer Marc Guggenheim previously told Entertainment Weekly that it's important for the character to wear a mask these days.
"I don't think Diggle looks at it as a costume, per se," he said. "Oliver, in the last season, gave him advice in terms of concealing his identity, and so Diggle approaches it from a very practical standpoint. He followed Oliver's advice and he's got a means of concealing his identity, but I think Diggle would probably react to anyone calling it a costume."
Although a new helmet design is on the way for Diggle, even the actor claims he's yet to see what it looks like just yet. Fans will just have to tune in to episode 15 of "The Flash," which airs Tuesdays at 8 p.m. EST, and subsequent episodes of "Arrow," to see the hero's new look.
© Copyright IBTimes 2023. All rights reserved.