'Arrow' Star Emily Bett Rickards Gets Inappropriate In 'We Need To Talk' Movie
Shortly after "Arrow" star Emily Bett Rickards announced she was leaving "Arrow" after seven seasons, the Felicity actress was cast in a new indie comedy flick, "We Need to Talk," opposite "Big Time Rush" alum James Maslow.
Rickards, who will be returning for the upcoming series finale of "Arrow," is playing a very different role from Felicity in her upcoming flick, which was directed and written by Todd Wolfe.
The film centers Great Scott Gamer (Maslow), a self-absorbed and popular online gamer, and the journey he goes on when he realizes he might lose his longtime girlfriend, Aly (Christel Khalil, "The Young and the Restless"), after she tells him, "We need to talk." Rickards plays Aly's best friend and Scott's enemy, Amber.
The cast also includes Johnathan Fernandez ("Lethal Weapon") as Joe, Scott's video producer, and Tray Chaney ("The Wire") as video gamer Tango Unchained.
While speaking with International Business Times earlier this year, Maslow shared a little bit more about Rickards' edgy, orange-haired movie character.
Whereas Felicity's all about accidentally letting sexual innuendos about Oliver (Stephen Amell) slip out, Amber is all about purposefully acting as inappropriately as possible.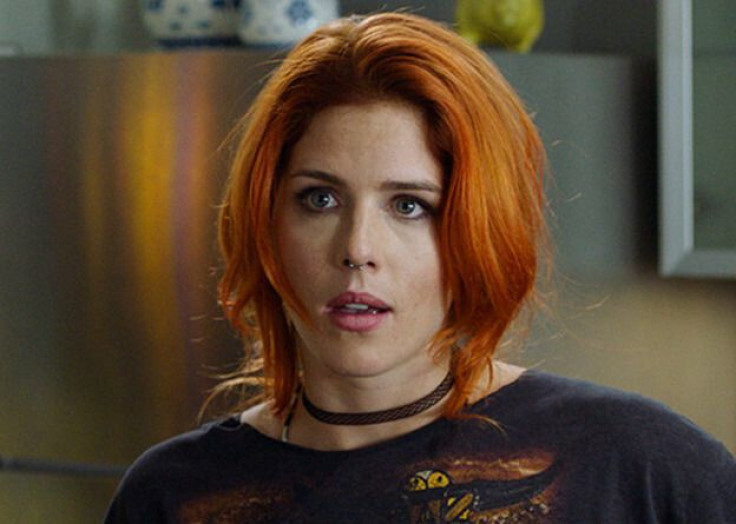 "She's fantastic. I don't watch a whole lot of TV, but when 'Arrow' first came out, I saw her on that show, and it was fun to watch her, and I can't wait for people to see her character in this movie because it is…inappropriate. She makes my character look like a priest. Like a saint, if you will. Her character is... wildly inappropriate," Maslow told IBT.
Of the movie in its entirety, the actor-singer said it reminds him of the films he watched growing up — like "Superbad," "Old School," "Tropic Thunder" and "Starsky & Hutch — because of how "blatantly inappropriate but very current and relatable" it is.
As for his own character, Maslow shared details about the journey Scott embarks on throughout the film.
"At the beginning of the movie, his girlfriend of 10 years — who's been along for the journey, who's intelligent, beautiful, has her own job, has really put up with a lot of stuff — comes in, and, of course, he doesn't really hear a word she says. The last thing she says is, 'All right, when I get home, we need to talk.' And, 30 seconds later, he registers, 'Wait a minute, we need to talk?' And he doesn't think it's a big deal. So, of course, he goes out, puts it in one of his videos, tweets out on his social media app… the hashtag #WeNeedToTalk, thinking it's a joke. And the entire world comes down on him," Maslow said.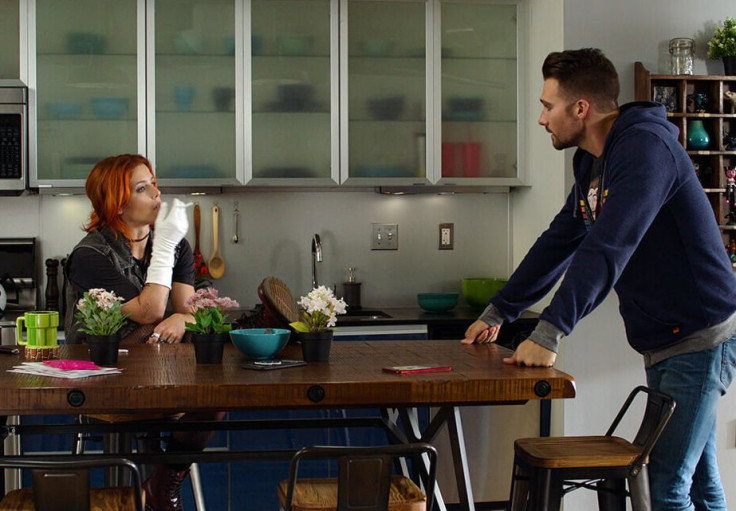 "So, it's spiraling out of control throughout the day., and he can't reach his girlfriend, he's trying to figure out what she wants to talk about, and the whole world is telling him she's leaving him, she's cheating on him, she's pregnant — all the things that could possibly be wrong he gets in his head. He then comes to this realization, this epiphany, if you will. And I can't give away the ending, but maybe he does [end up with Aly], maybe he doesn't, I don't know."
With Maslow not wanting to spoil the ending, there are a few different ways this movie might end, so, let theories begin!
Perhaps this will be a classic tale of Scott learning his lesson and finally treating his girlfriend right, allowing the two to stay together and in a better relationship. Maybe she'll dump him, and he'll end the movie single.
Or, possibly, it's an enemies-to-lovers story, and Maslow's character will end up with Rickards'.
Only time will tell as a release date for "We Need to Talk," which was produced by Paul Irwin of Donnybrook Productions and Ray Carballada of AmpiFLY, has not yet been announced.
© Copyright IBTimes 2023. All rights reserved.