'Arrow' Star Stephen Amell Shares 'Code8' Set Photo With Robbie Amell
Stephen Amell's vacation is already over. Though the "Arrow" star is on hiatus, he is using the CW drama's break to make a movie with his cousin Robbie Amell. Stephen shared a photo from the set of their crowdfunded movie "Code 8."
The film follows a young man, played by Robbie, with superhuman powers living in a world where police are targeting those with special abilities. Stephen will co-star in a role that has yet to be revealed. The "Ninja Turtles" alum shared a photo of himself and Robbie listening to director Jeff Chan.
While the original "Code 8" short film, which has over 2.5 million YouTube views, introduced Robbie's character last spring, Stephen could not be in it due to scheduling conflicts. His part in the full-length feature is being kept under wraps, but he seems to be a main character. He'll be shooting the flick until "Arrow" Season 6 begins production later this summer.
"I'm filming until literally I have to wrap because I'm going right back to Season 6 of 'Arrow.' And I'm the only cast member now," the actor joked in a Facebook Live video, referring to the deadly Season 5 finale.
READ: 7 Burning Questions We Have After The "Arrow" Finale
For now, however, the Green Arrow actor's focus is on "Code 8," which relaunched its IndieGoGo campaign. While the movie is already in production and raised over $1 million last year, the sci-fi flick will use the extra funds to make the movie even better. "We have grand ideas and, within the framework that we've built for the movie, they can either stay as they are, or they can get way better," Stephen said in a new video on the campaign's page. "All the money that we raise in this IndieGoGo campaign is for the implicit reason of putting it on the screen."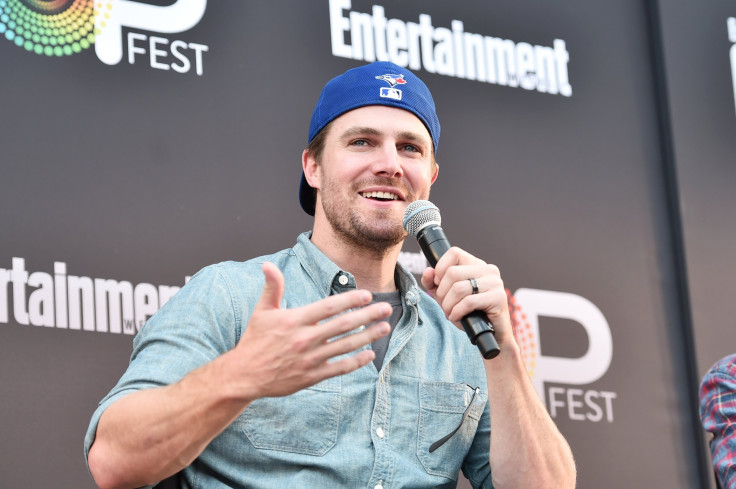 Of course, the Amells aren't asking for money without giving supporters perks. Fans can get new "Code 8" socks, hats, hoodies and more. The more you donate, the cooler the perks. For $450, fans can attend a premiere in various cities, and for $500, they can get one of 15 storyboard panels signed by Stephen and Robbie.
According to the perks, the movie is estimated to premiere in November. That means the older Amell will be pulling double duty since that's in the middle of "Arrow" Season 6.
Don't worry about the Stephen working too hard, though. His Instagram followers know that he's been relaxing plenty recently. He and wife Cassandra Jean took their daughter Maverick to Ireland, Italy and England recently. He referred to the holiday as "the best vacation of my life."
"Code 8," produced by the Toronto-based studio Colony Pictures, marks the first time the Amells have worked together in a film. Previously, they briefly shared the small screen on "The Flash," where Robbie played Ronnie Raymond/ Firestorm. Aaron Abrams, Chad Donella and Alfred Rubin Thompson also star in the movie, which was written by Jeff Chan and Chris Paré.
© Copyright IBTimes 2023. All rights reserved.