Arsenal Injury News: Update On Aaron Ramsey, Laurent Koscielny And Others Ahead Of Sunday's Newcastle Game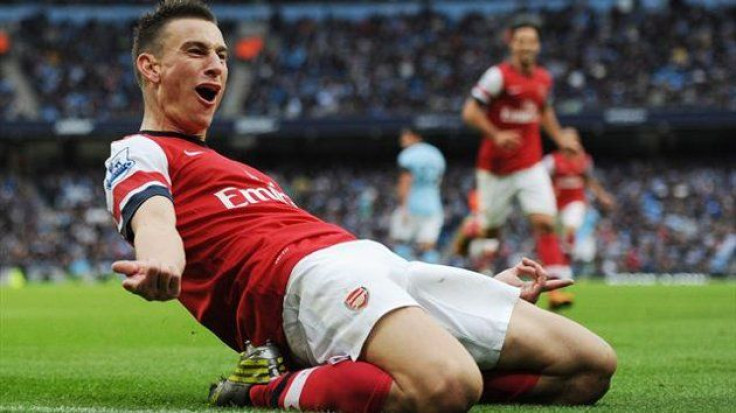 Even after regaining first place in the Premier League with their 3-1 victory over West Ham, Arsenal suffered a severe blow that will last throughout their festive fixtures.
The incredible breakout season for midfielder Aaron Ramsey hit a huge snag when the Welshman suffered a thigh strain with roughly 25 minutes left in the West Ham match. Manager Arsene Wenger said Ramsey will miss the rest of the festive period, while Arsenal cling to a one-point lead, and only three points separates first and fourth on the table.
With Ramsey on the sideline the Gunners managed quite well for their first victory in their last four matches behind Theo Walcott and Lukas Podolski's heroics, and Wenger even said he admired his club's resiliency, but they will need help with their 13-goal scorer out for the foreseeable future.
"It looks like a thigh strain,'' Wenger said after the West Ham win. "For me, I don't know how serious the thigh strain is but the Christmas period is certainly over for him. It was his birthday today.
"I don't know how long it will be. We will have to see tomorrow [Friday] morning. He knew straight away, but we have to see.''
The next two fixtures involve a trip to St. James' Park to face Newcastle, followed by a home match against Cardiff, but that's just before the FA Cup third round clash with local rival Tottenham.
Newcastle especially pose a threat as they're coming off a dominate 5-1 performance over Stoke City, and boast impressive victories over Chelsea and Tottenham, and a solid draw versus Liverpool.
However, the Gunners relief could come in the form of Laurent Koscielny. The centre back nearly returned from an injured knee against West Ham, but didn't crack the 18-man roster. Instead, according to Daily Mail, he is expected to return against Newcastle. Koscielny has been a steady force for Arsenal in recent years, and the partnership with Per Mertesacker has been particularly strong this season.
The absence of Koscielny in recent games has meant more playing time for captain Thomas Vermaelen, who has been used sparingly this season. The Belgium international has expressed disappointment in his lack of playing time.
Midfielder Jack Wilshere will also return to the pitch after serving a two-match suspension. Wilshere has totaled two goals and an assist in 15 matches this campaign.
Winger Alex Oxlade-Chamberlai, and midfielder Abou Diaby remain long-term absentees. While Oxlade-Chamberlain could return in January, Diaby is expected back in March. There is no reported timetable for forward Yaya Sanogo, who suffered a back injury.
© Copyright IBTimes 2023. All rights reserved.