Arsenal Transfer News: 'The Next Cristiano Ronaldo' On Arsene Wenger's Radar?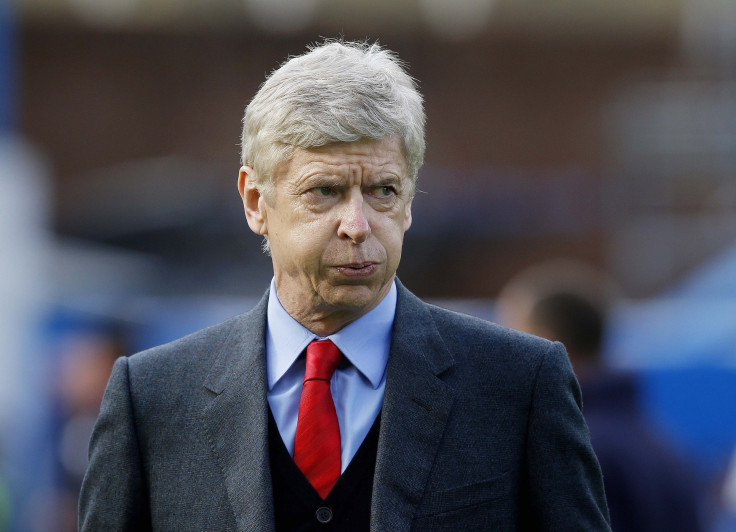 More than a decade ago, Arsenal manager Arsene Wenger had the opportunity to snatch up a young Cristiano Ronaldo before he joined Manchester United and rose to the highest levels of the sport. The Portuguese sensation was turning heads at Sporting Lisbon in 2003, and Wenger had hopes of signing him before Sir Alex Ferguson lured him to Old Trafford.
"My biggest regret? I was so close to signing Cristiano Ronaldo, and not only did I not get him, he signed for Manchester United. So that of course still hurts today," Wenger said in a September interview.
The rest of the story is well-known. Ronaldo would dazzle the Premier League and eventually wind up with Real Madrid to become one of the greatest players of his or any generation. Arsenal and Wenger would go on to win the Premier League title one more time in 2004, but haven't finished better than second place in a decade.
It's not often a manager gets to make up for his biggest regrets in a sporting world that must immediately recognize an enormous opportunity and capitalize before the rest of the competition. However, Wenger might just have that chance to make up for his mistake, as the "new Cristiano Ronaldo" may be firmly in his sights.
If you believe what you read in the British tabloids, Arsenal will have to spend big to get this new potential superstar.
A report from Metro states Arsenal are lining up a budget-busting £40 million ($55.5 million) fee for Benfica forward Gonçalo Guedes, a price that recently spiked after the 18-year-old inked a new deal with the Primeira Liga outfit. The speedy 5-foot-10 starlet has gifted passing abilities, excellent field vision and tremendous athleticism, but the purported fee may be out of the price range of Real Madrid, let alone Arsenal.
Arsenal's desire for Guedes, who has just six appearances for Benfica, goes back to this time a year ago, when Guedes was only 17 and his fee was considerably less at £6 million, Daily Mirror reported. Benfica was in the process of working out a new deal with Guedes, while Arsenal chief scout Gilles Grimandi was reportedly gauging interest.
While some may eventually assert that Wenger whiffed on a star Portuguese prospect twice, the recent attention given to Guedes should be rolled back a bit. For one, and as stated before, there isn't much evidence of Guedes' first-team abilities, and for a club that should provide playing time for such a talent given they routinely defeat league opponents by more than two goals. The last time Guedes made an appearance for Benfica was when he came on as a substitute in the 90th minute of a 3-1 win over Moreirense on Feb. 21. Secondly, even if the £40 million price tag was significantly scaled back, it remains far outside Arsenal's price range. Such fees are reserved for players who are virtually guaranteed to make an immediate impact.
There is also the possibility that Guedes may not actually be that good. Despite Ronaldo's allure and abilities being somewhat evident 12 years ago, few prognosticators could have predicted he'd turn into the megastar he is now. There are always plenty of players who generate comparisons to superstars, but most never quite live up to the expectations. For every Diego Maradona there is an Ariel Ortega. Even Freddy Adu was once regarded as "the next Pele."
Arsenal have a large collection of young players who initially showed some promise as teenagers, but seemed to fizzle out. Ryo Miyaichi and Ignasi Miquel arrived at the Emirates with the hope they can develop into possible starters, yet both seem destined to take their talents elsewhere.
While Guedes has high potential, financials will likely stand in Arsenal's way of signing him. His new contract with Benfica included a new release clause, thus triggering a fee that is £5 million more than what Wenger shelled out to Barcelona for Alexis Sanchez last summer. The clause is clearly that high so that Benfica can either scare clubs away or force them to pay dearly for maybe their most prized young prospect.
There are also some other obvious reasons why Arsenal would be hesitant to make such a shock move. At the moment, Arsenal have a cohesive group of players and no glaring need outside of defensive midfielder, which could be filled this summer by landing either Morgan Schneiderlin or Sami Khedira.
But now might be the best time to add a high-ceiling player that requires some extra time to develop. The Gunners could probably benefit from grooming a rising star, with players like Jack Wilshere, Aaron Ramsey and Danny Welbeck approaching their mid-20s, and as Hector Bellerin, Calum Chambers and Alex Oxlade-Chamberlain appearing ready to take on larger roles next season.
Wenger could also use another attacker to make up for the decline of winger Theo Walcott, who has scored two goals in 26 matches this term and is out of contract in 2016. By adding Guedes, Arsenal would better ease the transition away from older players who may overstay their welcome.
Despite those factors, Wenger is no doubt focused on building off a stellar campaign and parlaying that success into next season. Snapping a Premier League title drought seems improbable this season, but the Gunners have ripped off eight consecutive league victories to move into second place on the table, just seven points behind Chelsea. It's progress for a club that had dealt with the disappointing departures of players like Robin van Persie and Cesc Fabregas, and seasons of barely earning a Champions League berth.
The direction of Arsenal, at least at the moment, looks bright. Adding a high-priced teenager with limited experience may derail legitimate title aspirations, but it's also an intriguing thought for the long-term future.
© Copyright IBTimes 2023. All rights reserved.