Arsenal Transfer News: Suarez, Rooney, Gourcuff And Cazorla Involved In Latest Rumors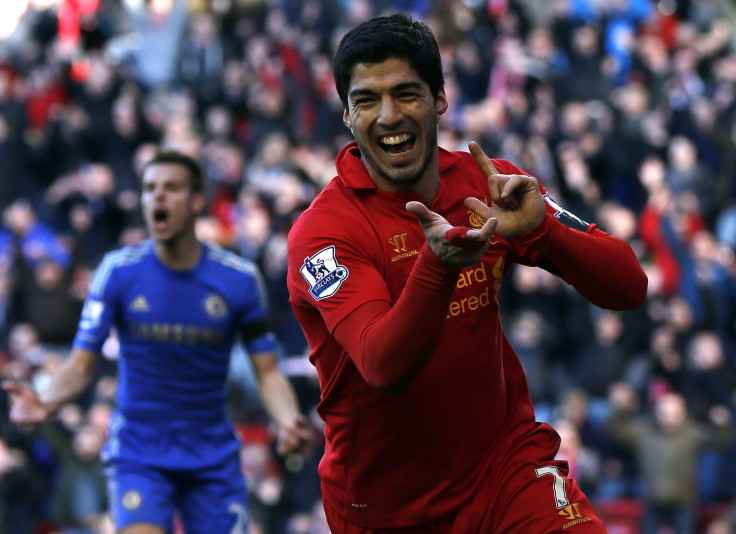 Olivier Giroud scored a hat-trick as Arsenal beat Vietnam 7-1 in the second match of their pre-season Asian tour, but the Gunners' remain focused on securing a top quality striker. While Giroud already looks sharp and will hope to build on the 11 goals he scored in his first Premier League season, Arsenal have been linked with several strikers throughout the summer.
The current focus of Arsene Wenger's attention appears to be Luis Suarez. Already having had a £30 million offer rejected by Liverpool, Arsenal are expected to return with an improve proposal. However, as the Daily Telegraph has reiterated, it is set to take a bid of at least £40 million for there to be any chance of the Uruguayan leaving Anfield. While some claim that figure matches a release clause in Suarez's contract, Liverpool have stressed that an offer of that sum only requires them to inform Suarez. Yet, the Telegraph asserts that it will give Suarez the belief that he can then push through a move.
The Sun claims that Suarez still has his heart set on a move to Real Madrid. Although, despite reports of strong interest from the Spanish giants earlier in the summer, they have yet to make a formal approach. The fact remains, though, that Liverpool will also prefer that the 26-year-old went abroad were he to leave rather than to bolstering a rival for Champions League qualification.
There has been plenty of news in the past 24 hours about another Arsenal forward target, Wayne Rooney. It emerged on Tuesday that the England international was "angry and confused" by recent comments from Manchester United manager David Moyes, which have been interpreted as him stating that Rooney was behind Robin van Persie in the pecking order. And on the back of that revelation, Chelsea have had an offer for Rooney rejected by the Premier League champions. Wenger explained his interest in the 27-year-old several weeks ago, but they may need to act fast with Chelsea boss Jose Mourinho claiming that signing Rooney is now the sole focus of their attention in the transfer market.
If Arsenal do make some big-name signings this summer then some more players could be eased out and off of the wage bill. Currently looking likeliest to depart is Ivorian forward Gervinho. The Daily Mail reports that Roma have made a £6.9 million offer for the inconsistent 26-year-old, however it is suggested that Lyon may come in with a more tempting proposal involving Yoann Gourcuff moving in the other direction. Gourcuff, an attacking midfielder, has been linked with Arsenal in the past but it is difficult to see how he would fit into the current Gunners lineup.
One player whose departure from the Emirates would be a major surprise has also been the source of transfer speculation in the past 24 hours. Stories in Spain began emerging claiming that Atletico Madrid were closing in on a deal to take Santi Cazorla back to Spain after just a single season with Arsenal. But to the likely relief of Gunners fans, Atletico have denied the rumors.
"We have no news of Cazorla," Atletico president Enrique Cerezo said, according to Sky Sports. "These are invented stories that are made up every day."
© Copyright IBTimes 2023. All rights reserved.