Arsenal vs. Manchester United 2015: Early FA Cup Prediction, Injury News, Preview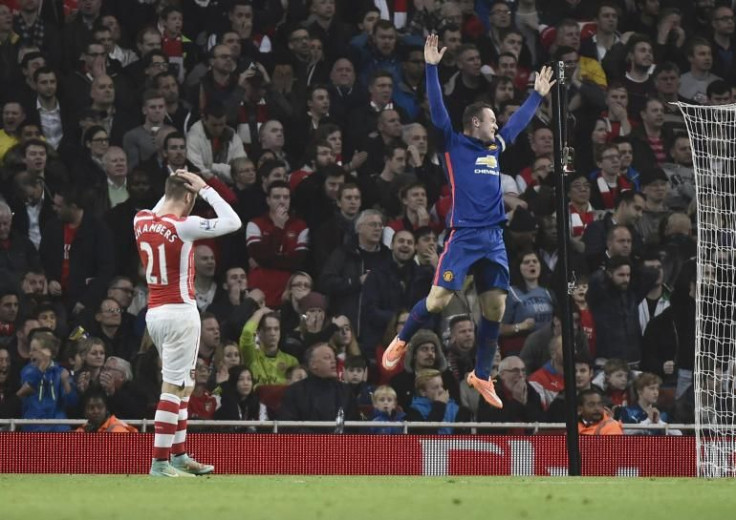 Arsenal and Manchester United are separated by a single point atop the Premier League table, but each side is vying for a spot in the FA Cup semifinals when the two storied clubs meet at Old Trafford on Monday. It's been nearly 10 years since the FA Cup champions have won at Old Trafford, giving United a supposed edge entering the much-anticipated match.
In a Friday press conference, Wenger stressed that Arsenal care about winning the FA Cup, and doesn't see any type of advantage of separating the Gunners from their rivals in the Premier League table.
"It's a different competition," Wenger said. "For us, we won the FA Cup last year, and we are the holders of the Cup, and we want of course to keep it. This competition is important to us. We want to go up there and produce the result. I don't think it's linked at all with the Premiership."
He also dismissed Arsenal's past struggles at Old Trafford.
"I don't believe too much in history. I believe just in performance of the day.
"At the moment we are doing very well away from home. The size of the pitch is exactly the same everywhere. It's just down to how much we turn up and how much effort we put in to win the game."
As usual, Wenger is dealing with a litany of injuries, and he can add center back Gabriel to the list. The Brazilian injured his hamstring this week in a match against Queens Park Rangers, and will be sidelined for two-to-three weeks. Midfielders Jack Wilshere (ankle), Mikel Arteta (ankle), Abou Diaby (calf) and right back Mathieu Debuchy (shoulder) are also out. Goalkeeper Wojciech Szczesny, who was absent against QPR due to illness, may not be fit by Monday. Left back Nacho Monreal (back) and defensive midfielder Mathieu Flamini (hamstring) are also questionable for the match.
Despite the injury setbacks, Arsenal have reason to feel confident. After losing to Tottenham on Feb. 7, Arsenal are riding a four-game Premier League winning streak. In FA Cup play, Wenger's side outscored Hull City, Brighton, and Middlesbrough by a combined score of 7-2. The lone disappointment in recent weeks has been the painful first-leg home loss to AS Monaco, 3-1, on Feb. 25.
Wenger maintains confidence entering the quarterfinal.
"We go to Manchester United to qualify, of course, and to give absolutely everything," he said. "That's the target of the day: hard work, team effort and giving absolutely everything. Both teams will do that, and I believe it could be a very interesting game.
Forward Danny Welbeck, who made 90 appearances for Manchester United before joining Arsenal in Sept. 2014, may be a key player to watch. The 24-year-old has scored just one goal since the end of December, and was used as a substitute in Arsenal's last two matches. When asked about Welbeck's role, Wenger wouldn't downplay his presence to the squad.
"He's very important," Wenger said. "Danny Welbeck played many, many games since the start of the season. I think he has played in nearly every single game, and his position is one of the three up front."
Wenger suggested that there wasn't one reason for Welbeck's recent decline in minutes, and used his 24 starts this season as evidence that he remains important to the club.
As for Manchester United, reports have surfaced that the club is mired in a squabble between manager Louis van Gaal and his assistant, Ryan Giggs. On Friday, the former Red Devils winger dismissed any notion that there is a rift between the two after his long-time teammate Paul Scholes suggested that Giggs "may not have the patience" to work under Van Gaal.
"It's coming to that part of the season where the media will look at any little thing just to make it more exciting and more interesting," Giggs said.
Unfortunately for United, the issues don't stop there. Manchester United defender Jonny Evans allegedly spit on Newcastle striker Papiss Cisse, though Evans denies the charge. The FA is investigating the incident.
As for matters on the field, Manchester United have been winning matches, but in unconvincing fashion. Van Gaal's squad has wins against Newcastle, Sunderland, Preston, and Burnley across all competitions in recent weeks, but they have also suffered a defeat to Swansea and managed just a draw against West Ham.
United enter the match with few injury woes. Robin van Persie won't face his former club due to an ankle injury, while left back Luke Shaw (hamstring) is also sidelined. Evans may miss the match due to the spitting incident.
United have performed well in FA Cup competition, defeating opponents by a combined score of 8-1. Van Gaal has relied on the superb play of goalkeeper David De Gea. The Spaniard has largely rolled through all tournaments and in league play, registering three clean sheets in all four Cup matches and coming up with five saves against a scrappy Preston side.
Wayne Rooney may be a player to watch for on Monday. If not for Rooney's second-half brace against Sunderland over the weekend, and midfielder Ashley Young's last minute heroics against Newcastle United on Wednesday, the Red Devils would perhaps be as much as seven points back of Arsenal.
The star forward has been adamant about winning the FA Cup, and described the match against Arsenal as "massive."
"We haven't been to a final for a few years, we want to try to win that game and we are looking forward to that," Rooney said.
"Of course, I think it is a massive trophy. It is a trophy that, growing up as a youngster, I used to love watching and I was fortunate enough to see Everton lift the FA Cup in 1995 when I was nine years old.
"It is something which I would love to do and hopefully it can be this year."
Like Rooney, Wenger's appreciates the importance of the FA Cup, independent of the Premier League race.
"Personally, for me, it is a [game with] special intensity, because it is between two teams who have a chance to win this competition," Wenger said. "Both teams will think, 'If we get over this hurdle, we have a good opportunity to win the competition.' It is more focused on the FA Cup, purely, than on the Premiership."
Early Prediction: Arsenal over Manchester United, 1-0
© Copyright IBTimes 2023. All rights reserved.