Asiana Airlines Crash At San Francisco Airport: Four Important Takeaways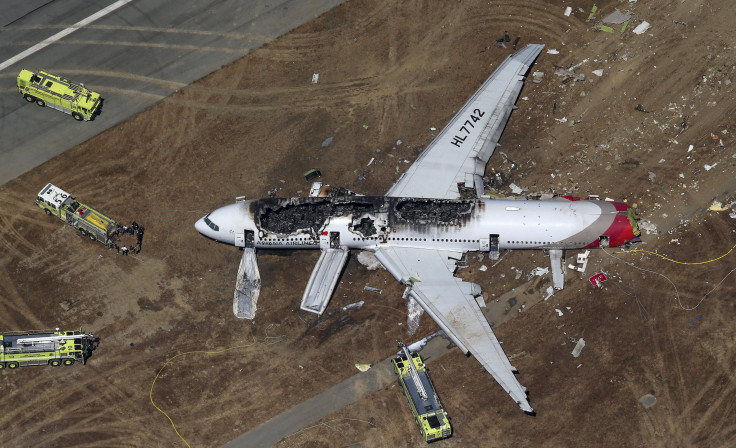 Asiana Airlines Flight 214's 5,600-mile journey from Seoul to San Francisco International Airport was moments away from completion when the Boeing 777's tail hit the ground and broke off, sending the plane spinning dangerously out of control, according to witness accounts. The San Francisco Fire Department took 191 of the 307 passengers and crew to area hospitals Saturday, while two Chinese teenagers who sat in the rear of the aircraft were pronounced dead.
The crash-landing was the most serious aviation accident on U.S. soil since 2009, when Colgan Air Flight 3407 crashed en route to Buffalo, N.Y., killing all 49 people aboard and one person on the ground. While much of the official investigation into the latest incident will likely focus on who, what, when, where and why it happened, it's equally important for the concerned public to focus on how so many people got out alive. Here's a look at four takeaways:
Plane Crashes Are Survivable
The Boeing 777 was almost completely destroyed just minutes after its tail nipped the seawall at the San Francisco airport, and yet the overwhelming majority of passengers aboard escaped alive. Indeed, just two of the 307 people on board died, reflecting a trend of fewer fatalities in plane accidents and reinforcing the fact that plane crashes don't automatically mean death sentences. "What's really important is for people to understand that airplane crashes, the majority of them, are survivable," Deborah Hersman, chairwoman of the National Transportation Safety Board, or NTSB, said on the CBS News show "Face The Nation" Sunday. Many in the airline industry like to say the most dangerous part of flying is the ride to the airport. It may sound like a joke, but it's actually true. According to National Safety Council and NTSB statistics, the mortality rate for automobiles is 70 times greater than that for airlines, as measured by fatalities per 100 million passenger-miles.
Planes Are Safer Than They Used To Be
Saturday's accident is further proof that planes are now more structurally sound than they were in previous decades. According to an Associated Press analysis of NTSB data, 54 percent of people involved in plane crashes between 1962 and 1981 were killed. Between 1982 and 2009, however, that figure improved to 39 percent. Moreover, these statistics only include crashes involving at least one fatality, omitting cases like the so-called "Miracle on the Hudson," when 155 people survived a dramatic river landing after their US Airways flight lost engine power soon after takeoff from LaGuardia Airport in 2009. Similarly, the 309 passengers and crew aboard an Air France plane that crashed at Toronto's Pearson Airport in 2005 and the 152 aboard a British Airways flight that crashed short of the runway at London's Heathrow Airport in 2008 also survived. So, too, did the 108 people aboard a Lion Air flight that crashed short of a runway in Bali and split in two this April.
Advances In Aviation Technology Helped Saved Lives
Money and reputation combined make an enormous incentive for airlines to ensure their planes don't crash and their passengers don't die. New advances such as escape doors that are easier to open, smoke detectors in bathrooms, color-coded floor lights in the aisles, and seat cushions and carpeting that are fire-retardant are just a few of the improvements that have been added over the past two decades to make a quick escape not only possible, but probable. Advances in flight training, including full-size model planes that fill with smoke for crew re-enactments, have also helped better prepare the crew for emergencies. Many of these alterations in both equipment and personnel training came about as a result of two deadly aircraft fires in the 1980s: Air Canada Flight 797 and British Airtours Flight 28M. Neither the Air Canada nor British Airtours flight crash-landed, but a combined 100 people died of burns and smoke inhalation due to slow evacuations.
Passengers Play A Part
The San Francisco airport incident reiterated the need for passengers to know what to do in an emergency situation and pay attention to the important (and often neglected) safety briefings at the start of each flight. Know your closest exit. Know to leave your precious belongings behind and exit the plane as quickly and orderly as possible. Planes like the Boeing 777 are designed so that everyone can get off within 90 seconds, even if half of its doors are inoperable, as was the case Saturday. Had everyone on Asiana Airlines Flight 214 attempted to grab overhead bags, however, a disastrous bottleneck (and no doubt deadlier evacuation) would have occurred.
Related Reading
But It Wasn't You: When The 'It Could Have Been Me' Narrative Takes Over
San Francisco Plane Crash: Asiana Airlines 214 Hit Ground 1,000 Feet Before Touchdown Point
© Copyright IBTimes 2023. All rights reserved.