'Ask Her More' On 2015 Oscars Red Carpet: Reese Witherspoon, Lupita Nyong'o And Julianne Moore Participate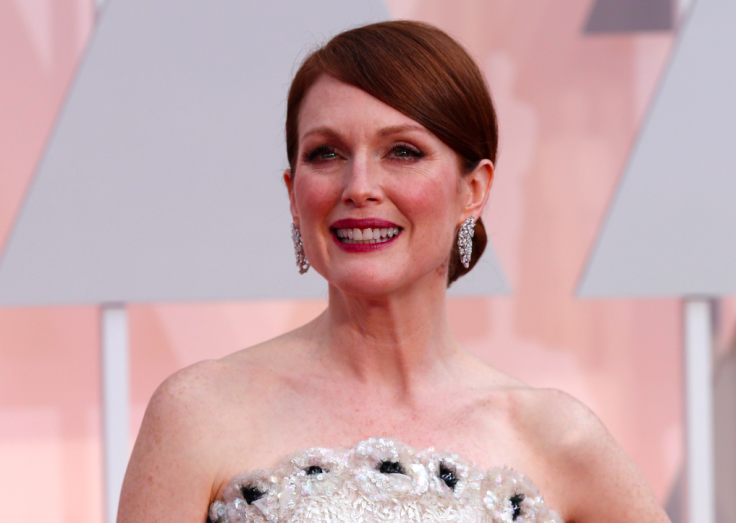 The Oscars is one of the most popular times for women on the red carpet to be asked "Who are you wearing," but it's a phrase that has recently received backlash. The hashtag #AskHerMore was a top-trending topic as netizens highlighted some of the influential, informative and intelligent things actresses said before they headed into Dolby Theater in Los Angeles Sunday for the 87th Academy Awards.
Cate Blanchet famously pointed out the sexism in the question when she asked, "Do you ask the guys that?" when she was on the red carpet at the SAG Awards. The Representation Project spearheaded the phrase.
Reese Witherspoon is one of the people who supported the hashtag. "It's meant to inspire reporters to ask creative questions on the red carpet. I love the Oscars AND fashion like many of you – and I am excited to share #WhoAmIWearing later tonight. (not yet!!) But I'd also love to answer some of these Qs ... And hear your suggestions?!" the "Wild" star wrote Sunday morning. "We're more than just our dresses… we are so happy to talk about the work we've done," she said on the carpet.
Oscar-winner Lupita Nyong'o also likes to be asked about more than just her dress. "I enjoy being asked about my craft, my profession. That's where I'm an expert."
Julianne Moore, who is nominated for a best actress Oscar for her work in "Still Alice" had a great "Ask Her More" response and took the opportunity to talk about Alzheimer's. "There's this misnomer that dementia or Alzheimer's is a normal condition of aging, and it's not. It's a disease-- and a disease without any treatment or cure. It's the sixth leading cause of death."
Click HERE for information on how to watch the 87th Academy Awards online or on TV. For a full list of Oscar nominees click HERE. Follow our live blog HERE for updates throughout the night.
Follow me on Twitter @mariamzzarella
© Copyright IBTimes 2023. All rights reserved.