Atlanta DA Turns To FBI For Protection After Trump Calls On Supporters To Stage Protests
The lead prosecutor investigating former President Donald Trump's attempts to pressure the Georgia secretary of state during the 2020 presidential election is calling on the FBI for protection.
In a letter to the FBI's special agent in charge in Atlanta, Fani Willis requested that the FBI increase its protection of the Fulton County Courthouse and Government Center by conducting a risk assessment of the building. Willis also requested that the bureau provide more special agents and intelligence to prevent potential dangers as her investigation into Trump proceeds.
In particular, Willis made this request to the FBI to ward off what she described as an event akin to the violence seen at the Jan. 6 Capitol riot. On that day, supporters of Trump breached the building and battered law enforcement along the way as they attempted to halt the certification of the election results in favor of President Joe Biden.
"We must work together to keep the public safe and ensure that we do not have a tragedy in Atlanta similar to what happened at the United States Capitol on January 6, 2021," Willis wrote to the local FBI chief, J.C Hacker.
Willis made her request after remarks by Trump at a weekend rally where he called on his supporters to hold "the biggest protests we have ever had" in cities like Atlanta if the prosecutors "do anything wrong or illegal."
At a rally in Cullerton, Texas, on Jan. 29, Trump assailed Willis, New York Attorney General Letitia James and Manhattan District Attorney Alvin Bragg for their investigations into his political and business conduct. Without citing any basis for his claims or providing any explanation, Trump accused the three Black prosecutors of racism for targeting him as a proxy for his base.
"These prosecutors are vicious, horrible people. They're racists and they're very sick -- they're mentally sick," Trump told the assembled crowd. "They're going after me without any protection of my rights from the Supreme Court or most other courts. In reality, they're not after me, they're after you."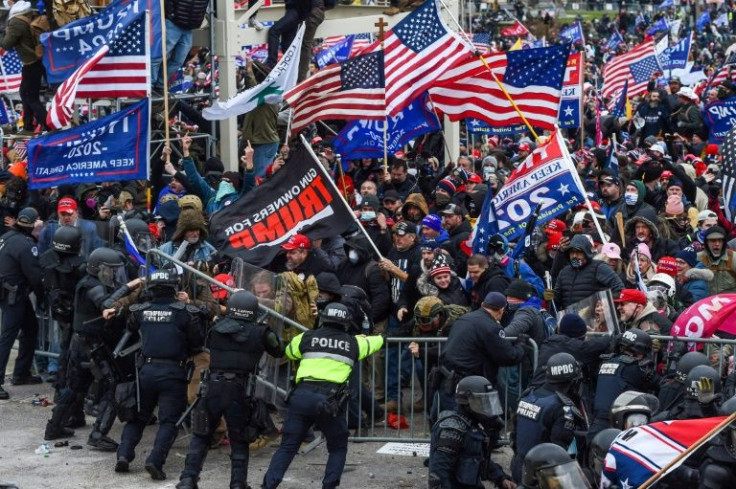 Willis' investigation was launched after it was revealed that Trump had pressured Georgia's Secretary of State Brad Raffensperger to find him enough votes to overturn his defeat to Biden in the state. Raffensperger denied Trump's request, earning him the wrath of the former president as well as ostracization from his own party.
On Jan. 24, a local judge approved a request for Willis to convene a special grand jury in a sign that her investigation was progressing. The grand jury would be empowered to hear evidence needed to issue subpoenas. Willis' office noted that witnesses have refused to cooperate unless they were subjected to one.
© Copyright IBTimes 2023. All rights reserved.
FOLLOW MORE IBT NEWS ON THE BELOW CHANNELS