Atlanta Mayor Criticizes Georgia Governor Over State Of Emergency, National Guard Deployment After Violent July 4 Weekend
KEY POINTS
Over 30 people were shot in and around Atlanta over July 4 weekend, including at least 5 people who died from their wounds
1,000 National Guard troops were deployed following Georgia Gov. Brian Kemp's state of emergency declaration to protect the state Capitol, the Department of Public Safety building, and the governor's mansion
Atlanta Mayor Keisha Lance Bottoms pushed back against Kemp's declaration, saying she "at no time" requested aid from the governor's office
Georgia remains in a state of emergency Tuesday following a violent July 4th weekend. Gov. Brian Kemp's decision to deploy 1,000 National Guard troops on Monday was met with criticism by Atlanta Mayor Keisha Lance Bottoms, who drew a parallel to Kemp's response to the coronavirus pandemic.
"The irony of that is I asked Gov. Kemp to allow us to mandate masks in Atlanta and he said no," Bottoms told ABC's "Good Morning America." "But he has called in the National Guard without asking if we needed the National Guard."
Bottoms noted that the city coordinates with the Georgia State Patrol and "at no time did anyone feel there was a need for the National Guard."
Bottoms remains in self-quarantine at her home after testing positive Monday for the coronavirus.
Kemp issued the state of emergency order in the wake of a Fourth of July weekend that saw more than 30 people shot in Atlanta, five of whom died. According to CNN, between May 31 and June 27, at least 93 people have been shot in Atlanta compared to the 46 recorded shooting victims during the same time span in 2019.
"Peaceful protests were hijacked by criminals with a dangerous, destructive agenda. Now, innocent Georgians are being targeted, shot and left for dead," Kemp said in a press release Monday. "This lawlessness must be stopped and order restored in our capital city. I have declared a State of Emergency and called up the Georgia Guard because the safety of our citizens comes first."
The National Guard was deployed to three locations following Monday's order: the state Capitol, the governor's mansion and the Department of Public Safety.
It's the second time the National Guard has been deployed to Atlanta in just over a month. Forces were previously deployed during the first Black Lives Matter protests and at the request of Bottoms.
Talk of the emergency order first came up Sunday when Kemp threatened to "take action" to address the violence in Atlanta during the holiday weekend. Kemp specifically took aim at Bottoms, saying she had failed to address the violence he blamed on the Black Lives Matter protests.
Kemp's statements were echoed by President Trump, who has repeatedly encouraged or outright warned state leaders of the U.S. military being deployed at the height of the Black Lives Matter protests in June.
In recent weeks, Trump has made "law and order" demands as protests spread across the country.
Kemp has also faced criticism from other State Democrats for using National Guard members to protect government buildings instead of state residents.
"For months, we have begged the governor to take serious steps to stop COVID-19 from decimating our communities, but he refuses," state Sen. Nikema Williams told the Atlanta Journal-Courier. "His choice to deploy National Guard troops for today's selfish purpose is outrageous and will endanger lives."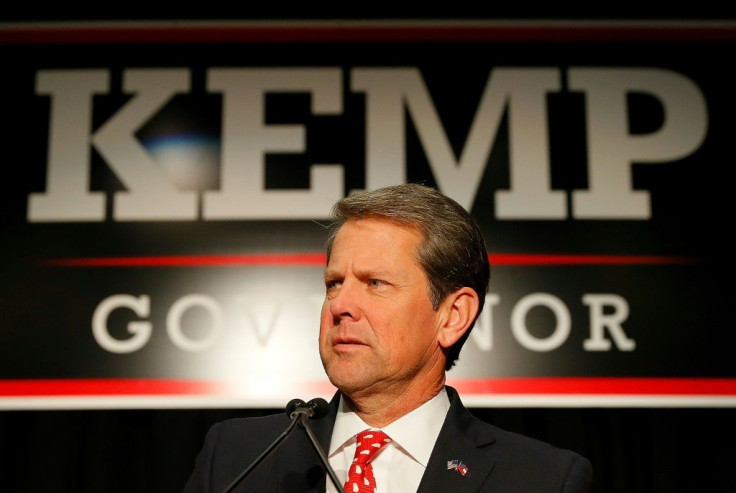 © Copyright IBTimes 2023. All rights reserved.