Atlanta Mayor Keisha Lance Bottoms Tests Positive For Coronavirus
KEY POINTS
Atlanta Mayor Keisha Lance Bottoms will self quarantine after testing positive for the COVID-19 coronavirus
Also testing positive is her husband, Derek
She said the positive diagnosis, "leaves me at a loss for words"
Keisha Lance Bottoms, the outspoken mayor of Atlanta, Georgia that rose to national fame during the George Floyd protests, has tested positive for the coronavirus that causes COVID-19 along with her husband, Derek, a lawyer. The couple has four children (three boys and a girl), all of whom are adopted.
"It's a shock," she said on MSNBC after learning she and her husband were positive for SARS-CoV-2 (severe acute respiratory syndrome coronavirus 2), the virus that causes COVID-19. She has no idea how she contracted the disease but will self-quarantine, which is the standard precaution in cases like this.
"COVID-19 has literally hit home. I have had NO symptoms and have tested positive," tweeted Bottoms.
She later said the positive diagnosis, "leaves me at a loss for words." She noted her family took all the precautions "you can possibly take. I have no idea when and where we were exposed."
Bottoms told MSNBC she decided to have her family tested because her husband "literally has been sleeping since Thursday." Her husband's unusual sleepfulness caused her to worry about its cause. She said she initially thought her husband's symptoms, which turned out to be COVID-19 symptoms, were due to allergies.
Bottoms said her diagnosis highlights how contagious SARS-CoV-2 is. She said she received the news that both she and Derek, a vice president of employment practices and associate relations at Home Depot, were positive on Monday.
The mayor and her husband are now part of the growing toll of COVID-19 cases in Georgia. As of Monday, Georgia had 97,000 confirmed COVID-19 cases, more than 2,870 deaths and over 11,900 hospitalizations, according to the Georgia Department of Public Health.
Georgia is the ninth most infected state in the country. Fulton County, where Atlanta is located, has confirmed 9,000 COVID-19 cases, or nearly a tenth of the state's total cases.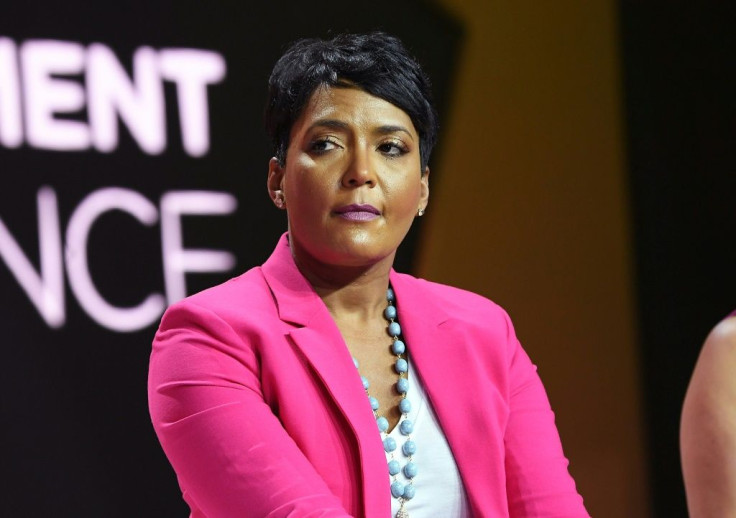 As of Monday evening, the U.S. has recorded 3.04 million confirmed COVID-19 cases, and 133,000 deaths, according to Worldometer data. The country saw 49,000 new cases on Monday and 330 deaths. The U.S. still leads the world in the number of cases and deaths. Second to the U.S. in case numbers is Brazil (1.63 million) while India is third (720,000).
Bottoms rose to national prominence in the wake of the killing of Rayshard Brooks, an African American, by a white police officer of the Atlanta Police Department (APD) on June 12. She condemned police brutality and immediately fired the officer that shot Brooks to death. She also fired or suspended several APD cops for using excessive force against civilians during the George Floyd protests that wracked the city.
Bottoms is also one of those on Joe Biden's list of top vice president picks along with Sen. Kamala Harris from California, Sen. Elizabeth Warren from Massachusetts and Rep. Val Demings from Florida.
© Copyright IBTimes 2023. All rights reserved.
FOLLOW MORE IBT NEWS ON THE BELOW CHANNELS