AT&T Goes Beyond Cell Phones, Plans Nationwide Wireless Home Security Services [VIDEO]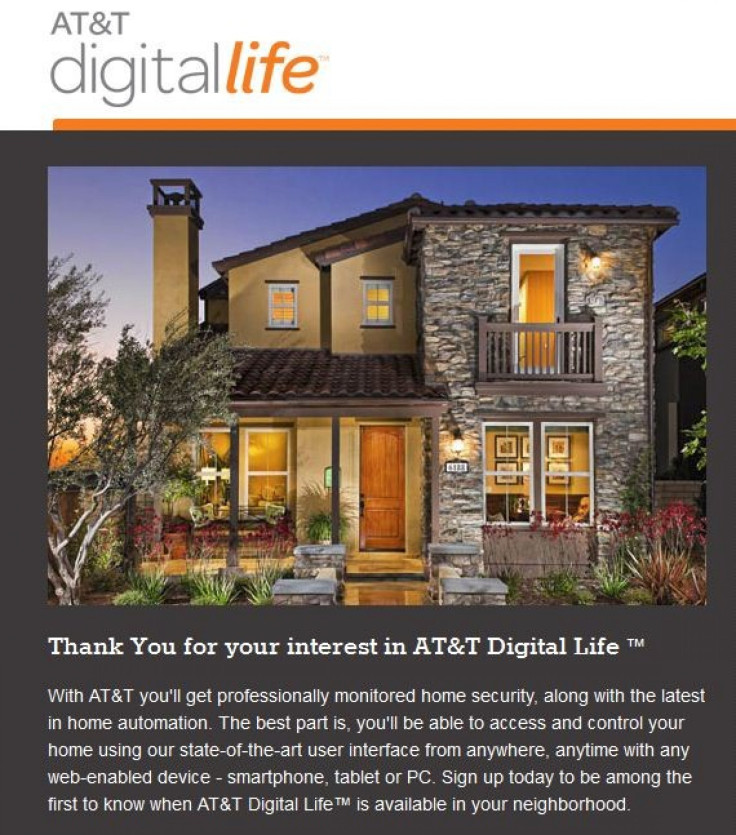 In an effort to expand beyond cell phones, the second largest US mobile operator AT&T is all set to enter the home security and automation business.
Called AT&T Digital Life, the services would allow consumers to remotely monitor their homes and protect them from intruders, fire and water damage. Consumers can also control door locks or perform things like changing the temperature setting on the thermostat, no matter where they are - anywhere in the US or even abroad.
AT&T claimed that the new all-digital, IP-based home security monitoring and automation services would allow consumers to handle security arrangements of their homes using any web-enabled device, PCs, tablets and smartphones, regardless of the wireless carrier.
The services, which AT&T plans to start trials of in Atlanta and Dallas this summer, will feature a number of connected devices like cameras, window/door censors, smoke, carbon monoxide, motion and glass break sensors, door locks, thermostats, moisture detection and appliance power controls.
According to the company, all the devices would be wirelessly connected to AT&T monitoring centers. In order to push the services, AT&T has also formed a digital life services group, which represents a completely new business for the company. With built-in AT&T mobile internet service, the Digital Life platform will also be capable of Wi-Fi, Z-Wave and wired broadband connections.
Glenn Lurie, the AT&T executive spearheading the project, told Reuters ahead of the CTIA wireless show in New Orleans, where AT&T will announce the plan Monday, that AT&T is hiring lots of people to support the service. The new service is expected to be one of AT&T's largest revenue growth opportunities, with very significant incremental growth in 2013.
When you're a company like AT&T ... you look at opportunities that are billion-dollar opportunities, Reuters quoted Lurie as saying. Obviously to grow our business at any level, when you're a $130 billion plus company, you have to look for significant opportunities. We view this as a significant opportunity.
Reuters also reported that the new business model could potentially add $1 billion to its annual revenue, with Lurie saying that the industry is ripe for growth, as only 20 percent of US homes have security systems.
However, according to Steven Winoker, an analyst at Sanford Bernstein, AT&T's new venture is not big enough to significantly affect the earnings of a company of AT&T's size even if it's successful, given that it's a relatively small market, the Associated Press reported.
Winoker said that the biggest player in the home automation and security services field is Tyco International Ltd's ADT. But it has only 25 percent of the market, while many smaller companies make up the rest.
Another analyst named Larry Hettick Research Director, Consumer Services, for Current Analysis sees enough potential in the AT&T Digital Life service to take home monitoring and home security solutions to another level.
The service promises to be as robust as anything in the marketplace today backed by the trusted AT&T brand, Hettick said. I am particularly impressed with its IP-based wireless platform, plans for a nationwide offering, and a wide range of devices that can be monitored and viewed from any carrier's wireless or wireline Internet connection. These consumer-friendly capabilities will help grow this industry.
AT&T's new service is based on the technology that comes from Xanboo, a company it bought in late 2010. AT&T said that the service would be available in its distribution channels, including AT&T company owned retail stores, and also on the company's website once the rollout is expanded nationwide commercially.
AT&T, however, didn't say anything about the cost of its services.
© Copyright IBTimes 2023. All rights reserved.
FOLLOW MORE IBT NEWS ON THE BELOW CHANNELS