Author Paul Kramer Talks About Controversial Book 'Maggie Goes on a Diet'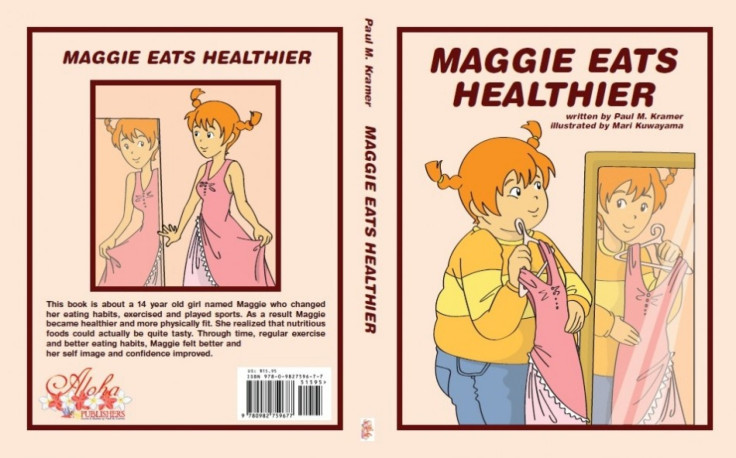 Author Paul M. Kramer caused quite a stir in August when word got out about his children's book Maggie Goes on a Diet.
The book is about an overweight 14-year-old girl who decides to make some changes to her eating and exercise habits, eventually shedding many pounds and becoming a soccer star at her school.
There were mixed reactions to the book, due for a mid-December release, with health experts, parents and others lambasting Kramer and his choice of subject matter.
In an interview with the IBTimes, the children's author talked about his book, the resulting controversy and what prompted him to create an alternate version of the story, titled Maggie Eats Healthier.
People are thinking that this book is a diet book for children, Kramer said. It's really not.
He described Maggie as a role model, one who sheds light on the problem of childhood obesity.
I don't advocate that children go on a diet, Kramer said. I do advocate that they change their lifestyle. All they have to do is start.
Kramer decided to create Maggie Eats Healthier after being advised that diet was just the wrong way of thinking. So rather than say she began a diet, he wrote that she began a lifestyle change. This version of the story, Kramer said, is for those who just can't get past the word 'diet.'
There was also the matter of how much weight she lost after her first week. In the original version, it was seven-and-a-half pounds. Kramer based this number off of diets he had tried when he was younger, but changed both versions of the story to read that she shed a few pounds after being told that number was not realistic.
I agreed with that philosophy and I had been sorry that I put seven-and-a-half pounds, he said.
The changes and additional book orders required pushing back the release date to mid-December (Amazon and Barnes & Noble list a Dec. 16 release date for Maggie Goes on a Diet). Both Maggie Goes on a Diet and Maggie Eats Healthier will be available in the U.S. and Canada, according to Kramer.
He said an international version of Maggie Eats Healthier will be sold in other English-speaking countries early next year. Certain words will be changed for this version, such as football for soccer and kilos for pounds, and it will say that Maggie lost two kilos in her first week.
Kramer said his book is meant to inspire young people to maintain healthy lifestyles. Maggie even inspired him to take a good hard look at his own eating and exercise habits.
This is a motivational story, he said. This is not a downer.
Maggie, he said, already had a natural athletic inclination but could not move because she was so big.
She's a very nice special person who's not a show-off, Kramer said. The fact that she becomes a good soccer player is because she works so hard. That's how she became popular. I personally think she deserves that attention.
Kramer also addressed allegations that the book was sexist. Why did a grown man have to write about a young teenage girl?
To me it's not about a girl, it's about a child, said Kramer, who has also written children's books with boy protagonists. Sometimes you can't win, he said.
He talked about the book's cover art, which shows a heavier Maggie holding up a too-small dress in front of a mirror -- and looking at a reflection of a thinner version of herself.
I think it's normal for someone to look into the mirror and think of how they would look if they were a more normal size, he said. I didn't see anything wrong with that.
Kramer also brought up an adage book lovers will recognize.
It's important to me that people do not judge the book by its cover or by innuendo or by hearsay, Kramer said. After somebody reads the book they will surely see that Maggie is a very lovely person who just wants to move forward and improve her life.
Maggie's parents are not featured in the story. Kramer said their presence was not vital to the plot and that including them would have posed some complicated questions. Would one of them have to be portrayed as overweight? Or would they be normal-sized? He scrapped the idea of putting them in, concluding that their presence was not necessary.
We can assume anything we want but we know that she was overweight and or obese and that she decided on her own to take control and make a positive change, Kramer said.
© Copyright IBTimes 2023. All rights reserved.