Awkward Republican Debate 2016: Trump, Paul Clash Early Over Buying Politicians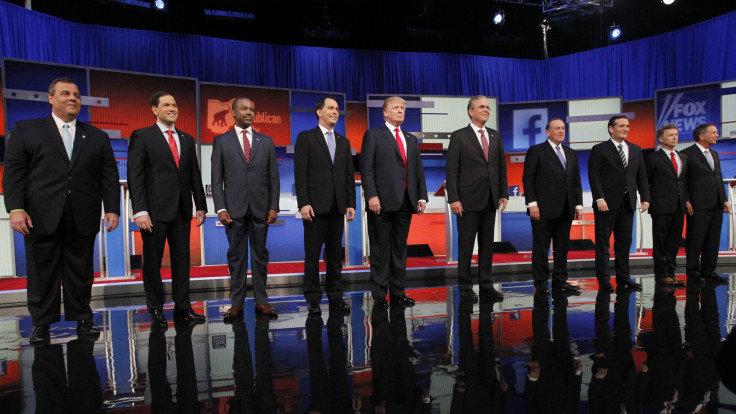 The first Republican presidential debate kicked off on Thursday, and Twitter users immediately began calling it one word: Awkward. After marching the candidates out and having them stand with strained smiles in front of the moderators, Trump raised his hand to say that if he isn't the party's nominee, he wouldn't promise not to run as a third party candidate.
Cue Rand Paul. Cue the boos.
"He's already hedging his bets because he's used to buying politicians," Paul interjected as Trump explained that he wanted to run as a Republican but, apparently, would run either way. "I will not make the pledge [not to run against the eventual Republican nominee] at this time," Trump said.
He went on to note that he had given money to Paul's campaign in the past. His swagger saw the packed basketball arena that houses the Cleveland Cavaliers boo Trump, who is polling first in national surveys by double digits.
Soon after, Trump was asked about his disparaging history of insults and offensively sexist comments toward women. "You've called women you don't like fat pigs, dogs, slobs and disgusting animals," moderator Megyn Kelly said.
Trump took the bait. "Only Rosie O'Donnell," he interjected.
"It was well beyond Rosie," Kelly continued. "Your Twitter account has several disparaging comments about women's looks. You once told a contestant that it would be a pretty picture to see her on her knees. Does that sound like the temperament of a man we should elect as president?"
"I think the big problem this country has is being politically correct... I don't frankly have time for total political correctness. And to be honest with you, this country doesn't have time either," Trump responded, then continued. "What I say is what I say. And honestly, Megyn if you don't like it, I'm sorry."
Trump was also quick on Thursday to state that the discussion of immigration reform was nonexistent in the race before he joined in. "So if it weren't for me you wouldn't even be talking about illegal immigration... You wouldn't even be talking about it," he said.
The debate followed weeks of near-complete domination of the Republican field by Trump, who has risen to an impressive lead over Bush, the former front runner. Bush was once seen as an almost inevitable candidate for the Republican nomination but has since slipped behind to second place in national polls.
Still, as demonstrated by the debate itself and the wide field of candidates still in the running, there is plenty of time for others to improve their standing before the first primaries and caucuses next year. While Trump holds a commanding lead now, other candidates like Wisconsin Gov. Scott Walker and Florida Sen. Marco Rubio, not to mention Bush, have plenty of potential to have a strong showing in the race.
The roster of the main debate Thursday, which only included 10 candidates, was determined by an average of national polls. Fox News, the host organization of the debate, reviewed the polls and released the roster.
© Copyright IBTimes 2023. All rights reserved.
FOLLOW MORE IBT NEWS ON THE BELOW CHANNELS