Azealia Banks And 5 Times She Attacked Celebrities On Twitter Before Zayn Malik And Skai Jackson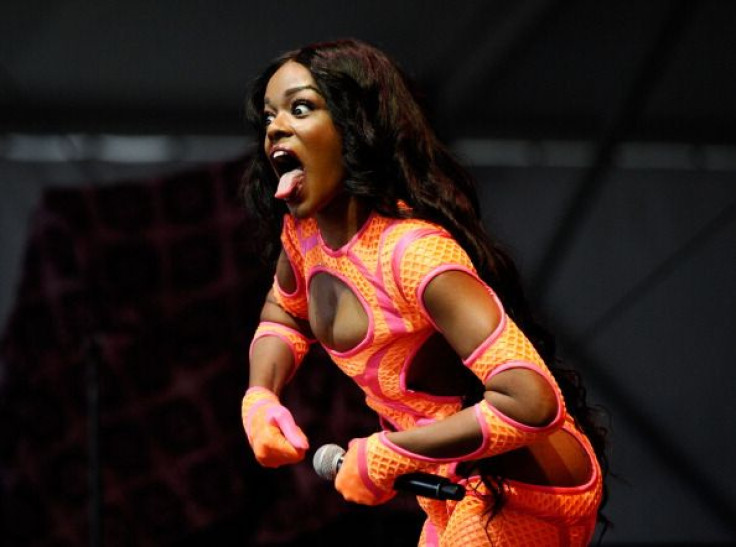 The Twitter account of "212" rapper Azealia Banks was suspended Thursday after she hurled homophobic slurs at former One Direction star Zayn Malik and also verbally assaulted Disney Channel actress Skai Jackson. Neither of these attacks was the first time Banks employed her social media account as a platform to spew hate. Below, we've taken a look at other times Banks has taken on fellow celebrities.
1. Sarah Palin. Before Banks engaged Malik and Jackson, she sparred with former Alaska Gov. Sarah Palin in April. The rapper was fooled into believing a satirical piece genuinely quoted Palin as saying, "Even the French understand that slavery wasn't our fault because the n------ liked it." Banks, 24, tweeted the former governor should be gang-raped by a group of black men. She later deleted the tweets and apologized to the former politician.
2. Rihanna. Although most people love Rihanna and anything she does, Banks slammed the Barbadian beauty's new video for her single, "Work." Banks said it was boring. "'Work' reminds me of baby boy video with Sean Paul except not as fly," she wrote in February.
3. Nicki Minaj and Miley Cyrus. After Minaj and Cyrus butted heads during the 2015 MTV Video Music Awards presentation in September, Banks took the opportunity to call them both "basic."
4. Iggy Azalea. Back in 2014, the Australian rapper was one of Banks' favorite targets. She called her "Igloo Australia," and was offended when Azalea didn't issue a statement after separate grand juries did not indict Darren Wilson and Daniel Pantaleo, two white police officers, who were responsible for the deaths of Michael Brown and Eric Garner, two black men. "Black Culture is cool, but black issues sure aren't huh?" Banks wrote. "If you're down to ride with us b---- you gotta ride all the way."
5. Eminem. When Marshall Mathers took aim at Lana Del Rey in one of his songs, Banks came to Del Rey's defense. "@LanaDelRey tell him to go back to his trailer park and eat his microwave hot pocket dinner and suck on his sisters t------," she tweeted.
Follow me on Twitter @mariamzzarella
© Copyright IBTimes 2023. All rights reserved.