Azealia Banks Calls BET Awards Nomination 'Bogus,' Taunts Iggy Azalea Over Rumored Plastic Surgery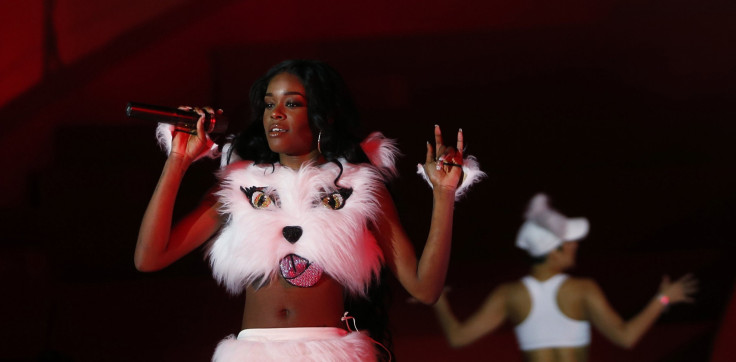 Don't expect Azealia Banks to play nice for the BET Awards. The rapper, who just earned a nomination for the upcoming award show, took to Twitter to call the event "bogus." She added that the category for Best Female Hip Hop Artist was "a running joke" before commenting on fellow nominee Iggy Azalea's alleged new nose.
Banks launched into Twitter after the nominees were announced:
She later brushed off the backlash to her tweets, and said she was going to enjoy her time in Salem, Massachusetts.
The outspoken rapper voiced her displeasure of sharing the category with Nicki Minaj, claiming the award has become "a running joke" because how frequently Minaj has won. The two had a public falling out after Banks declined to open for Minaj in order to complete her album in July 2012. It's only one of several public Twitter spats Azealia Banks has been involved in over the years, including a long fight with fellow BET Awards nominee Iggy Azalea.
The Aussie rapper was not spared a subtweet from her feuding opponent. According to Us Weekly, Iggy Azalea supposedly had plastic surgery ahead of Sunday's 2015 Billboard Music Awards. Banks posted thinly veiled thoughts on Twitter about Azalea's plastic surgeon. Azealia Banks had previously fought with Azalea on Twitter over multiple incidents since 2012.
Other nominees in the category for Best Female Hip Hop Artist include Dej Loaf, Tink and Trina. It's the sole BET nomination for Azealia Banks and Iggy Azalea, but Nicki Minaj has the chance to win another for Video of the Year for her massive hit "Anaconda." Minaj has amassed eight BET Awards in total.
The BET Awards will air June 28 at 8 p.m. EDT.
© Copyright IBTimes 2023. All rights reserved.