Iggy Azalea Sex Tape Rumors: Anonymous Allegedly Threatens To Release Pictures After Azealia Banks Twitter Feud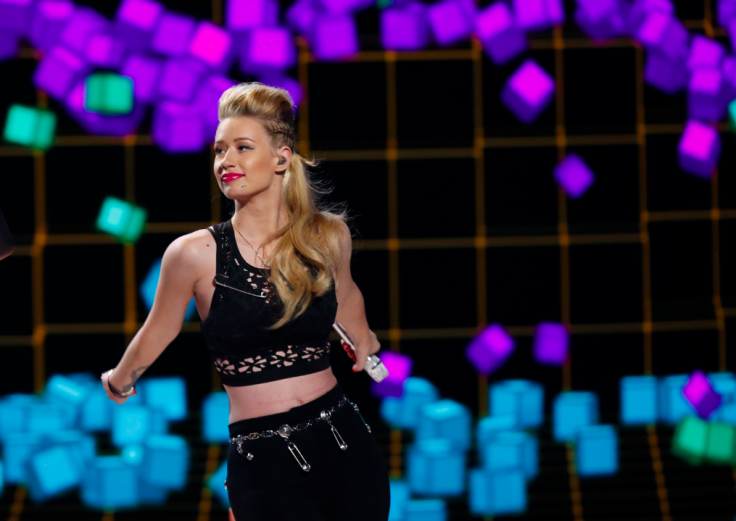 After female rappers Azealia Banks and Iggy Azalea beefed on Twitter, the mysterious hacktivist group Anonymous threatened to release stills from the Australian star's rumored sex tape, Vulture reported. The women previously fought online about the Eric Garner and Michael Brown protests after Banks was upset the "Fancy" star, who she dubbed "Igloo Australia," did not comment about the movement.
Anonymous also apparently took offense, posting a series of threats and insults at Azalea, who is nominated for three Grammy awards, through the account @TheAnonMessage. The page has since been taken down, but Vulture has clips of the tweets on its page.
"F--- you, @IGGYAZALEA. #ICantBreathe," the hacker group reportedly wrote. "We have so much s--- on you, your scandal would be bigger than Bill Cosby's."
Anyomous gave Azalea two days to submit an apology before her pictures from her tape are exposed. "MESSAGE: @IGGYAZALEA, you have exactly 48 hours from now to release a statement apologizing to @AzealiaBanks and the protesters in NYC ... You are guilty of misappropriating black culture, insulting peaceful protesters, and making light of Eric Garner's death. @IGGYAZALEA"
"There's an X-rated tape of you, we bet you'd certainly don't want public, are we right?@IGGYAZALEA ... and this is nothing. Comply or else."
Steve Hirsch, the CEO of Vivid Entertainment, said he had footage of Azalea having sex with an ex-boyfriend, TMZ reported. But since she allegedly didn't authorize it to be released, the public would not see it. Hirsch reportedly said it would be bigger than Kim Kardashian's "Kim K Superstar" video. The rapper, however, has denied it's her in the tape.
Azeala did not respond to the threat and Banks, who is very vocal on Twitter, did not comment either. The group has various Twitter handles, and @YourAnonNews denounced the threat made by @TheAnonMessage.
Follow me on Twitter @mariamzzarella
© Copyright IBTimes 2023. All rights reserved.