Baby, 3 Crew Members Miraculously Survive After Medical Helicopter Crashes Outside Church
KEY POINTS
The medical helicopter was transporting an infant to a hospital when it crashed
The nurse, pilot, and crew member exited the damaged chopper with the baby
Pilot praised for skilfully landing chopper in a heavily trafficked area with no damage
An infant and three other travelers were aboard a helicopter that crashed near a church in Delaware County, Pennsylvania, on Tuesday afternoon. All four occupants survived the incident that is being called an absolute miracle by officials.
The medical helicopter was transporting the 2-month-old infant to the Children's Hospital of Philadelphia from Chambersburg, Pennsylvania. But before it could reach its destination, the chopper crashed near the Drexel Hill United Methodist Church around 1 p.m.
The nurse, pilot and crew member managed to extricate themselves with the baby, according to CBS Philly. None of the occupants suffered any life-threatening injuries and all four are in stable condition.
"Around 1 o'clock, we started to receive 911 calls for a helicopter in distress. Officers and the fire department responded to the area and they located this helicopter behind us, which had crashed in behind the building," Upper Darby Police Superintendent Timothy Bernhardt said. " … The child has been transported to CHOP and the other two are at local hospitals."
Investigators are working to understand the exact cause of the crash. "From all accounts, what the pilot was able to do is amazing," Dr. Monica Taylor, chair of Delaware County Council, said. "Our reports indicate he first started to experience trouble on Route 1 and was looking for somewhere to land and was able to bring it down Burmont, land here, and as you can see from the scene, there aren't even poles down."
The pilot was praised for landing in a way that caused no injuries to anyone outside the chopper, despite crashing in a heavily trafficked area.
"It's really a testament to the pilot and what he was able to do in keeping everyone safe," Taylor added. "It's amazing, it's a miracle that there are no major injuries that occurred from this accident."
Bernhardt also said he wants to shake hands with the pilot for bringing the chopper down near the church's front steps with minimal destruction. "It's an absolute miracle what you see behind me," Bernhardt said at the scene. "No trees or power lines down."
Tina Hamilton, who witnessed the crash, saw the chopper's occupants emerge from the wreck.
"God was at church today watching these people," she told NBC10.
Hamilton said he rushed to help with blankets from her van. "Make sure you get that baby to the hospital. Get the baby," Hamilton recalled one of the survivors saying.
The Federal Aviation Administration said the investigation into the crash would be led by the National Transportation Safety Board, according to CNN.
Air Methods, the company under which the chopper was registered, said they will cooperate with investigators. "Our team will cooperate fully with (FAA and NTSB) efforts to assess the cause of this unfortunate accident," Air Methods spokesperson Doug Flanders said.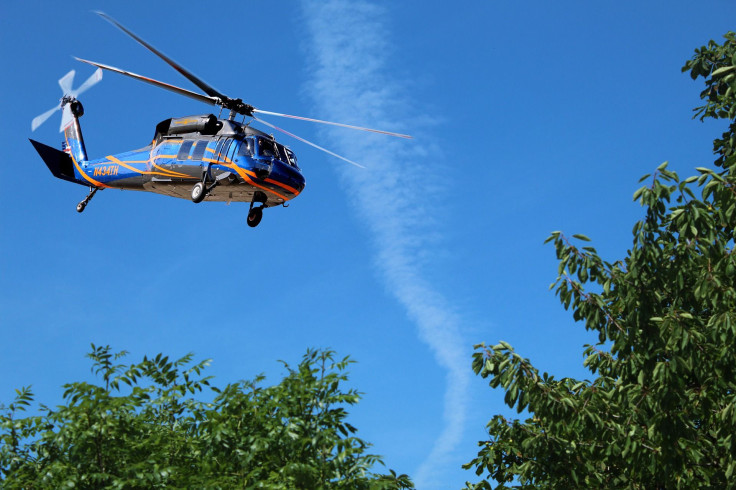 © Copyright IBTimes 2023. All rights reserved.